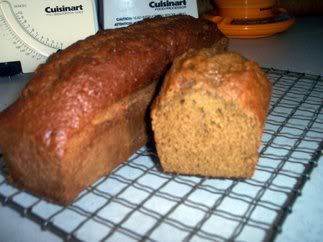 JEWISH HONEY CAKE -- REVISED
2-1/2 cups flour
2 teaspoons baking powder
1/2 teaspoon baking soda
1/2 teaspoon ginger
1/2 teaspoon cloves
1 teaspoon cinnamon
1/2 teaspoon salt
1/2 cup oil
1 cup sugar
2 eggs separated
1 cup honey (I used Tupelo Honey )
1 cup coffee
Grease and flour two 8" disposable foil pans
Mix and sift dry ingredients.
Beat egg whites in small bowl until stiff.
Blend oil, sugar and egg yolks together. Add honey. Add dry ingredients alternately with coffee. Fold in beaten egg whites. Pour into prepared pans.
Bake in 350 degree oven 55-65 minutes - longer baking may be necessary.
YIELD: 8-10 servings [?]
SUBMITTED BY: Louise
SOURCE: from The New York Times probably in the 1940's
CATEGORY: Cakes > Honey & Molasses