September 18, 2009 - 8:21pm
Potato-Nut Bread from South Tyrol made with Rye Sour
I made this bread from Salome's formula a couple months ago. At that time, I couldn't get good quality hazelnuts, so I made it with walnuts only. It was very good tasting, had amazing keeping quality and was excellent after having been frozen.
A new crop of very good tasting hazelnuts finally appeared in my local Whole Foods Market, so it was time to make this bread again. Salome has posted this bread on her own TFL blog since I first made it. She made her bread using a rye sour rather than a wheat flour levain. This sounded like a great idea, so I did it.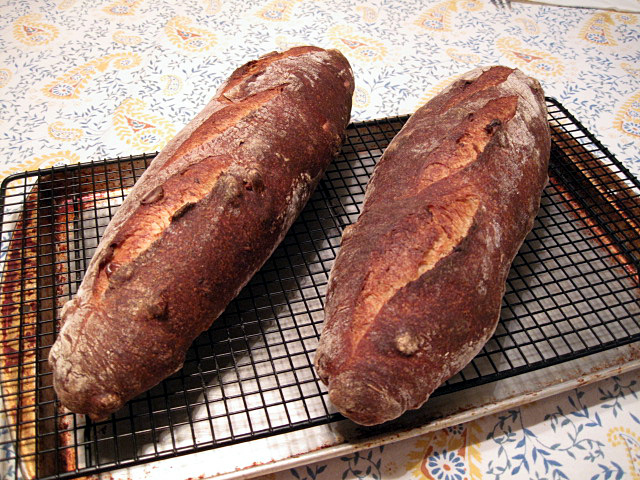 | | | |
| --- | --- | --- |
| Ingredients | Amounts (grams) | Baker's percentage |
| Bread flour | 600 | 100 |
| Roasted potato | 400 | 67 |
| Toasted hazelnuts & walnuts | 200 (100 gms each) | 33 |
| Water | 250 | 42 |
| Active rye sour | 200 | 33 |
| Salt | 10 | 1.7 |
| Ground coriander | 2 tsp |   |
Notes on Ingredients
You may note that I have increased the flour for this bake. Maybe my potatoes had more water content or my flour had less. (Or my water was wetter?) In any case, the dough was even gloppier than previously as I mixed it, so, after giving it a good chance to develop but still having medium-consistency batter in my mixer bowl, I added 100 gms more flour. The ingredient list reflects this.
At this point, I'm not sure what to recommend to others except to not add "too much" flour. This is supposed to be a very slack dough. Alternative methods I would consider would be to hold back some of the water and add water as needed (rather than flour) during mixing. This has the advantage of not throwing off the percentages of other ingredients relative to the flour. Another related solution would be to plan on using the "double hydration" technique often recommended for very slack doughs. This entails initially mixing with only 2/3 to ¾ of the total water until the dough has developed some (gluten) strength, then adding the remainder of the water and mixing until it is incorporated.
Procedures
The night before baking, activate the rye sour by mixing 20 gms starter with 100 gms of water and 80 gms of whole rye flour. Cover and ferment for 8-12 hours.

The next day, roast, steam or boil the potatoes. Peel them.

In a large bowl (or the bowl of your mixer), dissolve the rye sour in the water. Add the flour and potatoes, mashed or put through a ricer and mix to a shaggy mass. Cover and let rest (autolyse) for 30 minutes.

Add the salt and coriander and mix to moderate gluten development. (10-13 minutes at Speed 2 with a KitchenAid)

Transfer the dough to a floured board and, with well-floured hands, stretch it to a 14" square. Distribute the nuts over the dough, roll it up and knead for a few minutes to evenly distribute the nuts throughout the dough.

Form the dough into a ball and place it in a lightly oiled large bowl. Cover the bowl tightly.

Ferment the dough until doubled in volume with stretch and folds at 30, 60 and 90 minutes.

Transfer the dough to a lightly floured board. Divide it in two equal pieces and pre-shape each into a log. Dust with flour and cover. Let the dough rest for 10-20 minutes.

Shape each piece as a bâtard and place them, seam side down, on a linen or parchment paper couche.

Cover the loaves and proof them until they have expanded to 1.5 times their original volume.

45-60 minutes before baking, pre-heat the oven to 430F with a baking stone and your steaming method of choice in place.

Transfer the loaves to the baking stone and bake with steam for 10 minutes, then another 20 minutes without steam. If the loaves are browning too fast, turn the oven down 10-20 degrees.

Bake until the internal temperature of the loaves is 205F.

When the loaves are done, leave them on the baking stone with the oven off and the door ajar for an additional 5-10 minutes to dry the crust.

Remove the loaves to a cooling rack and cool completely before slicing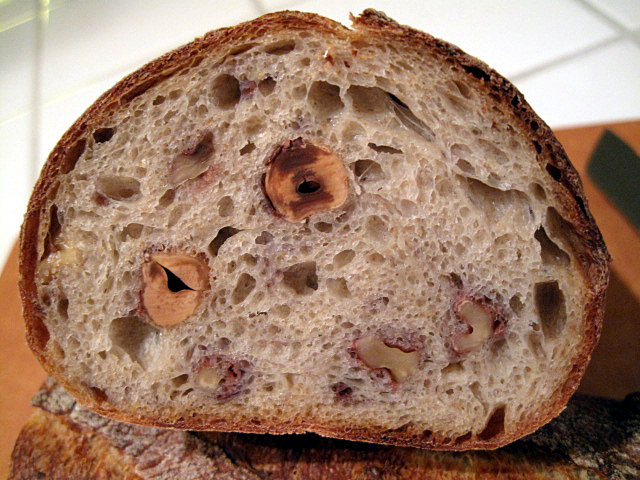 I sliced the bread and tasting it after it was completely cooled. The crust had softened somewhat but was still crisp. The crumb is moist but pleasantly chewy. The nuts are soft but provide little pops of nuttiness. This is particularly true of the hazelnuts, which I roasted longer than I usually do. The overall flavor is outstanding. There is more of a sour flavor than my previous bake of this bread, presumably due to the rye sour. There is no discernible rye flavor, but it does add to the overall complexity of the flavor as well as to the sourness.
I do prefer this version with the walnuts and hazelnuts and with the rye sour. 
I'm taking one of the loaves up to San Francisco tomorrow to nourish 3 of my siblings who otherwise would be suffering with only bread from Acme, Boudin, Semifreddi, Arizmendi, Tartine, Noe Valley, etc. to eat. <sniff>
David