September 18, 2009 - 8:00am
Let's have a feast for our eyes
                                                                               SP's Country Sourdough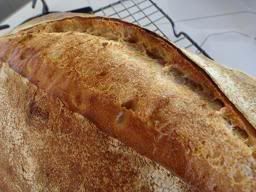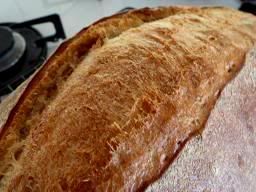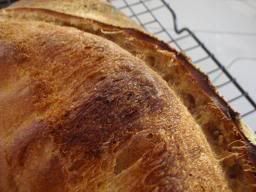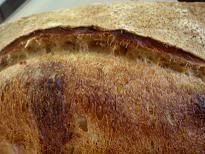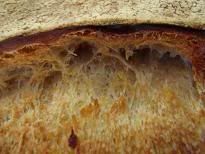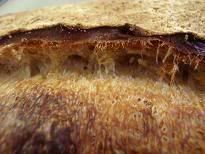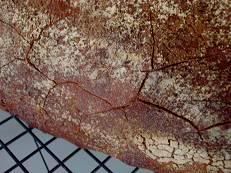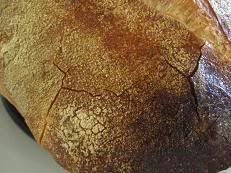 And let's slice them ...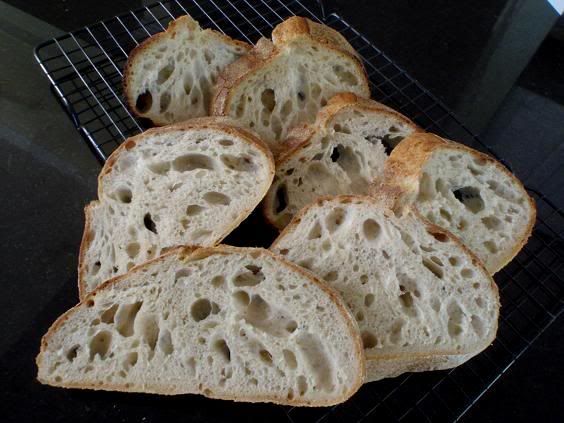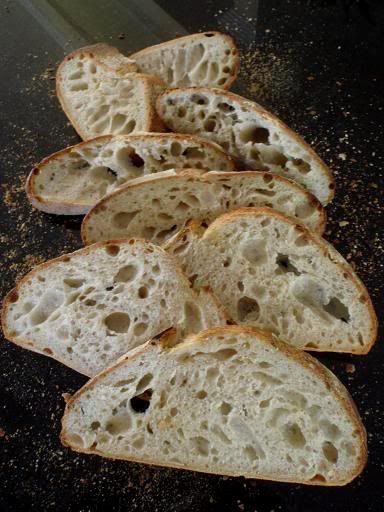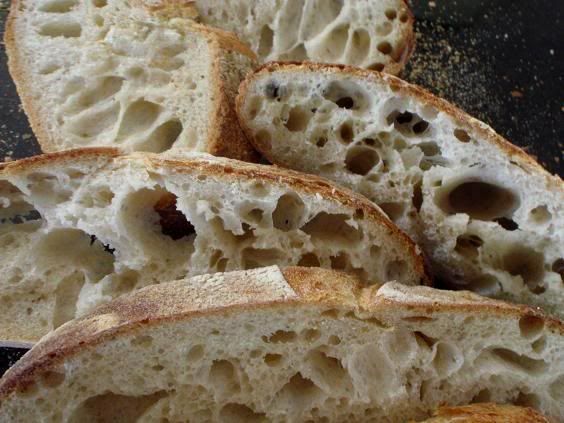 Now I found something ...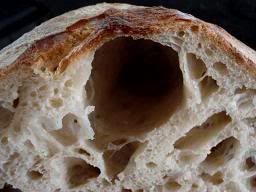 And this ...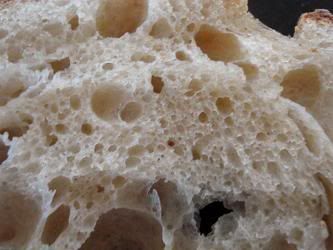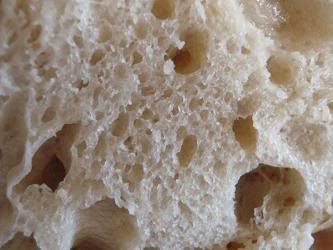 Lovely crumb to me                                        but this is slightly on the dense side and gummy, why?
A wake-up call:
I recall when I was mixing my starter in the water for the final dough, I felt tiny little lumps of dough in my hands but I was unable to break them up because they were too many.  I used a trick that I learned from making custard when there were lumps - by pushing the starter through a sifter, I managed to get rid of most big lumps, but there were still many very tiny ones.  I got tired of trying to get rid of them, so I proceeded as normal.  Those lumps would most likely have been formed during the 2 hour final levain expansion (see my post here for details of Chad Robertson's sourdough timeline) - I did not mix the starter thoroughly with the flour and water.  And these lumps, however small, became the gummy part of the crumb!  (I may be wrong but that's what I think it was.)
A myth: The longer the fermentation, the better it is for the sourdough.  No, it depends on how time is spent, not how much time there has been.
With this sourdough, I learned something new.  What happened was when I was trying to get rid of the lumps, my hands were stirring the starter in the water for quite a long time (15 to 20 minutes at least).  I had never seen so many bubbles appearing in the water as if all of the wild beasties were woken up from their sleep and were doing their morning exercises.  This would not have meant anything to me, had it not been the fact later on that the fermentation seemed to have advanced in quite a fast pace even though the dough temperature was under 20C / 68F.  (I wish Debra of the Frankendough could help me out here.)
Anyway, with the fermentation kicking along, I decided I wanted to do an experiment, and that is, to really work the dough with my stretch & folds in such a way as to really build the dough strength.  I dipped both of my hands in water (to prevent sticking) and, with one hand pressing the centre of the dough, the other hand grapping a corner of the dough and folding onto itself, I stretched & folded the dough quite vigorously for at least 30 to 40 times at each set of S&F's until the dough felt elastic.  I did 3 sets of S&F's within one and a half hours and within that time the dough expanded quite a lot.  In normal circumstances I would have done a 4 hour bulk fermentation as in my post of Chad Robertson's country sourdough; but in this instance, I decided one and a half hours were enough (the dough temperature stayed under 20C).  I divided the dough into three pieces and pre-shaped them twice as they were very soft and even though I pre-shaped them to very tight balls each time they relaxed and spread out completely.  I shaped them to tight batards and only proofed for half an hour, compared to 2 hours previously when I did my Chad Robertson's.  Retardation was only 9 hours.
This morning before I baked them, the doughs were as flat as pancakes, but in the oven, they rose like hills: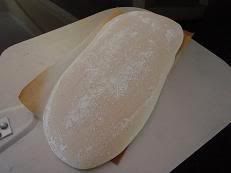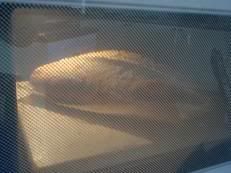 What I learned in this bake is that the dough strength (built up from the vigorous stretch & folds) helped in the volume (the oven spring, the open crumb, etc).
Time for some food,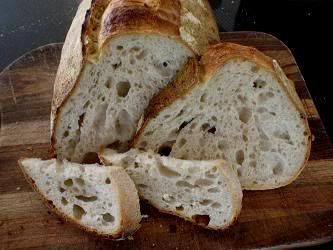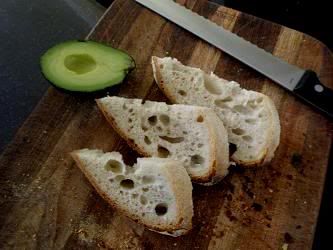 And pack up the rest,
Shiao-Ping 
p.s.  The minor variations I made in the formula here compared to the one in My Imitation of Chad Robertson's Country Sourdough were: (1) 72% hydration; (2) 5% of total flours in rye flour; and (3) total dough weight 3 kg.