September 16, 2009 - 11:38pm
The best Walnut Sourdough that I've ever had was from Tartine Bakery in San Francisco.  Imagine a rustic Country Sourdough studded with whole walnuts and no compromise on the open crumb.  To me a simple sourdough like walnut sourdough is not something that can be easily made well; in fact, I've found any sourdough with add-ins hard to make really well.  Once I find a method that works for me, I am normally eager to try the new method on doughs with add-ins.  This was what happened when I found James MacGuire's hand-mixing technique.  He permanently expelled my fear of hand mixing.  I had used his method on walnuts and mixed dried fruits and quite liked the result at the time but was wondering subsequently if it was possible to achieve a more open crumb.   I know the emphasis on an open crumb may sound pretentious at times but I am just a housewife with free time and mental space.  If there is something I still find room for improvement and I am still interested enough, I'll keep trying.
With this post I have used the method I've recently learned from The Bread Builders about Chad Robertson's sourdough timeline and applied it by hand on my own formula.  One of these days I will write to him to seek for confirmation but for now I will amuse myself with one more bake along the same line as my previous 4 posts. 
My Formula 
716 g starter @ 75% hydration
71 g stone ground organic medium rye flour (10% of final dough flour)
645 g organic unbleached flour (90% of final dough flour)
593 g water
450 g walnuts (40% of

total

flours, including that from starter), toasted
22 g salt
Extra medium rye flour for dusting
 Total dough weight 2.5 kg and total dough hydration 80%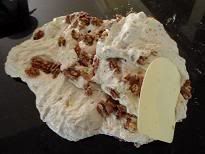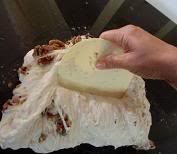 First break up the starter in water in a big bowl by hand
Stir in all the ingredients except walnuts (record the time when this is done)
Autolyse 45 minutes (longer than I normally would, to make sure the flour has a good chance to bind with the water before the disruptive walnuts come in)
Spread half of walnuts on a work bench, dump the sticky dough on top of it, then spread the other half of walnuts over the dough
Start mixing in the walnuts by a series of folding motions with a dough scraper from the side to the centre, then
Place the sticky dough back to the big bowl, and start the first set of stretch and folds by hand or with the plastic scraper
Do another 3 sets of stretch and folds in the next 3 hours or so (note: total bulk fermentation is 4 hours counting from the time ingredients except walnuts are mixed until division/pre-shaping; the ideal dough temperature for me is 18 - 21C / 65 - 70F, if your dough temperature is higher due to warmer weather, shorten fermentation time accordingly)
Divide into three pieces of 830 g each and pre-shape each to a log
Rest for 15 minutes and in the mean time dust linen with medium rye flour
Shape into batards
Proof for 45 minutes (as my room temperature had risen and the dough temperature registered 25 C / 77 F, I put the dough into the refrigerator to start retarding)
Retard for 17 hours (or 8 hours minimum)
Bake the next day with steam at 230 C for 20 minutes and another 20 minutes at 220 C.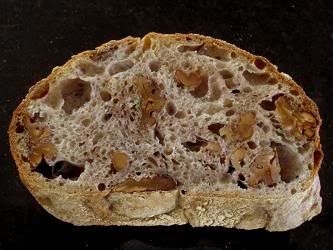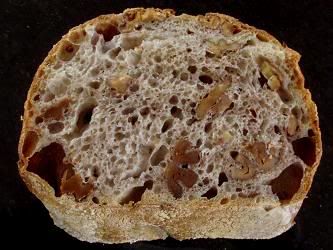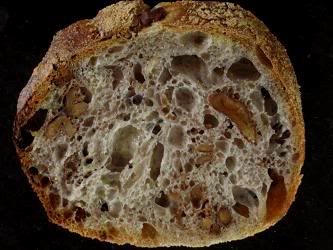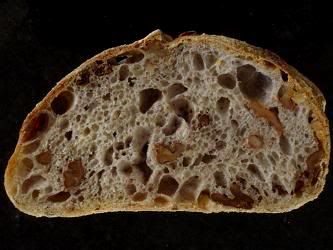 With the high hydration and rye flour, the dough fermented quite well earlier on.  There was very noticeable fermentation activity even before the second set of stretch and folds.  With my room temperature rising, the dough was at a risk of being over-fermented.  On hindsight, the bulk fermentation could have been shorter.
Also, I went crazy with walnuts.  Even though it is nice to have such a "deluxe" quantity, there is really more chewing than necessary when you bite into a slice.
The 80% hydration is about right because of the added nuts.  A couple percentages more hydration would be fine too.
Other than the above, this walnut sourdough is quite alright, no where compared to Tartine's though.  What's in your memory is always the best.
Shiao-Ping
The following is updated on 21st Septermber: I found these pictures of very rustic sourdoughs from Tartine Bakery in my files, including their Walnut Sourdough, and would like to share them:
      I believe the one in the front to the right is the Walnut Sourdough
                                   Walnut Sourdough
Their sourdoughs appear to be very high hydration to me.