September 6, 2009 - 8:13pm
I've been totally taken with Salome's breads ! I made it a point to pick up some buckwheat flour last weekend, but darn it, I forgot to look for buckwheat berries. Of course, being me, I didn't bother to look at the ingredients and make a list. That would have been too simple.
So I made a few changes. I toasted a 1/2 c of sunflower seeds, doubled the dried apples, used apple juice and amber agave nectar. I used a converter to change the ml to oz or g. 125 ml of cider = 4.226 oz or 125 g, so I just went with the g. I don't know how accurate that is. I held back on the juice in the final dough as Salome suggested. I don't believe I'll have as open a crumb as she did because the dough was fairly firm. Maybe I should have added more  to make a slacker dough. It felt good though, tacky with good gluten development.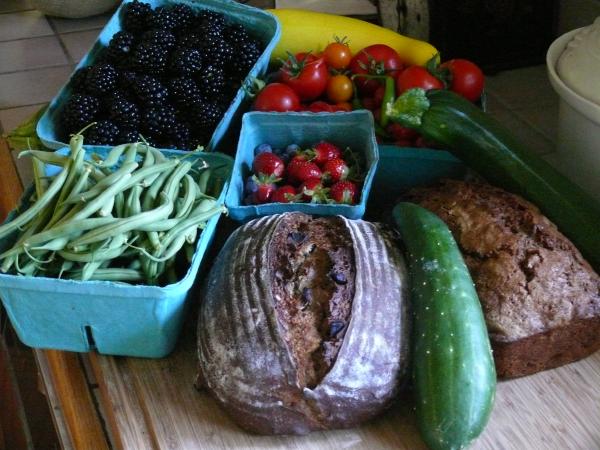 The crumb was nothing to write home about. I will have to play with this to get the right hydration. Tasty though!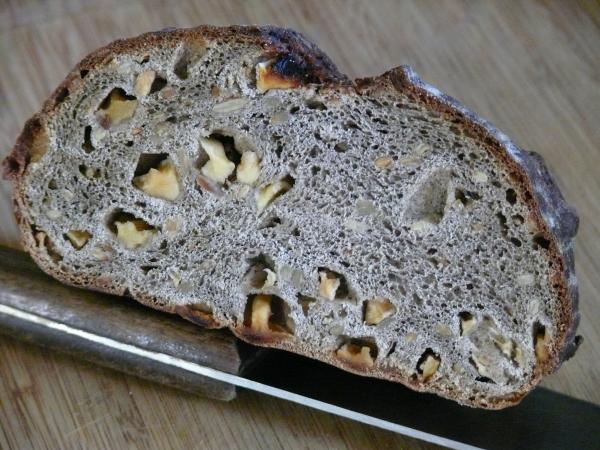 Of course then I had extra dried apples so I added them to my loaves of zucchini spice bread.  The bread is a lot easier to give away than the squash!
Today I made Mark Sinclair's Multigrain bread. It smells great, can't wait to slice it. I added some starter to the Pate Fermentee. I don't know why, I just felt like it. I also added toasted walnuts, pumpkin and sunflower seeds.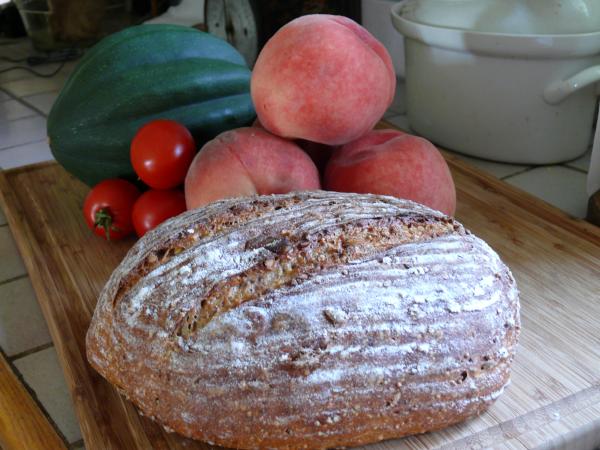 If you have recipes to bake/freeze/preserve veggies and fruits, let me know. I'm always looking for ways to make use of all are garden's bounty.
Betty