August 28, 2009 - 10:17am
Wood Fired Bread and Pizza Baking E-book
Bread People,
I've been holding two-day, weekend wood fired artisan bread baking workshops under the Mary G's Artisan Breads banner (www.marygbread.com) for six years now.  Through the wonders of the Internet, we've had participants from all over Canada and the US, east to west, north to south; even from New Zealand and England.  It's been hard work but a lot of fun.
Although participants do take away computer printed course materials, the breads they make and some of our sourdough/levain/barm/starter, we have had often repeated requests for an illustrated, book- length work that explains in detail the methods we use here and how to handle a wood fired oven to make great breads and pizza.
The result is Made Are Tools, Born Are Hands: Baking True Artisan Breads in a Wood Fired Oven.  Finding a bricks and mortar, paper publisher has been an exhausting exercise in hair pulling, time wasting and late night cursing, so I decided to turn it into a pdf that's for sale on the E-books Page of our website.
I'd be more than pleased to send out a sample chapter to anyone interested in having a look, first.
Here's a thumbnail of the jacket: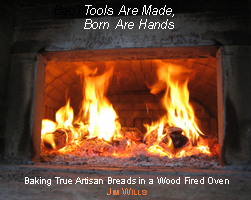 CJ