August 26, 2009 - 11:05pm
Artisan III - Miche, Sourdough with Two Levain Builds: 230% in Final Dough
Didier Rosada is our instructor at Artisan III course at the San Francisco Baking Institute.  The course is intensive in technical knowledge as in baking schedule.  Didier is an incredible instructor with amazing energy; he "trained and led the Bread Bakers Guild Team USA to first place victory in the bread category at the Coupe du Monde de la Boulangerie in Paris in 1996."
I chose to blog this bread because, as Didier said, this bread is what bread was like "in his grandfather's days" (he came from south of France), also because back home I don't normally have the luxury of baking big size breads.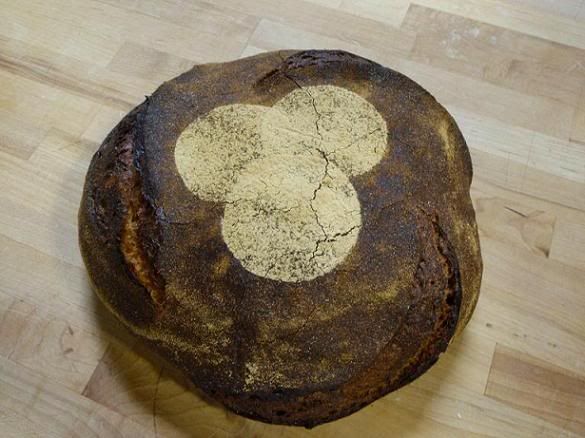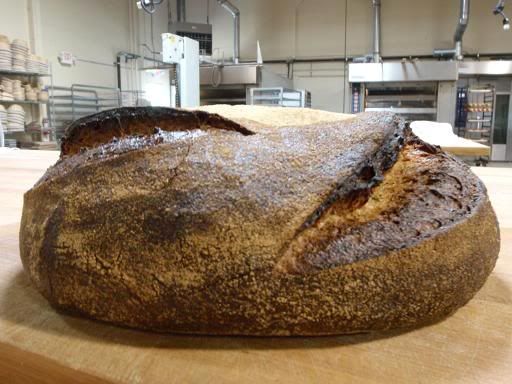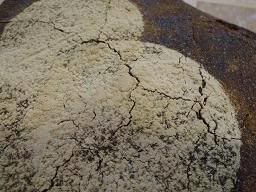 Formula 
First Levain Build - Day one at 2:30 pm


64 g high extraction flour

*



76 g water


16 g liquid starter @100% hydration


Mix all ingredients until well incorporated with desired temperature of 21C/70F and allow to ferment 16 hours at room temp 18 - 21C/65 - 70F.
* If high extraction flour is not available, substitute with 80% white bread flour and 20% whole wheat flour.
Second Levain Build - Day two @6:30 am


388 g high extraction flour

*



466 g water


2 g salt


156 g all of first levain build


(The SFBI staff did this levain build for us.)  Mix all ingredients until well incorporated with desired temperature of 21C/70F and allow to ferment 8 hours at room temperature 18 - 21C/65 - 70F.
Final Dough - Day two @2:30 pm


263 g bread flour


88 g high extraction flour

*



88 g medium rye flour


97 g water (@55F)


17 g salt


1,012 g all of the second levain build

**



Total dough weight 1,565 g and total dough hydration 72%
**Note: the total levain is 230% of final dough flour.


Mix all ingredients in first speed of your mixer until well incorporated about 3 - 4 minutes.


Switch to second speed (approx. the 4th gear on home Kitchen Aid mixer) for 2 - 3 minutes until medium strength of gluten development.


First fermentation in mixing bowl for 30 minutes.


Turn out onto a lightly floured work bench and pre-shape to light ball.


Rest 20 - 30 minutes.


Shape into a boule and place in a well dusted linen-lined basket.


Proof retarding overnight at 8 - 9C/46 - 58 F (in this case 18 hours).


Bake - Day three @10:15 am


One hour before baking, turn on your oven to pre-heat to 450F.


Score (or stencil) your dough any way you like (a traditional score is diamond score; I did a stencil of three overlapping circles with three scores).


Bake for one hour with steam before and right after the dough is loaded onto your baking stone.


Cool before slice.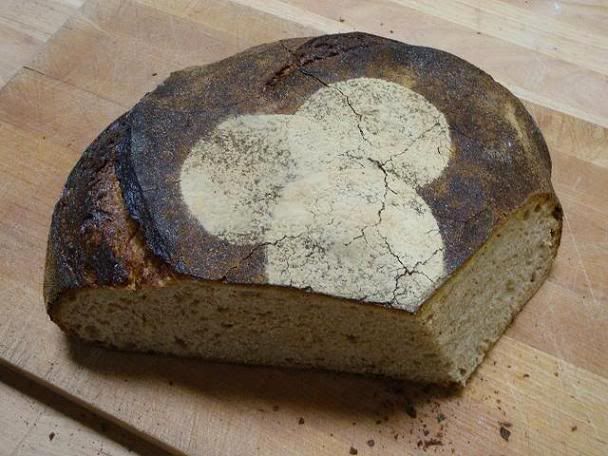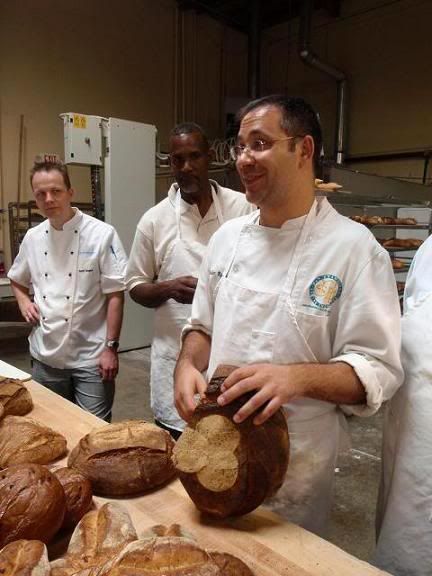 Didier used my Miche as demo to explain that this bread was how bread was made in the old days and that its flavor was quite sour.   The sour taste is too strong for my liking but apparently many people in the U.S. like the strong sour taste and, surprisingly for me, almost all the other Aussies in the class like it too.  I was told that these days in France however, people generally don't like it too sour.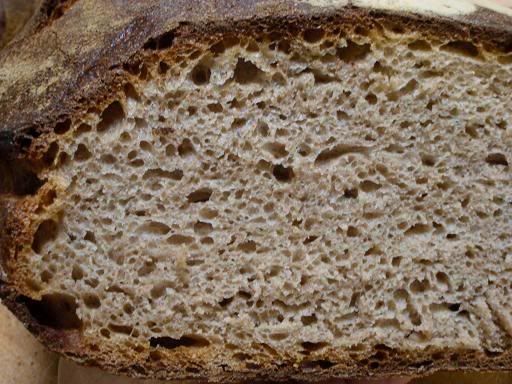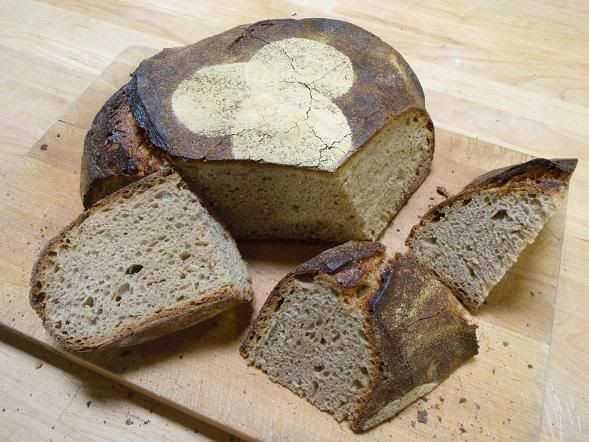 If I were to do this Miche again, the following are the changes I would incorporate: 


Hand mix to achieve a more open crumb;


Increase total dough hydration to 76% at least, also for more open crumb; and


To cut down the sourness by reducing the levain as a % of final dough flour from 230% to 120% or lower (in which case the shaped dough will proof at room temperature for an hour or two before goes into the retarder and for shorter time).


I like the flour profile and will make no change in that.  


Shiao-Ping
p.s.  I asked Didier if I could blog this formula with his picture and the answer was a very happy yes to me.  Thank you, Didier.