August 25, 2009 - 12:42am
jmonkey's Overnight Whole Grain Sourdough with Wheat, Spelt & Rye
I'm a long time lurker and first time poster.
Last week I finally got a decent sourdough starter going, based on the instructions in Reinhart's Whole Grain Breads. I used it successfully to make Pierre Nury's Rustic Light Rye and some Sourdough Waffles, both of which came out well with the clear instructions provided. I decided to try making some 100% whole grain bread, which I've never had much success with, and finally settled on jmonkey's recipe.
I used the stretch and fold technique for kneading, shaped it into a boule, and baked it in a 450ºF oven on a stone. Also, since I can only get soft whole wheat here, I added vital wheat gluten to the flour to compensate (around 2-3 tsp/cup).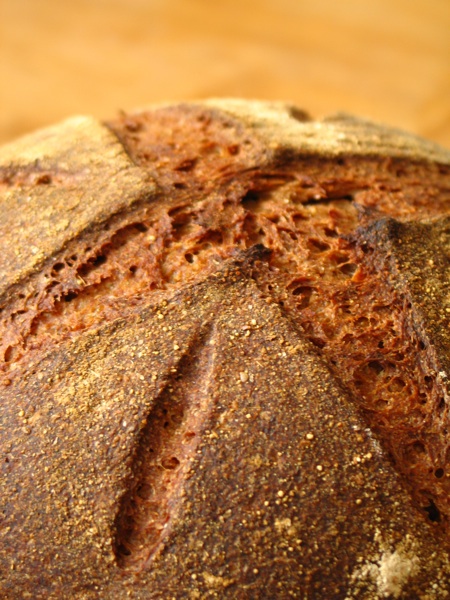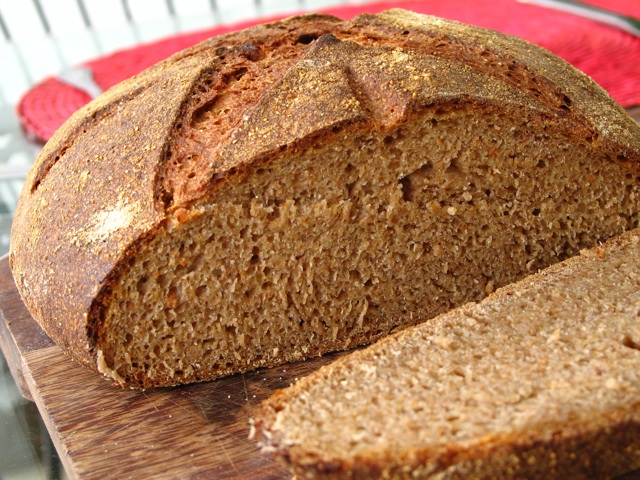 It might be too caramelized for some tastes, but I liked the way it came out (thanks jmonkey!). I expected the crumb to be more open based on what the recipe said, but I think I may have underproofed the loaf a bit. Next time I will also put the stone lower in the over since the bottom took much too long to finish. As far as taste goes, it was delicious, one of the best whole grain breads I've had. What do you think?
Chris