August 23, 2009 - 10:25pm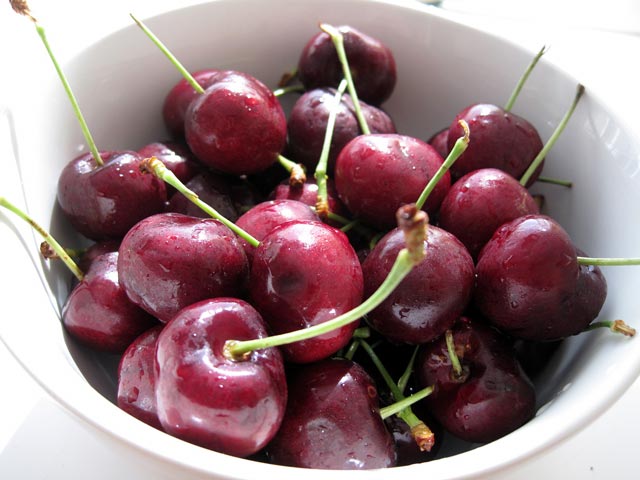 A bowl of cherries
Hi, loafers!
I just returned from a week on the Oregon coast vacationing with our sons and their families. <sigh> It always seems too short.
I took along some previously baked breads - a Miche, Pointe-à-Callière, a Susan from San Diego's Ultimate Sourdough and Salome's Sourdough Potato-Walnut Bread. I also baked a couple loaves of San Joaquin Sourdough while there, again hazarding an unfamiliar oven and no baking stone. The breads I baked there suffered most from the scoring not opening up well. One I baked under a stainless steel bowl to steam. The other loaf was steamed by pouring boiling water into a heated skillet. The magic bowl technique worked better, I think.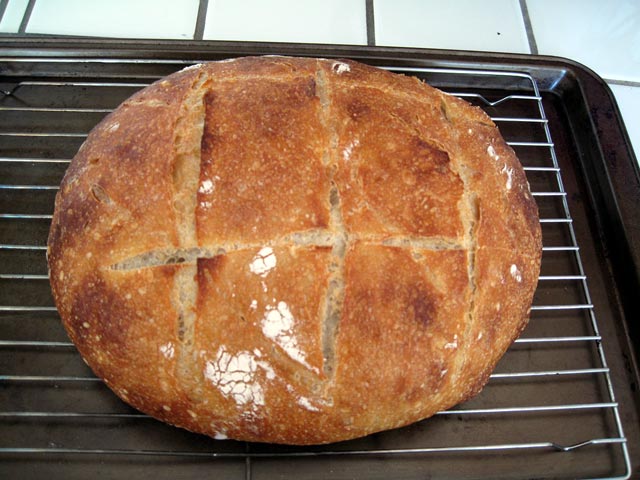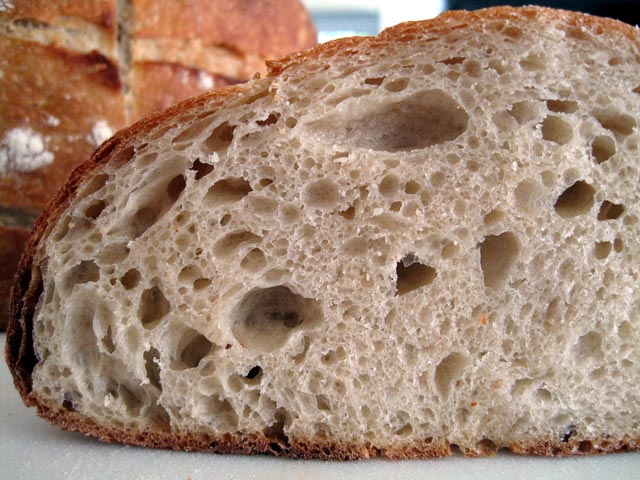 I believe my older (3 years old) granddaughter ate the lioness' share of this loaf as PB&J sandwiches!
I also made AnnieT's Sourdough Pancakes with local blueberries twice. One time, I made some with roasted pecans. Yum! Highly recommended.
I took along starter in two forms: I dried some starter, and I made a very firm ball of starter about the size of a golf ball. I only ended up using the latter. It traveled for two days at room temperature without appreciable expansion. (No problems with Homeland Security.) I cut it up into very small pieces and soaked them in water for a while, then mixed the slurry well and added enough water to make an intermediate starter of about the consistency of my usual 1:3:4 (S:W:F) starter. This fermented overnight and was reasonably happy the next morning.
The other essential equipment I took along included a large Silpat mat for stretching and folding and forming loaves, an instant read thermometer, a plastic scraper and some instant yeast. I purchased a couple of large stainless steel bowls and a large cookie sheet in Oregon before heading to the beach. 
There was nothing I didn't take along that I wished I had. I think this is a good, minimal equipment list for bread baking on vacation.
My only regret is that my vacation coincided with Shiao-Ping's SFBI adventure. It would have been so neat to have met her face-to-face while she was in California! And tomorrow, I start Jury Duty. Not my choice for how to ease back into the real world after a wonderful vacation.
David