Baguettes with Poolish - and Grignes finally!
Since I returned from a class on the classic French breads at KAF I've been attempting to reproduce the quality of the bakes we accomplished there. Especially with baguettes where, with a still shaky scoring technique, I nonetheless managed to produce some decent looking grignes while there.
What I discovered at home, however, is that my gas oven is like a sieve when it comes to steam retention. I also found that my scoring techniques had regressed, if anything. The result has been bread with a wonderful crust that is crackly, and a crumb that, while a little tighter than it would be if my scoring was opening, has a wonderful flavor - particularly when using a poolish which imparts a nice nuttiness.
But on the whole, it's been frustrating. Until today. While my cuts are still sealing prematurely, and depriving the loaves of maximum spring, I finally accomplished gringes that actually look like they should, and which did allow the crumb to open up a bit more.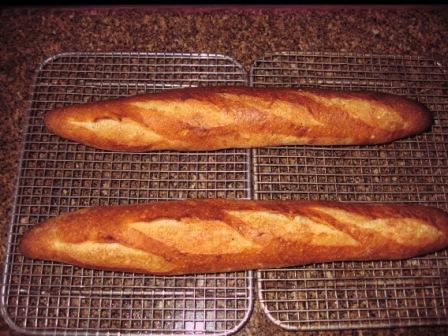 What happened? I think a combination of two things:
1) In attempting to holding my lame at a 30° angle to the top of the baguette, I think I've actually gone too close to horizontal, and the result's been a noticeable pulling of the dough. Today I approached from a steeper angle - probably closer to 45°, and the result was cleaner cuts. (You can see that my scoring was more successful on the bottom loaf than the top one). And I also made the slashes with more confidence and less hesitation. I kept thinking of Reinhart's injunction to his students to imagine slitting open an envelope.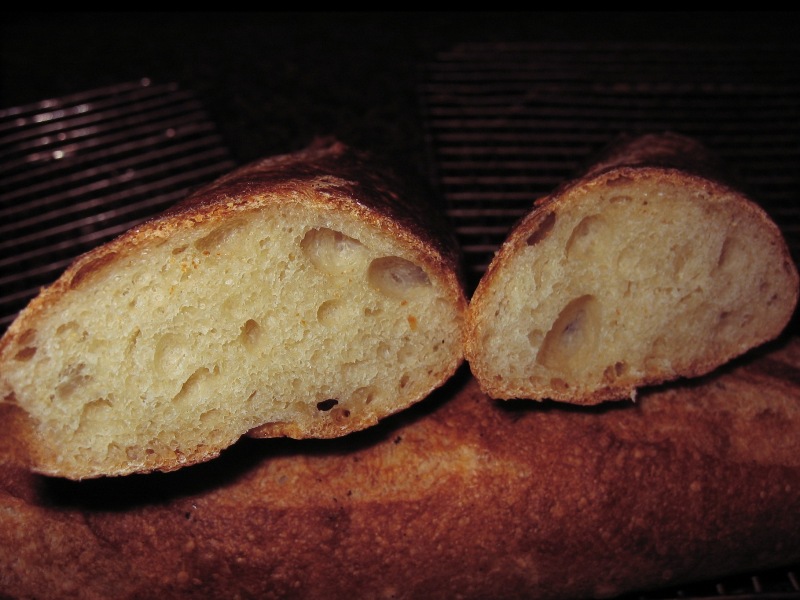 2) I heavily misted the loaves just after scoring them, right before putting them into the oven. I used a cup and a half of boiling water poured into a cast iron pan in the bottom of the stove instead of the usual one. And finally, after one minute, I very briefly opened the oven and again misted the tops of the loaves.
Obviously I haven't totally solved the steaming issue, as my cuts didn't bloom to the degree I hoped. But for the first time I've got recognizable gringes.
It has me grinning along with the baguettes!
Larry