... an orange sun low in the sky
1973, Kaohsiung, Taiwan.  The Taiwan Provincial Symphony Orchestra was coming into town.  I was in my first year of high school.  My father was given free tickets because of his position at the ruling KMT Party.  He pulled me out of the school that day; in my school uniform, I sat on the front roll of the concert hall, listening to the Western symphonic music for the first time ever in my life.  I had never heard anything like it; I was so moved, I had joyous tears in my eyes that to this day I still don't know where they came from.  
Three nights ago, on the eve of my departure for America, my husband suggested that I read our son's English assignment, entitled "Personal Reflection."  It was late at night and I hadn't even packed my bag.  My son wrote about his reminiscences of Australia, "the sun burnt country."  As my kids were born in South-East Asia, up until 4 and a half years ago before we moved back here, their memories of Australia were mostly from our annual beach holidays.  He describes a fishing experience during one of those holidays: 



It is ironic that the memories most vivid are those of Australia and our annual pilgrimages back to Noosa for our Christmas holidays.  I would always look forward to these holidays for they were my only experience of what was supposedly my home country.  One particular event that sands out is shore fishing off the rocks of Little Cove.  Late afternoon warranted weakening light and an orange sun low in the sky.  Golden light skimmed the surface of the ocean creating stunning patterns of reflection.  The point was a peaceful sanctuary.  Swiftly, the armies of the seas would surge towards the rock wall and bombard it with all its force.  Occasionally, the ocean would deliver a penetrating blow when a larger wave collided heavily which resulted in troops erupting further into unfriendly territory.  Perhaps, the sea was a relentless warzone.  The smell of eucalypt combined with a salty breeze to form that earthy sent that was comforting yet unique. 




I would never catch any fish out there; I had enough trouble holding the rod even with two hands.  Also, I had a tricky encounter with our poor choice of bait.  Bloodworms.  I soon found out why they were called bloodworms after I pierced one onto my hook and it spewed a volcano of inferno red all over my long-sleeved white beach shirt that I was made to wear.  What a gruesome experience.  More difficulties arose with actually keeping the pest on the hook.  Casting proved to be another tricky enterprise to undertake.  A five metre cast with arctic winds to aid me would be a heroic effort indeed therefore Dad would usually cast for me.  He would be hauling in fish beside me whilst I, who was sitting just three metres to his left, wouldn't catch a thing.  With my thin forearms flexed, eyebrows crooked and eyes peeled I would concentrate my entire mental wrath just calling, aiding the sea creatures into my domain.  Alas, my mental strain paid off.  I reeled in the line as hastily as my might would allow only to find an empty hook.  At this stage Dad would let me reel in one of his own catch and claim it as my own.  A bear-like hug for my glorious accomplishment was definitely in order.  Despite my bad luck, it was moments like those that put a smile on my face that reached the tip of my ears and a booming laughter that could be heard across the Pacific.  



It was when I read "... an orange sun low in the sky.  Golden light skimmed the surface of the ocean...." that my eyes became wet with joy - because he could see what I saw. 
He finishes his "Personal Reflection" with the following:



I still feel a great connection to Singapore and its unique culture of coconut milk, straw skirts and 'hawker' food markets.  However, reminiscing now I realize just how deep my love for the land down under has entrenched.  It must have grown from my absolute fascination of Australian wildlife and admiration of its charm and care-free way of life.  To me, it will always remain a tropical escape of tremendous adventure.  My bonds to Australia stand Goliath tall; my David attachment to Singapore shrinks into the background.  Thinking back, those bliss Christmas relaxations created a great desire to voyage to my homeland.  Therefore, rather than dread the day I would eventually leave, I was eager to explore this new continent, make long-term friendships and above all, finally reside in the land of my nationality - Australia.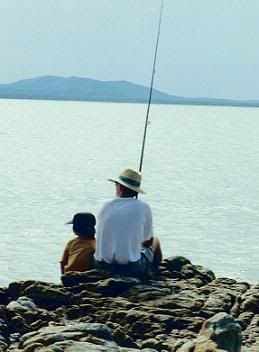 2001 Christmas holiday
My son, 14, first year of high school. 
Shiao-Ping