I'm always willing to try a new baguette recipe. So, DonD's "Eric Kayser's Baguettes Monge Hybrid" post caught my eye, and I made them today. I'll add a comment to Don's topic on the ones I made according to his instructions, but I made one of the 3 baguettes using my own technique. I call it "Eric Kayser's Baguettes Monge Mutant."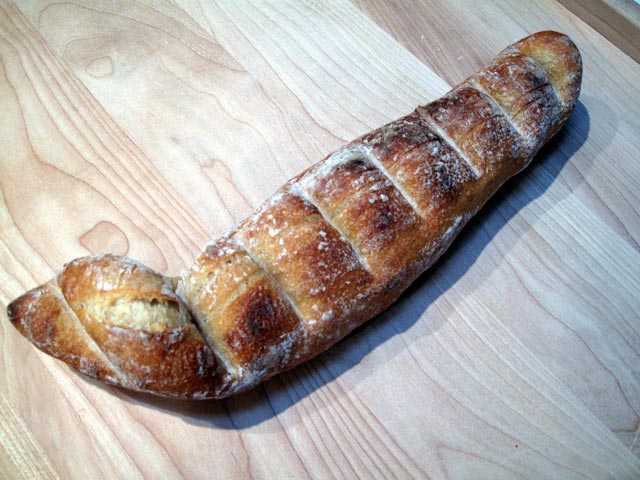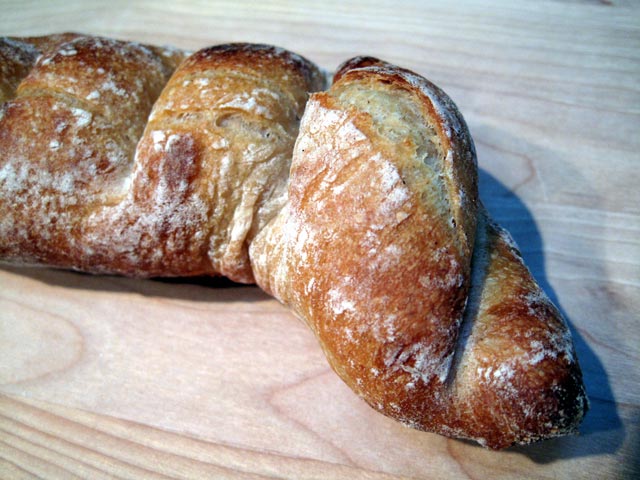 Procedure
Make baguette dough according to your favorite formula.

Proof en couche.

Carefully transfer baguette to parchment paper on the back of a sheet pan.

Pull out the center oven rack with pre-heated baking stone.

Delicately slide the baguette off the back end of the stone so it lies across the bottom oven rack, scored side down.

Steam the oven and bake at 460F for 10 minutes.

Remove the steaming skillet from the oven. Slide out the bottom rack. Transfer the baguette to the baking stone.

Turn down the oven to 440F and continue to bake for another 12 minutes.

Leave the baguette in the turned off oven with the door ajar for another 5 minutes.

Cool the baguette completely before making bread crumbs for tomorrow night's meatballs.
Happy baking!
David