Lang Lang was on the radio this morning (his piano, not his presence).  The English lady, Emma Ayres, hosts a fine, fine classic FM radio show, Teas on Toast, on ABC Radio.  She played Lang Lang's Haydn sonata in Carnegie Hall, 2003.   Lang Lang, 27, is the pride of modern day Mainland Chinese.   His reputation spread so rapidly that a Chinese-language biography appeared before his 17th birthday.  I have no business joining the band wagon in praising him.   But I can feel his sensibility through his fingers (the fastest fingers in the whole of China, his fans will have you believe).   
He comes from Sheng-Yang in the far north of China.  Whenever I think of northern China, I think of the noodles they have and the hot steam buns they have.   They always say that the north has wheat and the men grow tall up there (and ride horses!); and the south has rice.   My father comes from the border line between the north and the south in Mainland China, so we ate both noodles and rice at home when I was growing up.   My father's favourite Sunday lunch was noodles with the best quality soy sauce one could find.   Can you imagine fresh pasta with the best quality olive oil you can find; it is like that.   Plain, with nothing else on, the flavour of flour comes "shining through" (to borrow James MacGuire's words) in freshly boiled noodles.  
We kids didn't appreciate that.   
So, on the way driving home from dropping the kids to school this morning, I thought to myself - Lang Lang, I am going to do a steam bun today, my version.   You watch.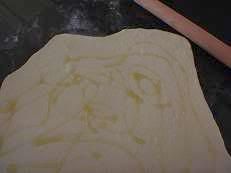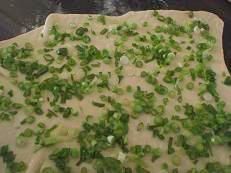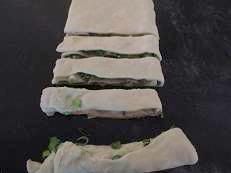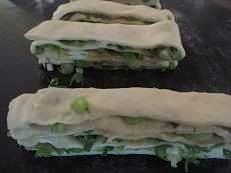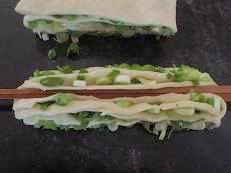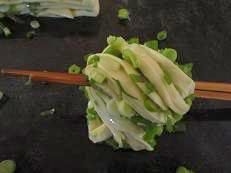 Roll the dough (formula below) out to about 1/2 to 1 cm thickness.  Sprinkle some olive oil and salt on top (a couple of drops of sesame oil would be GRAND), spreading it evenly, and
Sprinkle the chopped shallots. 
Fold 1/3 of the dough to the center, then the other 1/3 to the center like folding a letter (the dough now has 3 layers).  Slice the dough one inch width apart.  
Place two pieces on top of each other (ie, six layers in total).
With the help of two chopsticks, press the dough down to the bottom to make indentations.  
Slide the chopsticks underneath the dough, lift the dough up, then twist the dough    
I made some smaller ones with just three layers too: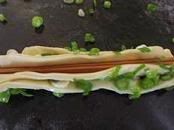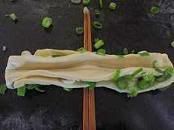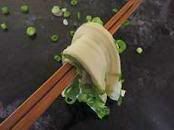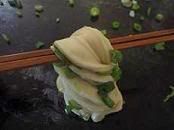 My formula: this is just any white bread dough; it should pass windowpane test;  let it rest for 3o minutes up to an hour before rolling it out as above.  
300 g white flour
168 g water
24 g olive oil
10 g sugar
6 g salt
3 g instant dry yeast (the reason for this is because this is meant to be a quick rising dough)
a big bunch of shallots, chopped up
some olive oil (and sesame oil if you wish)
some more salt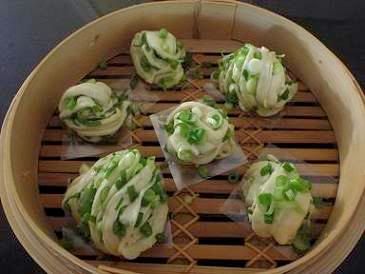 dough resting after shaping  
Let this rest for 3o minutes up to an hour again.   Bring a big pot of water to boil; THEN, place the steamer on top of the boiling water.  The dough will expand rapidly in steaming temperature.  After 5 minutes, turn the heat down to medium.  Boil another 7 minutes.  Total steaming time 12 minutes.   And there we have it: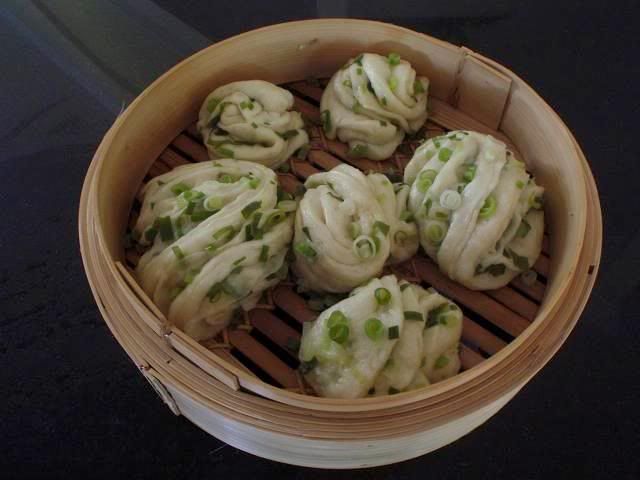 Chinese Shallots Steam Buns  
I can imagine diners in a northern Chinese tea parlour very happily ordering these shallots steam buns for their Sunday brunch, followed by a pot of tea over some gossip.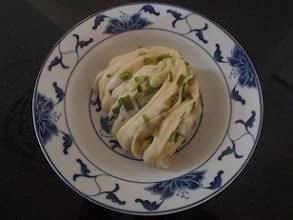 Shiao-Ping  
p.s.  Lang, the first word of his full name, is his family name, which is not a common one among Chinese.  Lang, the second word of his name, is a completely different Chinese character which pronounces the same as the first character.   His name reads very poetic to a Chinese literary mind.  Many Mainland Chinese names today still retain that poetic-ness about them, whereas the names of Chinese from other parts of the world, especially, those from Taiwan, are as ... oh what should I say...; girls' names denoting beauty, virtue, chastity, etc, and boys' names effecting courage, loyalty, righteousness, and the like, are very common; and for both girls and boys, wealth and fortunes are a forever welcome theme for names.