Pain au levain with whole wheat
Jacques Brel is alive and well and living in Paris.
I consider myself a mostly whole grain kind of person, but occasionally I get this insatiable hunger for lighter loaves. Perhaps it's a seasonable thing - fish, salads, shrimps, cold wine and white loaves in July; Sauerkraut, Bratwurst, aquavit and Roggenbrot in January. Anyways, I've baked mostly rye-centric things the last few weeks, so I wanted to mix it up a little. The thought of a very simple, clean loaf appealed to me - allow the flour and sourdough to take center stage. I browsed the chapter on levain breads in Hamelman's book, and was immediately tempted by the formula for pain au levain with whole wheat. I made it once before, but it never struck me as mindblowing at the time. Hmm. What could I've been thinking? Must've been busy with other stuff. Less important stuff than taking in the intoxicating aroma of this loaf, obviously.
Since Hamelman's formulas are bulletproof, I tried the best I could to follow this one to the letter. The only thing I did differently, was to mix the levain at 50% hydration instead of 60%. I keep my firm starter at 50%, a level that my little trooper finds comfy, so I added the remaining water to the final dough instead to get the overall figure right. The formula really is an excellent exercise in how to develop the dough with a minimal amount of mixing - the effects of autolyse and folds are very clearly illuminated.
I've read comments around here about difficulties incorporating firm levains in the final dough. I've never had any issues with this, as my levain is soft and sticky (like you wouldn't believe) when it's fully ripe. After a 30 min. autolyse, salt is sprinkled over the dough, and then I slather spoon-sized bits of ripe levain on top. It doesn't take more than a few seconds of first speed mixing to get everything completely incorporated afterwards. I mixed the dough on 2nd speed for about 90 seconds, and by that time it was coming away from the sides of the bowl and it looked all set. Miracles of autolyse and insights of Prof. Calvel. Then, two folds spaced by 50 mins. each (performed while watching a movie last night), before shaping and retarding overnight.
I pulled the loaf from the fridge this morning as the baking stone was heating up. I'm not sure why, but as long as the dough is not bordering on overproofing, I like to give it some time to warm up. Probably just me being superstitious, but I like the idea of waking up the yeast gradually before *pouff* - ***hot stone***. Here's the loaf in the oven, just after the cut started to open up and the crust started to colour: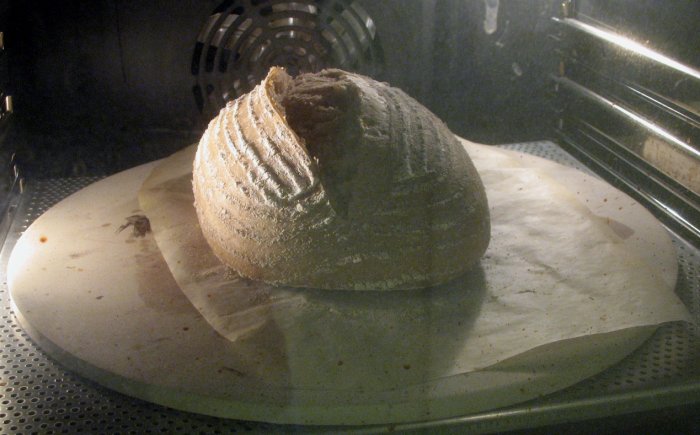 And here's the loaf after a 45 min bake: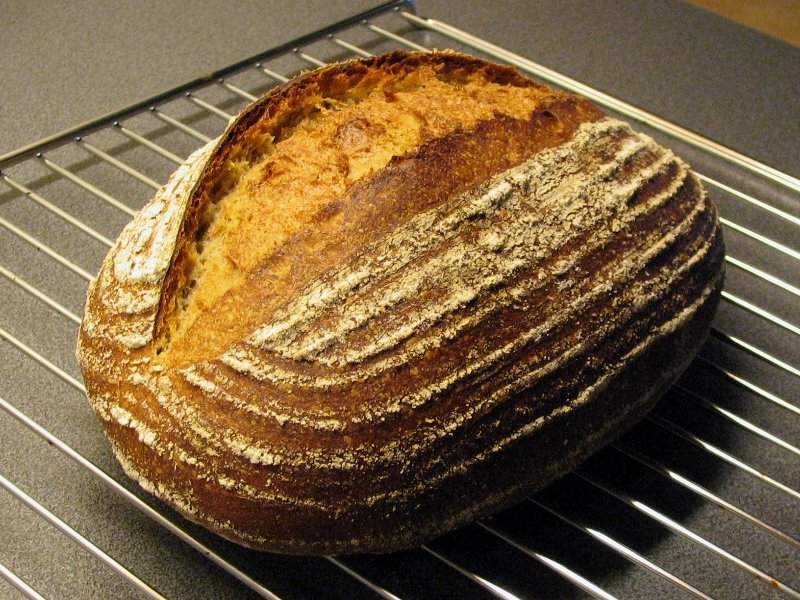 Here's a shot of the crumb: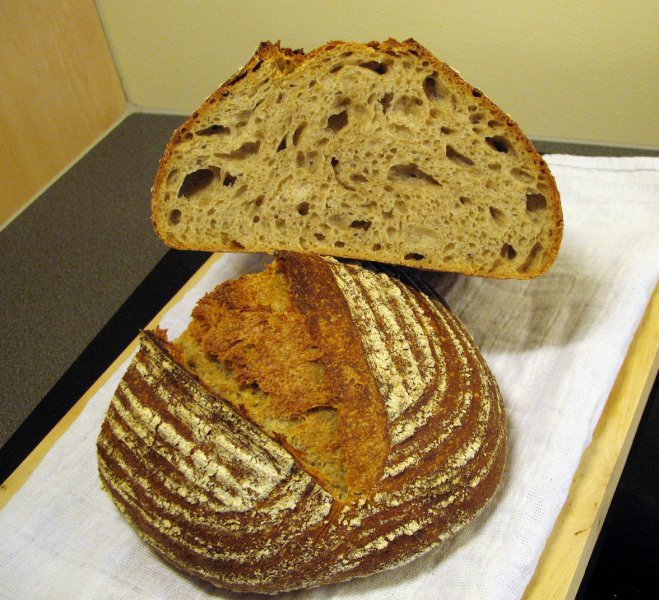 And a close-up for the crumb-obsessed: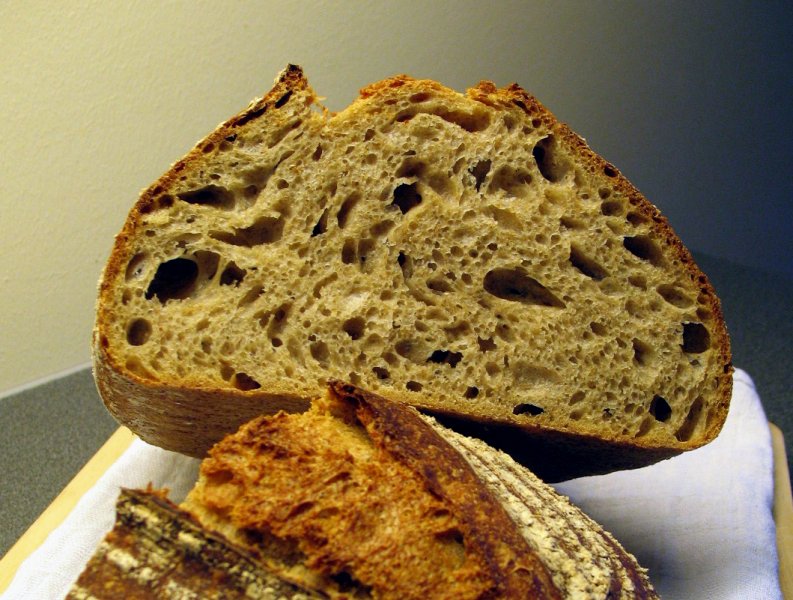 This loaf really blew my mind, I was so excited when I saw how nicely it rose in the oven and how the slash opened up. Also, keep in mind that this dough isn't sticky at all. The overall hydration is only 68%, and considering that there's 25% whole flour in there, it's very comfortable to work with. I think it goes to show that it's possible to achieve an aerated crumb without going all overboard with the water. I also think that the firmness of the levain contributed a lot to the profile of the loaf. As Dan and others have pointed out, a liquid starter or a poolish makes the dough more extensible. With European flours probably being weaker than American ones (I can't really be sure before I've tried, though...), I'm definitely going to keep my starter on the firm side. That way I can get a nicely developed dough just by autolyse and two folds, as in this formula.
I bet most of you Hamelman fans have tried this one already, but if you haven't, I'm recommending it from the bottom of  my whole-grain heart. The crust is just crazy, and the flavour of flour and sourdough is exhilarating. Even though my memory is a bit hazy, I believe this is the closest I've been to the loaves I wolfed down while I was in France last year. All I need now is a plane ticket, some €€€ to spare, a slab of French butter and a bottle of cheap wine.