A Variation of Shiao-Ping's Goji Bread..
Let me just say that the crumb of my version of Goji bread has NO resemblance to Shiao-Ping's beautiful loaf. The crumb is awful, but the taste and aroma just has to match hers, because it's heavenly.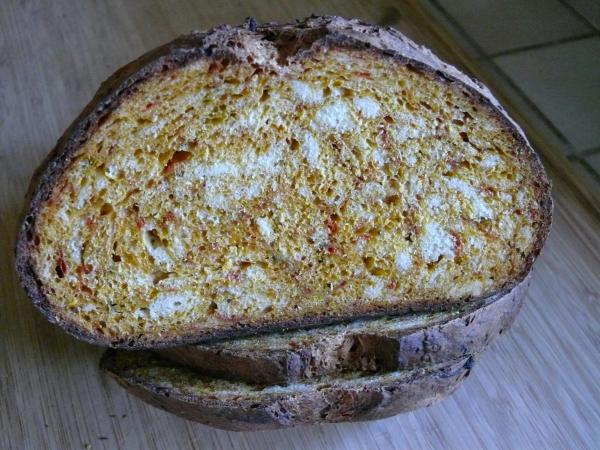 I strayed abit from her version by using grated, squeezed dry (as I could) zucchini. Like a lot of other folks, I have a surplus of that much maligned veggie. I grated up a bunch for Zucchini Spice bread and had some left over, imagine that! 
Mixing turned out to be like rubbing the outside of the dough with the squash and berries. I just couldn't get them to incorporate, as you can see by the white streaks of dough. It felt like I was trying to work it into a glob of mozzarella cheese. I'm sure my subbing the zucchini was to blame.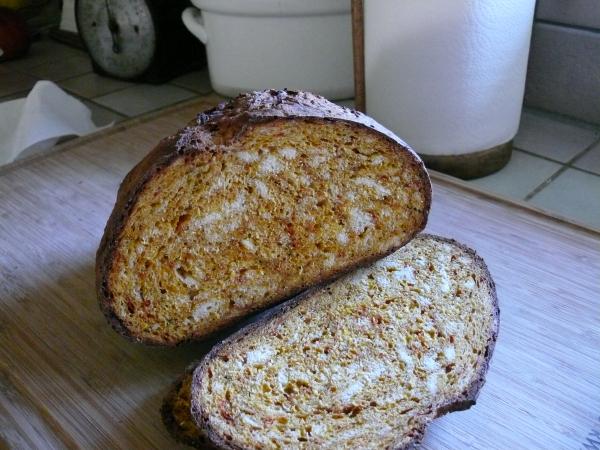 Persevere, I did. The flavor is just incredible. It is slightly sweet, but in a different way. Not like molasses or sugar. You also get the bite of the pepper and nutmeg on your palate. This is a wonderful bread and I will try again, with spinach!
Thank you Shiao-Ping,
Betty