McGuire's Pain de Tradition: Baguette & Bâtard
Shiao-Ping's blog entry on James McGuire's Pain de Tradition  certainly stimulated a lot of interest. I made the sourdough version a couple days ago. Today, I made the straight dough version.
The formula is in Shiao-Ping's posting. I followed it, changing only the flours. I used Giusto's Baker's Choice rather than KAF AP, and I used 10% KAF Organic White Whole Wheat. 
Shiao-Ping, in her excellent write up, mentioned that this dough could be used for baguettes. I was a bit skeptical regarding a 80% hydration dough for baguettes, but I gave it a try. 
The dough developed beautifully with the stretch and fold in the bowl procedure. By the 3 hour point, it had moderate gluten development and was already pulling away from the bowl. In my warm kitchen, it was quite puffy and expanded.
I treated the dough to pre-shaping and shaping as I would any straight dough. I lost some of the openness in the crumb, but it was still pretty nice. I baked at 460F with light steam. I removed the steaming skillet at 10 minutes. The baguette baked for 20 minutes, the bIatard for 30 minutes. The loaves were left in the oven for another 10 minutes with the oven off and the door ajar.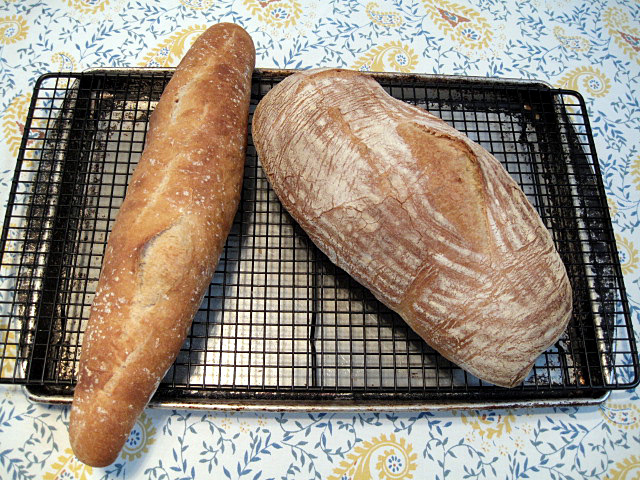 The cuts didn't open up as well as I had wished, but the crust ended up the closest to classic, crackly baguettes as any I've baked. The loaves sang for a long time, and the crust cracked during cooling, which I take as a positive sign of a thin, crisp crust.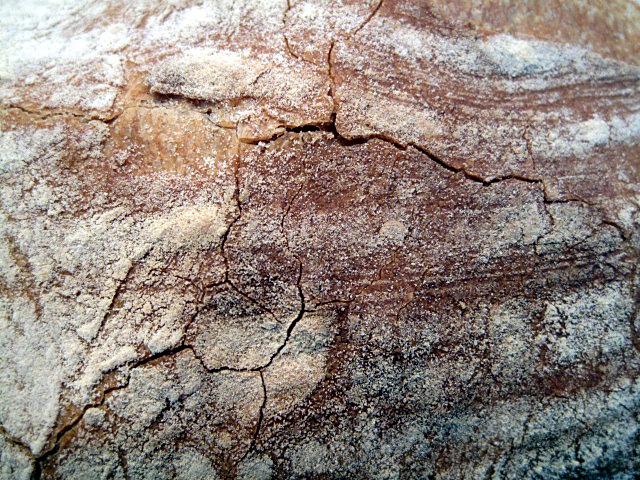 As I said, the crumb was nice, but not as open as expected, given the high hydration. This may reflect my firm-handed pre-shaping and shaping. I may have erred on the side of under-steaming, too. I had proofed to 1.75 times the original volume. I feared over-proofing and may have slightly under-proofed. Oven spring was fast and large.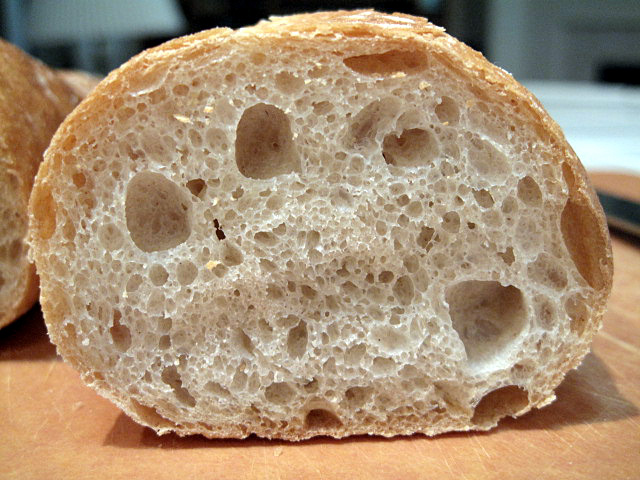 Baguette Crumb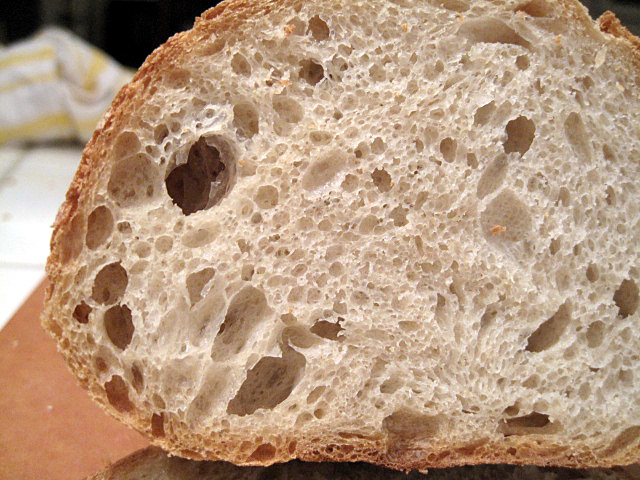 Bâtard Crumb
The flavor was amazing. It was wheaty and slightly sweet, and it had an almost herbal overtone and complexity of flavor I can't say I've ever tasting in a white wheat, straight dough bread before. Perhaps this was due to the White Whole Wheat. I'm sure the long fermentation played an important role. Whatever. The flavor was there in both breads. It was not there when I first tasted the baguette but developed about 3 hours after baking.
This is a remarkable bread.
I like the results from baking it at the higher temperature, especially on the crust crispness. A longer bake at a slightly  lower temperature is worth a try though. This is my new method to fiddle with on the continuing baguette quest for sure.
David