Pain de Tradition Sourdough
When Shiao-Ping showed us the "Pain de Tradition" of James McGuire, I knew I was going to make it. The bread she made was gorgeous and good to eat. The techniques used were very congenial to me, since I have really had good results from "stretch and fold in the bowl" mixing with other breads. Besides, the one bread attributed to McGuire I've made (repeatedly) – the "Miche, Pointe-à-Callière" in Hamelman's "Bread" - is a wonderful bread.
I immediately thought of making this bread as a sourdough. Shiao-Ping and then Eric beat me to the draw. Here is mine.
I followed Shiao-Ping's formula. My starter has some rye and some whole wheat flour, but I used KAF Bread Flour exclusively to make the dough. I did add 2 gms of Instant Yeast, although my feeling was, like Eric's, that less would be better, particularly since my kitchen temperature was around 80F.
As I did the repeated stretch and folds, I felt the dough was not developing as well as I was accustomed to using this technique. So, for the last two sets of stretch and folds, I folded 15-20 times, rather than 8-10 times. At the end, the dough was still very loose. My inclination would have been to do a tight pre-shaping, but I stuck with the directions and just transferred the dough to a floured board to rest for 15 minutes under the bowl. I shaped a boule by gathering the edges of the dough to the center and sealing the seams. I then transferred the loaf to a well-floured, linen-lined banneton to proof.
I proofed for about 40 minutes, at which time the loaf had expanded no more than 50%. I transferred it to parchment on a peel and loaded onto my pre-heated baking stone. The rest of the baking procedure was as Shiao-Ping described.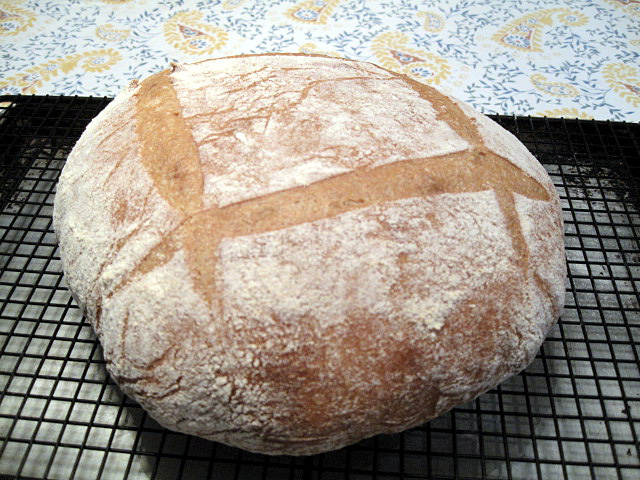 This is the lightest-colored loaf I've baked in years. I might like this bread baked darker (by baking at a higher temperature), but the light-colored crust sure shows up the yellow pigments in the flour. Others have remarked on how yellow or "cream"-colored the crumb is on this bread. Well, my crust was too!
I baked the loaf to 210F internal temperature, then baked it 5 minutes more, then left it in the oven for 10 minutes more with the oven off and the door ajar. The crust still softened as the bread cooled.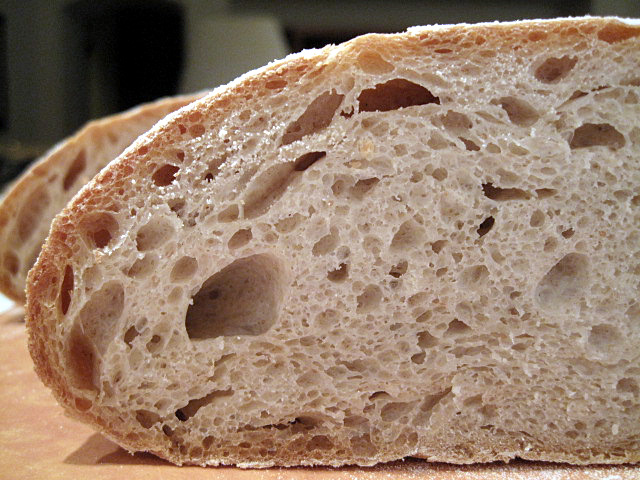 The crumb is classic sourdough - randomly scattered holes of varying size. The mouth feel is cool and tender yet chewy. When first tasted, completely cooled, it has a lovely aroma and flavor. It is actually more assertively sour than expected.
This is a lovely bread. I'll make it again. I'd like to try it with a darker crust and a thicker one. 
David