San Francisco Sourdough Bread - using James MacGuire's pain de tradition procedure
I wanted to see if James MacGuire's Pain de Tradition procedure would improve my San Francisco Sourdough.  My formula is as follows:
220 g San Francisco starter @75% hydration (ie, 126 g white bread flour and 94 g water)
374 g white bread flour
306 g water
10 g salt
2 g instant dry yeast
(ie, total flour is 500 g and total water is 400 g)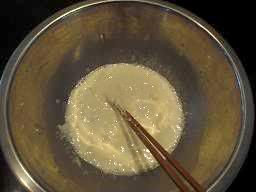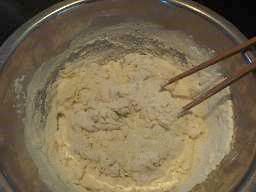 (left) SF starter with some water to loosen it up first   
(center) mix in all remaining recipe water 
(right) combine all ingredients 
After which I followed James MacGuire's pain de tradition procedure as in my earlier post.   And, here is what I've got:
    San Francisco Sourdough Bread using James MacGuire's pain de tradition procedure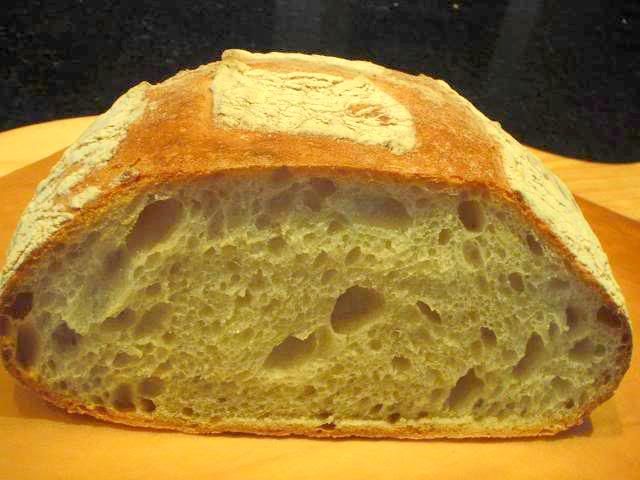 The crumb
I went a bit heavy handed, dusting too much flour on the banneton before I put the shaped dough in.  James specifically advises against it because too much flour will hinder browning and crispness.   Other than that, I am very pleased with the result.  Essentially this is the same as the white Pain de Tradition with an extra depth in flavor - due to the San Francisco sourdough starter.  With the help of a little yeast, the crumb opens up so well.
Not sure if I can call this boule a genuine sourdough, but, the heavily floured crust notwithstanding, it is a great bread that my family enjoyed.   My husband said to me, "I don't think that I've ever had bread that good; it's the simplicity of the flavor ...."  He said, "I don't know if I'll mature into rye and other grains but ... the intensive flavor of this one is just bloody sensational!"   Sometimes I'm not sure if I would ever be accustomed to Aussie lingo.
Shiao-Ping