100% Whole-Wheat Miche de Campagne - James J. MacGuire's Pain de Tradition formula
As I had such a lovely result from my last Pain de Tradition using white flour, I thought I'd give it a try with whole-wheat flour.   James said to make a miche de campagne, substitute 15% whole-wheat or up to 10% medium rye for part of the white flour, so my 100% whole-wheat version isn't conventional.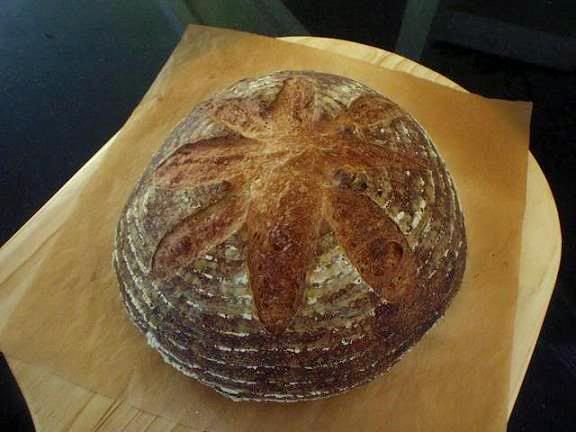 100% Whole-Wheat Miche de Campagne - James MacGuire's Pain de Tradition formula
                  The crumb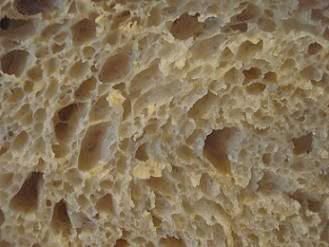 close-up
There is one major difference in the procedure from my previous one.  I retarded the shaped dough overnight, for 8 hours, and then let it come back to room temperature for an hour and a half before it's loaded to oven to bake.  The whole process seems to be long but is not at all cumbersome for a housewife - there are always a million things to be done in the kitchen and around the house any way.
The result is very pleasing for me.  I think the high hydration dough loves to sing, I could hear it crackling even 5 meters away.  It has a very strong nutty and wheaty aroma.  The crust is very crispy and the crumb is lovely.   So often wholemeal bread is dense and heavy, but this high hydration pain de tradition formula makes this 100% wholemeal bread light and delightful to have.  I will have no trouble at all getting my son to have a piece of this.  Done!
Shiao-Ping