Hamelman's 40% Rye - without commercial yeast
Hamelman's 40% Caraway Rye without commercial yeast: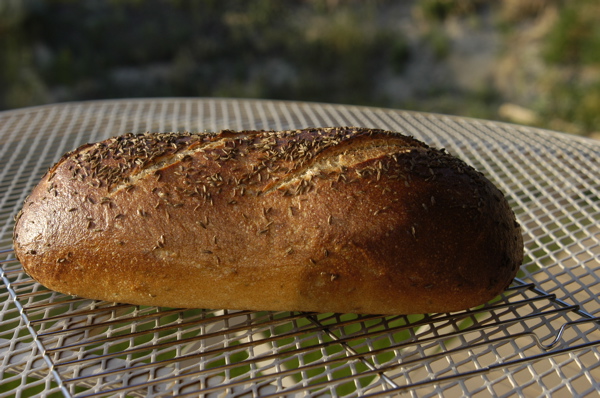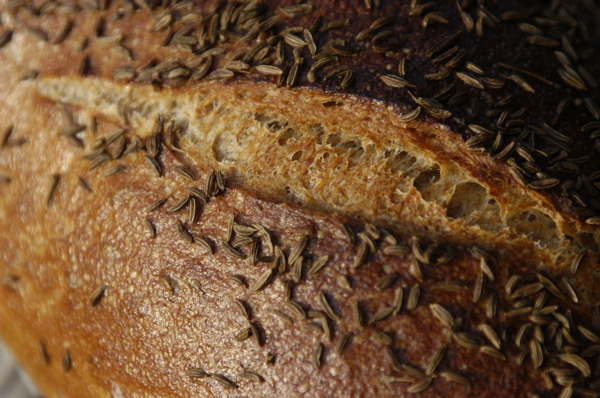 I haven't cut into this yet, but I'm so pleased!  I modified the recipe and only used the rye levain.  It looks great.  This bodes well for paying attention to fermentation temperatures.
I cut the recipe down to make a single loaf:
Rye Sourdough:
dissolve together
8.5g ripe starter
150g water
mix in
181g Giusto's whole dark rye flour
It makes a putty-like starter.  Let ferment 17 hours at 70F.  I floated the container in the bathroom basin with 70F water.
Next day:
Dissolve rye starter in 151g 105F water
Mix together:
265g 12% protein bread flour
7g Giusto's Vital Wheat Gluten (to approximate 14% protein flour)
8.5g salt
8.5g caraway seeds
Combine dry and wet and knead vigourously for 10 minutes.  Dough was initially sticky but soon came together and was easy to knead without any flour on the counter.
Ferment at room temp 90 minutes with two stretch and folds
Life intervened with a Dr. apt., so dough to 'fridge for 2 1/2 hours.  Upon return dough is domed but not doubled
Ferment an additional hour at room temp, altogether doubled from the beginning now
Lightly degas and form into a batard.  Proof on parchment at room temp for 2 hours
Sprinkle with caraway seeds, mist, and slash
Bake 460 with steam 15 minutes, peek in the oven and jump up and down, bake an additional 20 minutes without steam
I'll post a crumb shot once I've cut into it.
:-Paul