Ramblings of a sourdough convert
I'll start by committing blasphemy: I live near San Francisco, and for me, the sourdough here is too sour:) So I thought that's how sourdough is, and decided that well, it must be a matter of taste. And then the bug bit, I baked my own sourdough (but I cheated with a pinch bit of yeast). I made up the recipe, 50% whole wheat, 45% white, 5% rye, 20% walnuts, around 15-20% sourdough starter, 70% hydration, overnight poolish with the pinch of commercial yeast. (There was no recipe I could find, usual sourdough recipes don't allow the safety net with commercial yeast, I winged the whole thing from beginning to end. I really don't think I needed that commercial yeast, but I guess I wanted insurance - I wish I hadn't:)). Photos attached: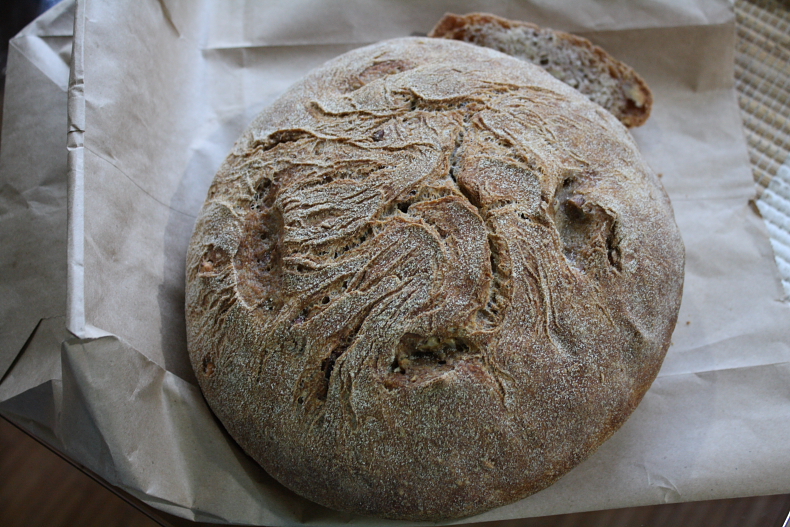 x

I am a complete convert now. This is likely the best bread I've baked in taste. It wasn't too sour like the sourdough I get in stores, it was just to my taste, and flavor was completely different than any other bread I've baked. It's like getting religion.
Obligatory question: I've attached the photo of the whole bread and crumb. After baking this, I went out and bought the similar Acme whole-wheat+rye+walnut sourdough bread to compare the crumb. My crumb (I believe) was not *that* far off from the Acme bread - a bit less open but by no means too bad IMHO. Question is: for a bread like this (whole wheat, rye, walnuts, sourdough), should the crumb become more open or is this about it? Should I fret more on having larger holes, or do I just eat?:)