When I was cleaning out my pantries a couple of weekends ago, I discovered a number of bags of various specialty flours. One of the bags was Bob's Red Mill Durum Wheat Semolina Flour. I was looking around today for a way to use this flour and found a recipe on the King Arthur site for 100% semolina bread. I adapted my bread from the recipe found in Judith and Evan Jones' "The Book of Bread".
http://www.kingarthurflour.com/recipes/semolina-bread-recipe
It is a moist bread with a nice even crumb and a mild taste of semolina. Very easy to make, I'm sure it would be well accepted by children because of its slight cake-like texture. It's kind of like corn bread with out tasting like corn (sounds strange, I know, but that's the way it strikes me). I think this bread would make great stuffing for turkeys and pork chops (see my comments below).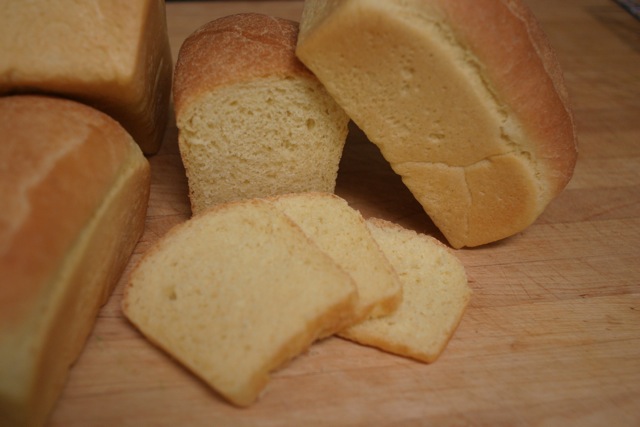 It did make great toast and go well with bacon, lettuce & tomato.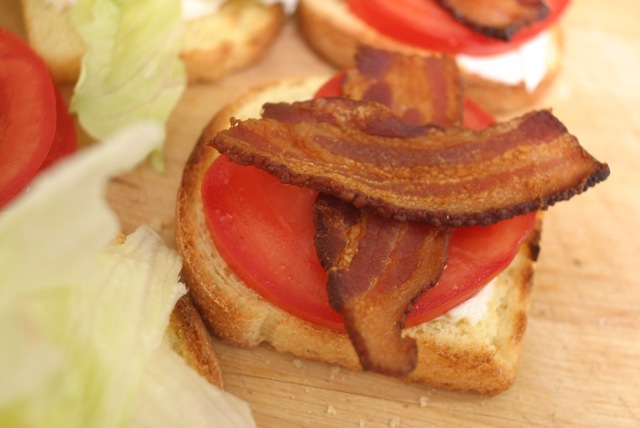 9 g instant yeast
340 g water
28 g soft butter (olive oil would work fine too) 28 g nonfat dry milk 8 g salt 600 g Durum wheat semolina flour (I used Bob's Red Mill Durum Wheat Semolina Flour)
Place all ingredients in bowl of mixer and mix with the paddle for a minute to incorporate all ingredients. Switch to dough hook. Knead on speed 2 for 4 minutes--dough should clean to bowl and pass the window pane test.
Place dough in an oiled 2 qt. container, cover and let rise until nearly triple, about 1 1/2 hours.
Deflate dough and divide into two 18 ounce pieces, for 8 1/2 x 4 inch loaf pans, or four 9 ounce pieces for mini loaf pans. Roll each piece of dough into a rectangle and then roll up tightly, cigar-style.
Place loaves in oiled bread pans, cover with oiled plastic wrap, and let rise until nearly double, about 1 hour.
Bake in center of preheated 350º oven until bread is a light golden brown and internal temperature reaches 190ºF, about 30 minutes. Turn loaves out onto a rack and let cool.
Would I make it again? Probably not. It is a little boring for my tastes, but I'm sure it will make great toast for breakfast. But it serves a two-fold purpose: I needed to use up this sack of semolina and I'm out of bread (my SD starter won't be ready to go until tomorrow.)