Mottled 100% Wholemeal Sourdough
My formula for the dough:  
220 g organic stonegournd wholemeal starter @75% hydration 
400 g organic stoneground wholemeal flour (protein 14%+)
25 g water
270 g fat free butter milk
9 g salt   
(final dough weight 924 g and dough hydration 74% ) 
formula for the semi-liquid dough for brushing on the dough please see here.  (I would however increase water to 50 grams from 44 grams for future renditions.)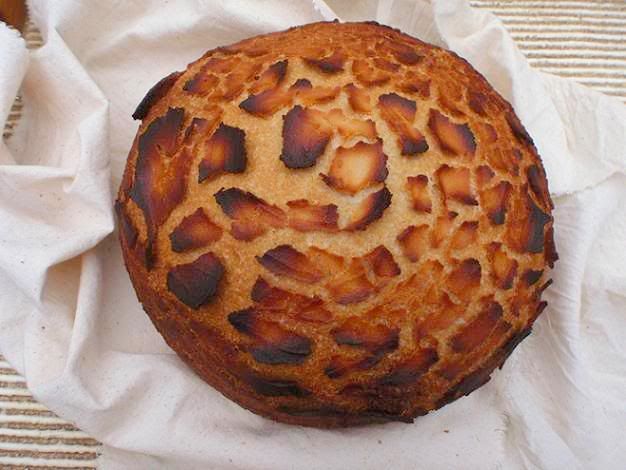 Mottled 100% Wholemeal Sourdough  
                                                                                            The crumb  
(1) The edges of the mottled surface were burned.   Because of the size I had to bake it quite long and the mottled surface cannot take high heat for a very long duration.  Next time I would lower the heat as soon as the dough is loaded.   (But, if the dough size is only half and baking time is shortened, the high heat for the whole duration is still the way to go to produce the golden brown crust.)  
(2) The mottled crust is nice and crispy, the best shape for it however is not a boule.  (I know now.)  The benefit is best felt in a baguette style or thin long bread such that you slice it length-ways.
(3) 74% dough hydration using butter milk is different from 74% hydration using water. The hydration would have been fine had it been water that I used given the high protein level in the wholemeal flour.   This sourdough turns out to be quite dry (ie, under hydrated) as the crumb is somewhat dense.   
(4)100% wholemeal flour gives a strong bitter note to the taste that my family doesn't care for.  Don't do it again.  
Shiao-Ping