Mama Mia! What to do with all that Bread!
Put it in your Meatballs!  Roll your Meatballs in your homemade bread crumbs!  Make Rolls!
I was asked for the meatball recipe and for photos on yesterday's blog for Italian Sandwich Rolls I made useing Dan DiMuzio's recipe for Sicilian Semolina Bread...which I snuck in a cup of Organic White Wheat in enchange for the cup of Bread flour...forgive me Dan!!  It was my ADD..I think that's what you call it!
This is a recipe given to me by my 50+yrs. Italian girlfriend.  This is the way her mother made meatballs and was probably taught by her two 98yr. old aunts still living in the house where she was born in Cleveland, OH...it has the old orginal wood fired oven out back..and Gayle always tells me how there is a cemetary next door!  I just had to put that in...I've heard it so many times!  The Aunts did all their canning, making and wine making down in the basement in this 3 story old home. 
This is not exact measurements but pretty close..you can adjust for your own taste...I like lots of garlic!  The clear bowls hold a cup and half when full with water...just to give you an idea of the preportions I used today. I also used 2 1/4 lbs. of lean ground chuck.  It made a lot of large meatballs.
Meatballs-  The Measurements I have pictured are for a larger batch, what I made today. 2 1/3lbs of meat.  All the ingredients pictured are the porportions I used today.  The clear glass bowls hold 1 1/2 cups of ingredients.
Meat can be a combination of Beef - Veal - Pork
I used only Beef   -  I do not use any salt  -  I think the garlic replaces the need for it!  Taste before adding any..you can always put it on your sandwich later!
Recipe for a smaller portion of meat balls:
1- 1 1/2 lbs. Ground Meat
1/2 cup bread crumbs    I make fresh in my food processor, using my homemade bread, fresh italian parsley, finely chopped garlic, fresh ground pepper, grated parmesan cheese to taste.  Place breadcrumbs onto a plate for rolling the meatballs.
3 regular slices of bread soaked in 1/4 cup water- Do not use bread Crumbs in your meatballs..it makes them tough.
1 - 2 eggs
1/2 cup of Grated Romono Cheese
1 large clove garlic finely chopped
Chopped fresh Italian Parsley
Chopped fresh Basil  - you can use dried
Little salt and pepper.   I don't use any salt for the whole recipe...just fresh grated pepper
In a small bowl mix Eggs, Cheese, Garlic, Italian Parsley, Basil, salt and pepper
Pour egg mixture over meat add dampened broken up bread with most of the crust removed.  With wet hands, gently mix the meat until all is incorporated.  Keeping your hands wet shape into round meatballs.
Roll the meatballs over the bread crumbs.
Fry in canola or I use regular Olive Oil.  I fry at a medium to medium low heat turning until evenly browned.
Add to your pot of tomato sauce...and finish cooking if still a little pink in center of meatballs!
This is the portions I used today!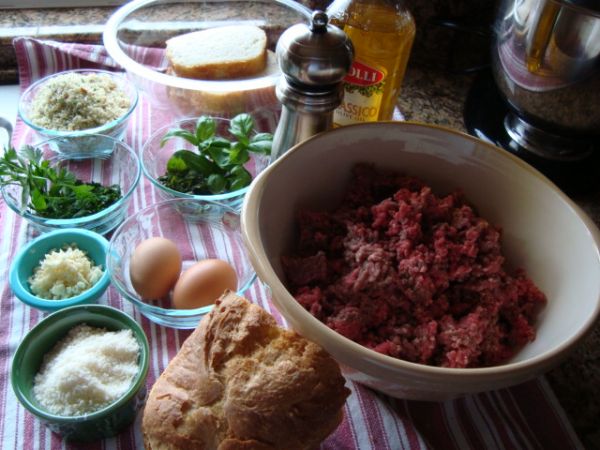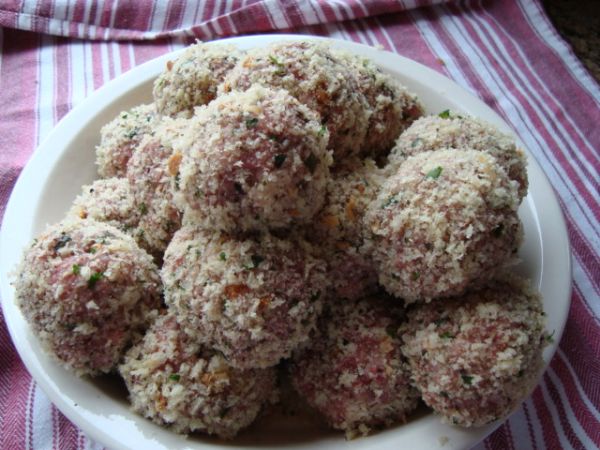 This is how many large meatballs I got...you can count them ; )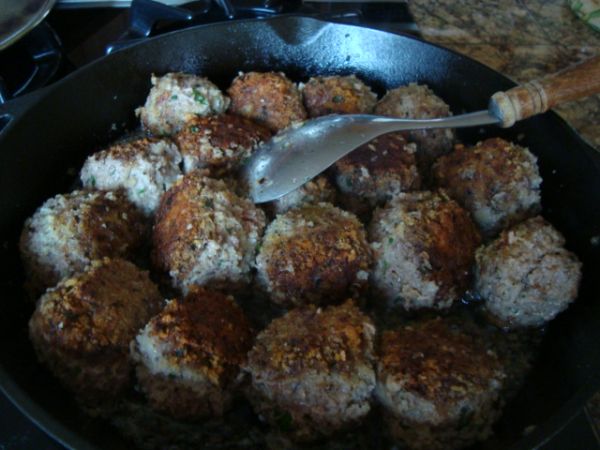 This many plus 5 more!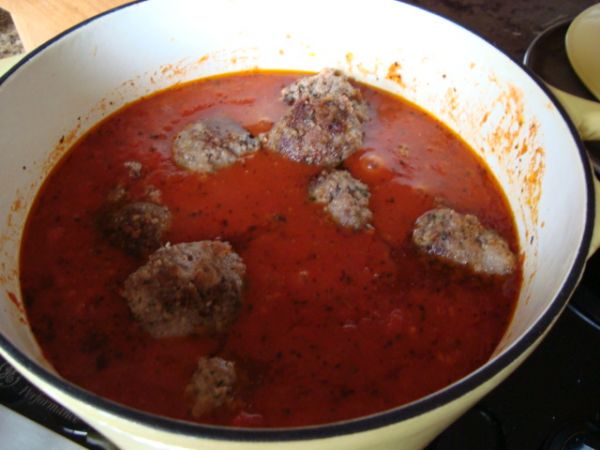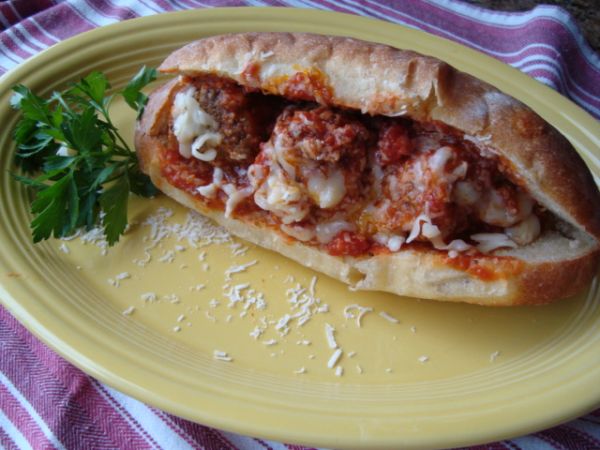 Sprinkel with Mozzarella and Parmesan Cheese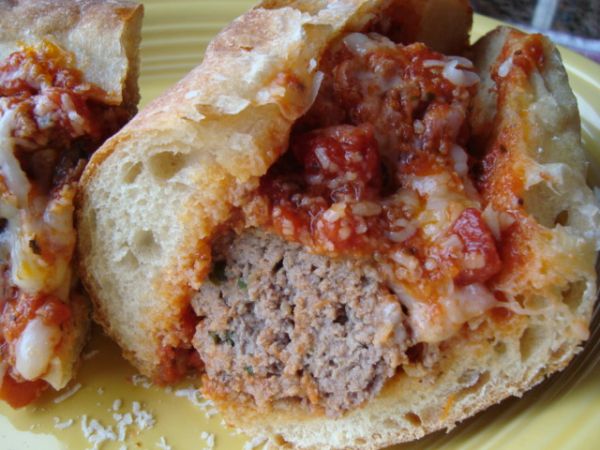 Crumb Shot for David and Pamela ; )
You could pick these up and easily take a big tender bite...Mike ate 2!
Sylvia