Italian Sandwich Rolls and Mango Tarts!
Today I prepared Italian rolls.  Tomorrow I will be making meatballs and Italian hot sausage and wanted a nice roll that would hold up to the fillings.  I have recently stocked up on my favorite Duram flour and Organic White Wheat.  I love Daniel DiMuzio's recipe for his Sicilian Semolina Bread useing the fine duram semolina flour.  But I also wanted to use some of my organic white wheat.  I used his formula and replaced one cup of the bread flour with one cup of the organic white wheat.  The rolls have a nice chew and crunch just perfect crumb for the saucey sandwiches....the rolls are full of flavor and will make wonderful...hoagies, submarines, or grinders!
There is a fruit stand about 2 miles from here that is selling these fabulous organic mango's ... Oh and I mean they are wondeful tasting!  I'm going back for more tomorrow...they were selling them by the box full very reasonable....maybe I could eat that many.  This is mango time of year!  I don't know the variety..all yellow in color...maybe someone on TFL does...but they are just delicious, perfect ripe and sweet!  I have blueberries and cherries...but this is a favorite..Mango Tart with vanilla custard and a very simple very easy to make Cream Cheese Tart Crust from one of my favorite recipe sites!  I will include the recipe here because this is such a great tasting tart shell and could not be easier to make.  It is wonderful filled with crab salad or anything you can think of in a tart!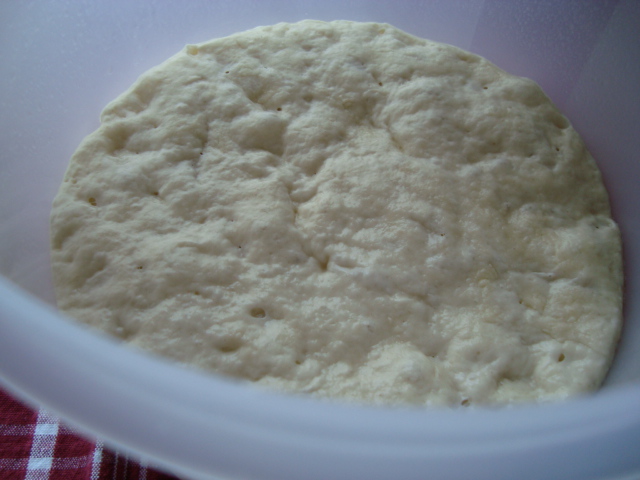 The Biga Smelled So Good!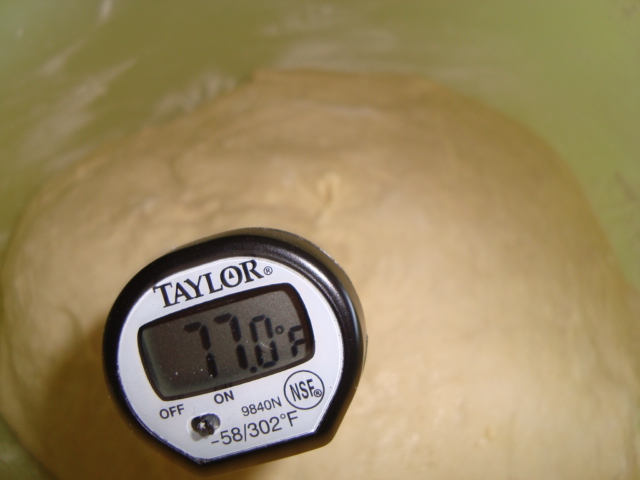 Mixing the dough is easy following Dan's instructions in his new book 'bread baking An Artisan's Perspective'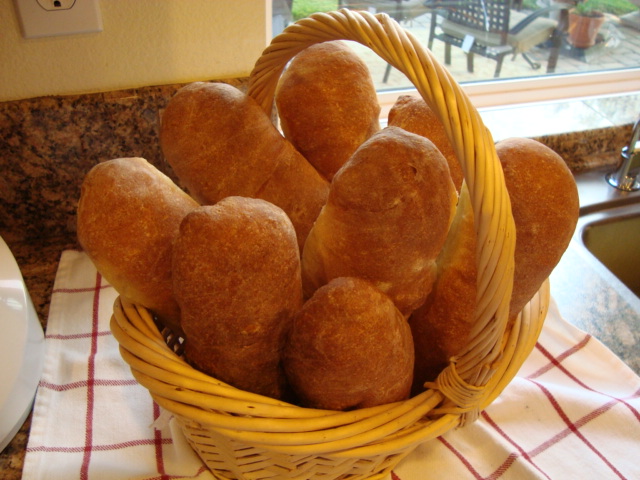 These are apx. 7 1/2 inch large sandwich rolls!  Minus one I ate!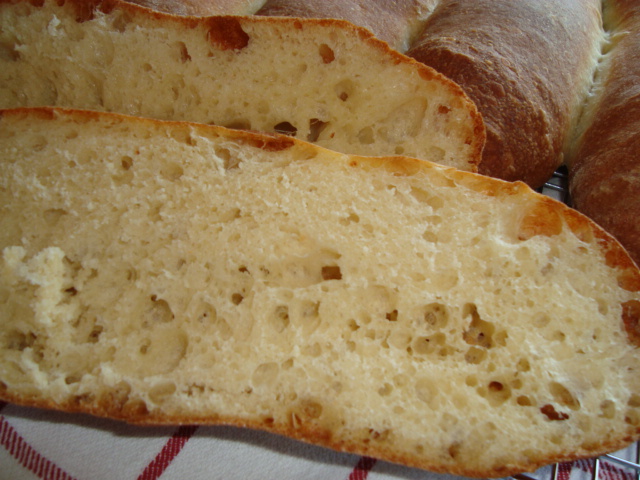 Great flavor with a bit of chew and enough holes to hold the sauce!
Mango Tart's with Vanilla Custard and Cream Cheese Tart Shells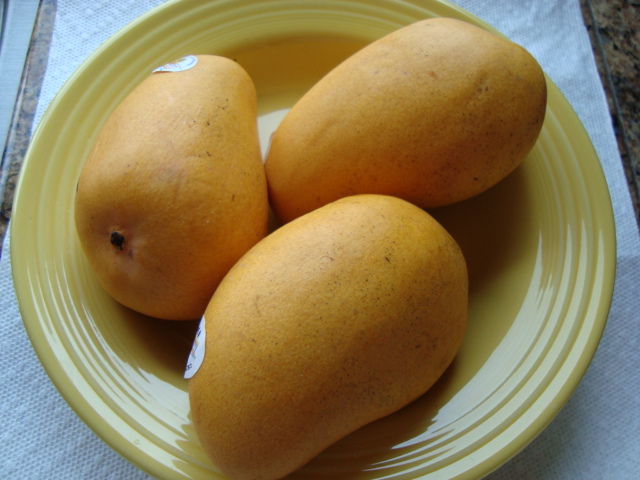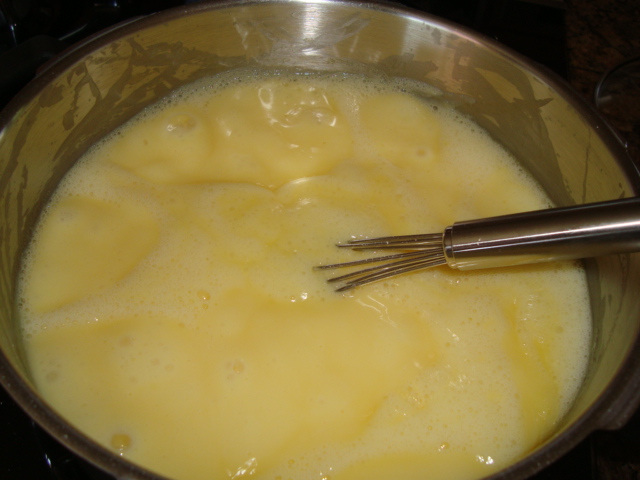 Vanilla Custard...coming to a rolling boil!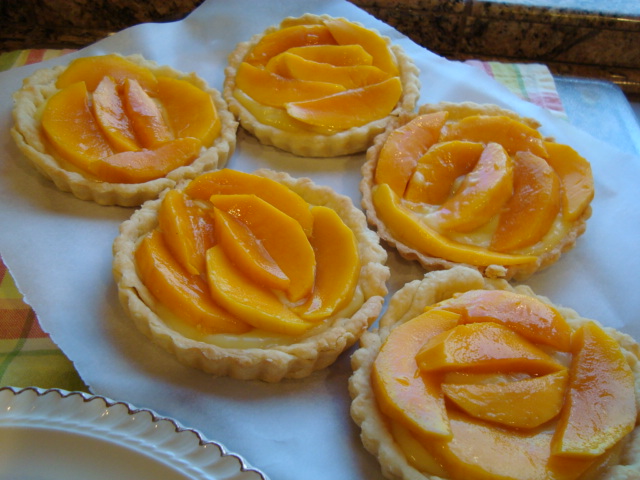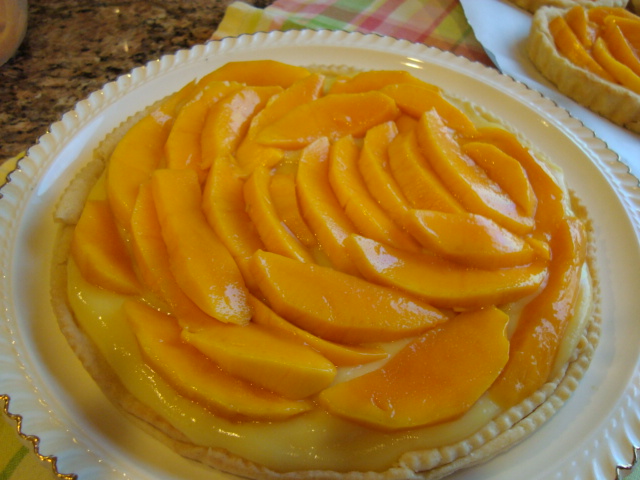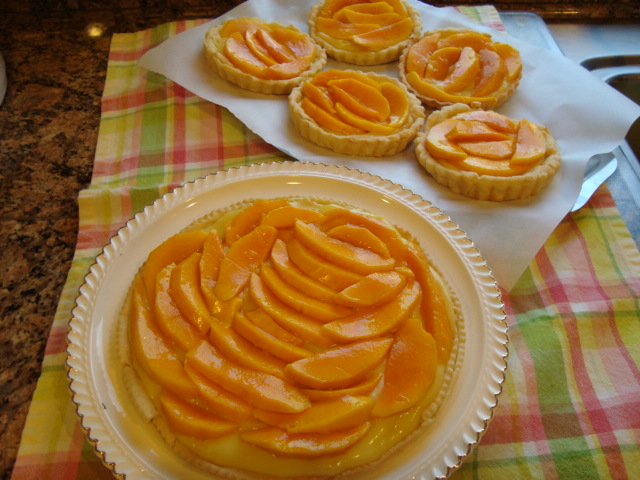 Cream Cheese Tart Shell Recipe........very easy very tasty! From http://www.allrecipes.com
3 oz. Cream Cheese Softened
1/2 Cup Butter- or 1 stick Softened
1 cup All Purpose Flour
l. Blend cream cheese and butter, stir in flour just until blended and chill for one hour or up to 24.
Roll out and put in tart pans or cup cake pans..mini pans are nice...
Preheat Oven 325
Bake apx. 20 mins or until light brown.
Cool add cooled custard and top with favorite fruits.
I love Jello's Vanilla Custard...the one that you cook!  Or the English brand by Bird's is wonderful.
Sylvia