Many years ago I was in Hang-chow, China, 200 km south west of Shanghai, visiting their Tea Museum.  The museum is set in the beautiful West Lake where historically poets and artists gathered.  I bought a cookbook incorporating tea in dishes at the museum.  I thought at the time the idea was really clever, and why not, Oolong tea (a type of green tea) is so good for us.  Other than that, there's not much to speak of about the book, which is in its typical Chinese crude way of presenting cuisine.   
Scroll forward 9 years.  I've got a Tea Liqueur sitting in my pantry since my last trip in Japan.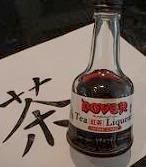 Black Tea Liqueur
As a Chinese, I used to look down on Japan - everything they've had culturally came from historical China anyway.  But I was very, very wrong.  Their samurai spirit is such that they might have initially learnt some things from China, but they have been doing it better.  Is there another country in the world where the old and the new co-exist so beautifully?  I had to go to Kyoto to see how historical China (we are talking about 900 AD) drank their tea.   
Anyway, I've been wanting to use this black tea liqueur.   I used to make Earl Grey Banana Bread to take to my kids' tuck shop morning tea, and the ladies there all loved it, saying how complementary and nice the fragrance from earl grey tea was with banana.  Speaking of earl grey tea, the Michelin-starred chef Marcus Wareing, who used to apprentice with the now infamous UK celebrity chef Gordon Ramsay (the only London three Michelin-starred chef), won the Great British Menu challenge for the desert category and his desert was served at the Queen's 80th birthday banquet.  His Earl Grey Tea Custard is something to die for.  
My subject here is bread.  I am not allowed to do deserts (self-imposed).   I thought I'd just do a simple, honest Black Tea Sourdough, and see what happened (but I'll have to get help from Tea Liqueur!).   So here it is.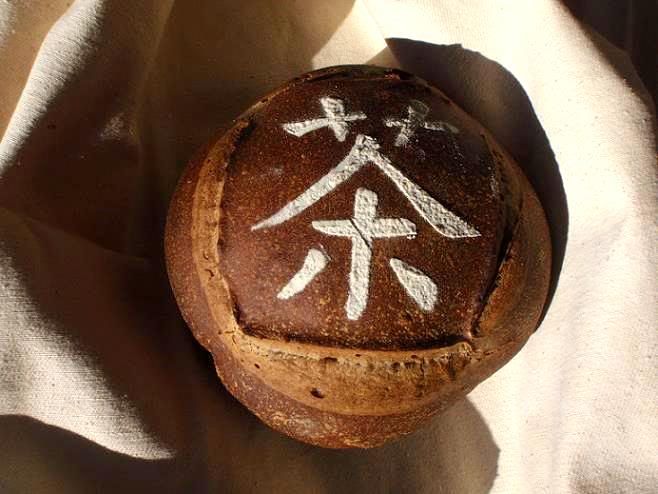 Black Tea Sourdough Boule  
When I set out to make this bread, I did not have high expectations, because who would have known how sourdough culture would fare with black tea, let alone the liqueur!    
My formula
250 g starter @ 75% hydration refreshed in mid-morning (6 hours to double)
272 g unbleached white flour
125 g cool black tea (I used 2 English Breakfast tea bags)
18 g honey
16 g Tea Liqueur
7 g salt  
The dough was mixed after dinner, let to ferment for three hours, then shaped and let stand at room temp (15C) overnight to proof.  I baked it this morning at 7 am.   
Now, before I show my crumb picture (I know everybody at The Fresh Loaf is as crumb-obsessed as myself!), I have to quote Kaplan.  He said that he almost missed his son's birthday because he spend the whole afternoon with Pierre Poilane back in 1969.   "Master Poilane was then still making glorious golden-brown batards whose dense mie (crumb) exploded with aromas evocative of harvests and dried fruit." (page 1 of his "Good Bread Is Back").  
Hmmmm.... I tried to picture a dense crumb exploded with aromas....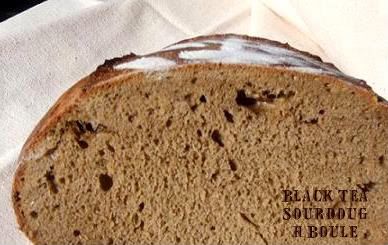 The crumb of the Black Tea Sourdough Boule  
It's in the spirit of a joke that I placed this picture with his quote.  But I wish I could EMS a slice of this sourdough to you all - to say it is aromatic is an understatement!  It is at once subtle and penetrating. 
Well, I am Chinese.  I love tea.  It may not be everybody's cup of tea.  
Enjoy!
Shiao-Ping