I tried those pot stockers featured on this week's Wild Yeast blog. I was amazed how incredible easy they were to make and roll out. This was my first time and I noticed they were a little chewy where they were sealed. I think this was because I didn't roll them out quite thin enough, but the chewiness could have also come from my choice of flour (see below). I sprinkled them with a little cornstarch to prevent sticking. I will never used purchased won ton wrappers for pot stickers again!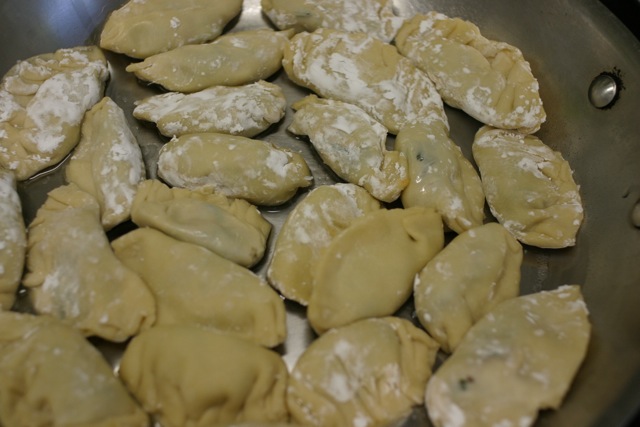 2 cups (250 g) AP flour (I used KA AP but next time I will use a softer flour, e.g., Guisto's Baker's Choice)
1/2 cup (113 g) warmish water
Put flour in food processor. Pour in water and run until combined. Form dough into a ball and divide into 4 sections. Roll each section out into a log and cut into about 10 pieces. Flatten each disk into a round and roll out with a pin until you have a round that is about 3 1/2 to 4 inches. Cover unused dough logs to prevent drying out.
I used Hugh Carpenter's Santa Barbara Pot Stickers recipe for the filling. I doubled the sauce recipe per batch and ended up with extra filling mixture. I'm going to make some more today and freeze them.
Filling:
12 ounces spinach trimmed (or use one box of frozen chopped spinach)
2 green onions
2/3 pound ground pork
2 teaspoons finely minced fresh ginger
1/2 teaspoon finely grated orange peel
1 egg
1 tablespoon light soy sauce
1 teaspoon Chinese chili sauce
1/2 teaspoon kosher salt (you may want to leave this out until you make sure the dish isn't too salty but I put it in and it seems fine to me)
24 homemade pot sticker skins
cornstarch for dusting
2 tablespoons peanut oil
Sauce:
1/2 cup chicken stock
2 tablespoons dry sherry
2 teaspoons oyster sauce
1 teaspoon hoisin sauce
1/2 teaspoon Chinese chili sauce
1/4 teaspoon sugar
2 teaspoon finely grated orange peel
Drop the spinach leaves into 1 quart rapidly boiling water. when leaves wilt (about 10 seconds) drain and rinse under cold water. Squeeze out water (if you are using frozen spinach, squeeze it dry), then mince by hand. Mince green onions. Combine spinach, green onions, pork, ginger, orange peel, egg, soy sauce, chili sauce and salt. Mix thoroughly. (I think it is best to make the filling in advance so it can firm up a bit in the refrigerator.)

Within 5 hours of cooking, fold filling into dumplings.

To cook: place a 12-inch non-stick skillet over high heat (I used my 12-inch stainless All-clad without any issue). Add oil and immediately add dumplings (I add the oil, then the dumplings, then place the pan on the stove). Fry dumplings until bottoms become dark golden, about 2 minutes. Pour in orange sauce. Immediately cover pan, reduce heat to medium, and steam dumplings until they are firm to the touch (about 2 minutes).

Remove cover. Over high heat, continue frying dumplings until sauce reduces completely (about 1 minute). While cooking, shake the pan so that the dumplings are glazed all over with the sauce. Tip out onto a heated serving platter.

Serves 6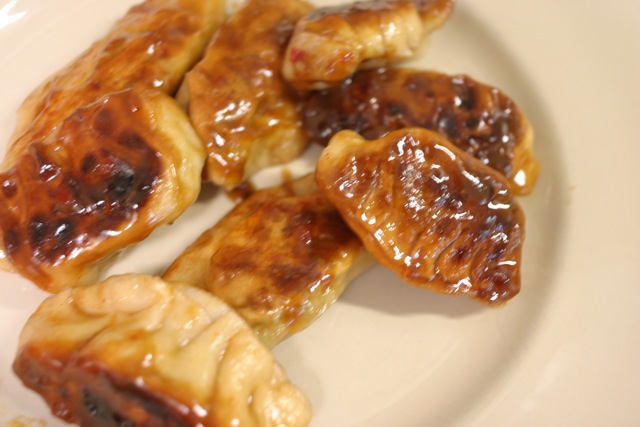 These dumplings can be frozen. Cook frozen dumplings over medium heat until dark golden (about 3 minutes). Because they take longer to cook, you may have to add a little water to the frying pan during the steaming stage.
Notes on ingredients:
Chinese chili sauce: best brands are Cock Brand Delicious Hot Chili Garlic Sauce and Szechuan Chili Sauce
Hoisin sauce: no oriental condiment varies so much in quality from brand to brand. Buy only Koon Chun Hoisin Sauce
Oyster sauce: Lee Kum Kee Oyster Flavored Sauce (best) or Old Brand Oyster Sauce
Light soy sauce: Superior Soy Sauce (not Soy Superior)
--Pamela