Yes, made with sesame oil, shallots and shallot onions.   
I ask for indulgence to call this Chinese Sourdough.  Sesame oil to Chinese is like olive oil to Italians; it can work wonders if you know how. For instance, when you made Rustic Walnut Bread, if you drop a couple of teaspoonfuls of sesame oil to the dough you are mixing, you will get a more intense nutty flavor.  It has a delightfully surprising effect on the aroma of your bread.  Sesame oil is like a strong version of walnut oil, very compatible, both being extremely good for you.    
When I was growing up as a kid, we always had sesame oil in the house: a few drops in the noodles with soy sauce; a few drops in the stock pot for stews; a few drops in the soy sauce and vinegar mixture as a dipping sauce for dumplings (Chinese "dumpling" are like the Italian ravioli's); and so on.  In the traditional markets that we used to go to, the fruit and vege owners would always give us a bunch of shallots for free.  As far as I know, Chinese cook everything with a little bit of shallots and garlic.   
I was over-joyed the other day when I found a jar of sesame oil-fried shallots and shallot onions in the Taiwanese grocery store in Brisbane.  The small shallot onions, about an inch in diameter or even smaller, are often deep-fried in Southeast Asia to add to any dishes for extra flavor.   I had just gotten my starter out of the fridge last night (I needed to make my daily bread today) when I saw the jar sitting in the pantry....  Hmmmm.... sesame oil-fried shallots.... and daily bread?   YES, why not?  
So, here is my formula:  
250 g sourdough starter @75% hydration prepared last night, as well as
50 g linseed (ie, flax seeds) soaked in 60 g water  
For the dough this morning:
All of the above and
40 g organic stoneground wholemeal flour
40 g rye meal flour
20 g Phyto Soy L.S.A. mix (linseed, sunflower, & almonds)
500 g organic unbleashed white flour
400 g water
80 g sesame oil-fried shallots & shallots onions (with the oil drained off)
10 g organic honey
13 g Celtic sea salt
a small pinch of Vitamin C  
And here are the bread and the rolls: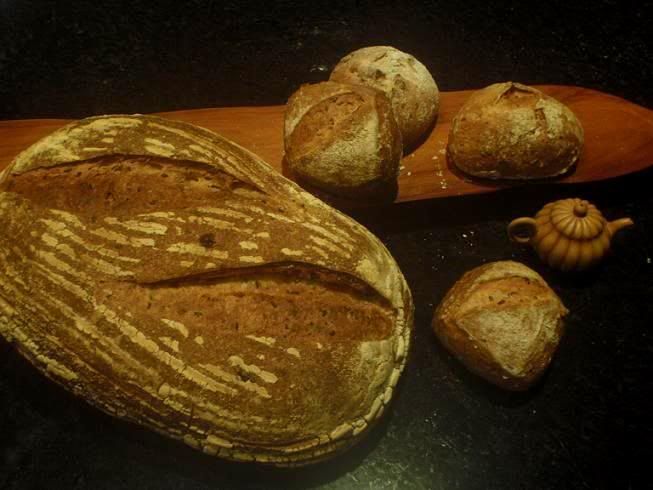 Chinese Sourdough with Sesame Oil & Shallots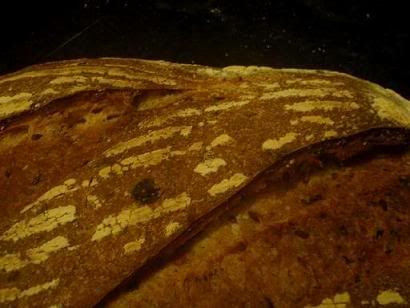 close-up of the crust
                               The Crumb  
I will be very happy serving this bread at my dinner party.  The aroma when it came out of the oven is something I've never had before.  The flavor is beautifully enrished by the sesame oil shallots mixture.  The small amounts of wholemeal, rye and L.S.A mix all add to the complexity.  There is an overall harmoney to my taste.  
A nice day ended.  
Shiao-Ping