"Adjusting" sourdough starter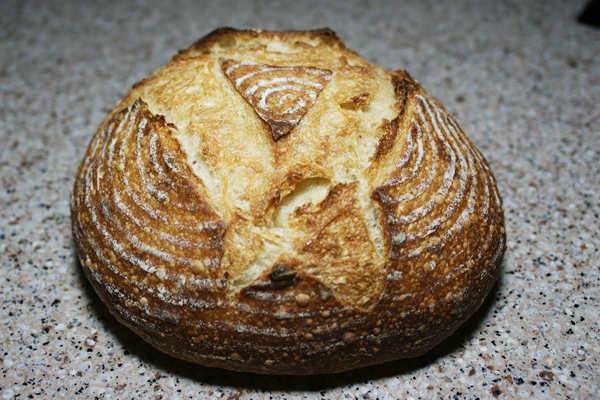 Last week's result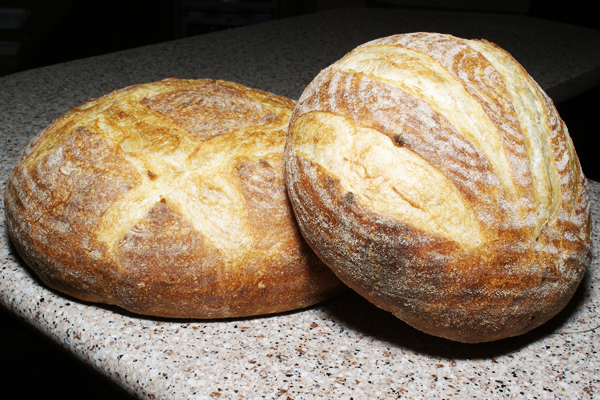 Yesterday's result
Using Daniel DiMuzio's guidance, both from his latest book "bread baking, An Artisan's Perspective", and following his posting here on TFL,  I've been working with two different sourdough starters,from different sources. One contributes flavor much to our tastes for sourness, but disappointing in proofing times, and lacking in oven spring, and a second starter that has been phenomenal in yeast activity, i.e., proofing and oven spring, but dissapointing in our preferred sourness. Both starters are maintained in the refrigerator at 100% hydration.
Last week, using Daniel DiMuzio's pain au levain formula with firm levain (480g ripe firm levain, 700g total flour, 68% hydration) I built my firm levain at room temperature (76°F) from the first sourdough starter with three builds, spaced approximately 8 hours apart, gradually increasing the mass three times each build, and, simutaneously, reducing its hydration by one-third each build. DiMuzio's formula calls for a pre-ferment 60% hydration, I chose to match the dough target hydration, 68%, because I wanted to keep the build as wet as possible during its ripening hopefully favoring yeast development. I visually checked its progress and fed it its scheduled builds based on observable peaks; nevertheless, the build interval was nearly eight hours each time.
Expect for using all white flour, I followed Dan DiMuzio's formula exactly. I mixed the dough in my stand mixer for five minutes, allowed it to rest 30 minutes, and bulk fremented it with three stretch and folds spaced at 45 minute intervals. Doubling took approximately, three hours after the final stretch and fold. I shaped two boules (one 1-1/2 lb, one 2 lb); proofing took 2 and 1/2 hour. I baked the loave at 480°F, covered, with steam, for the first ten minutes, reduced the oven temperature to 450°F, uncovered the loaves and baked for another fifteen minutes until internal temperature was 206°-208°F.
The results were very gratifying. The proof times were nominal, compared to most sourdough recipes I've read or tried, and the oven spring was adequate, attested by first photo. I didn't get a photo of the crumb; it was close but light and airy, not dense; and the flavor was delightful to our palletes.
For three days immediately prior to yesterday I've been caring for a firm levain, built from the second starter (great yeast activity, disappointing sourness). Starting with 50g of seed starter, I added sufficient flour to immediately reduce its hydration to 65%, subsequently I fed it, approximately, every eight hours, maintaining its 65% hydration, ending early yeasterday morning with 480g of ripe firm levain. My goal, of course, had been to favor bacterial growth, as Dan suggests, over the extended build period.
I made the dough, shaped and baked the loaves as identically as possible to the first starter test. Proof times were, as expected shorter: 2 hours, and 1 and 1/2 hours respectively.
The results were equally gratifying, The levain retained its previous yeast activity, and the level of sourness we hoped for was achieved. The crumb is nearly identical (perhaps a little more open) compared to the first starter's loaves. The first two loaves are history, so I couldn't do a side by side comparison.
For sourdough, I'm satisfied, for now, with the three step build (increase/decrease by thirds from seed mass and hydration) I'm using, so I don't think I'll do anything with the first starter. On the other hand, I'm considering ways to improve the second starter's bacterial contribution to flavor, but ultimately regain its maintenance hydration, and the ability to build a ripe levain in one day. I suppose the most obvious thing is repeat the three day firm levain build, and then use my twenty-four hour three-build modification back to maintenance hydration. Waiting is...