I am very fond of the taste and texture of Italian bread, so I followed the recipe labled Italian Bread 101 in the recipe section of kingarthurflour.com website.
Here are the results: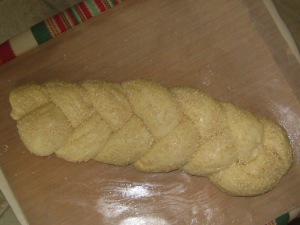 This is a sesame seeded Italian Bread with egg white wash
I bought 2 large teflon coated, double sided baking sheets
that I custom cut to the size of my baking stone.  On the
final rising I placed the braid on the baking sheet on top of
a cornmeal dusted flat cookie sheet that I used as a peel to
scoot the bread/sheet on to hot stone for baking.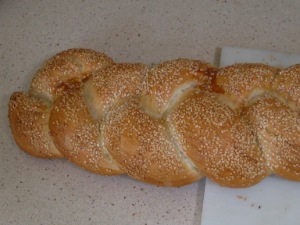 This is the bread fresh from oven.  The picture is truncated
because my wife cut off the end before I could take a picture
as you will see in the next picture.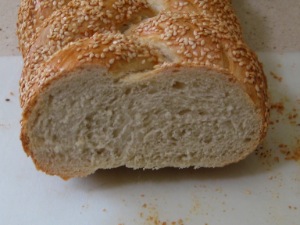 This is the crumb view.  The inside texture was very good.
The internal temperature was 203ºF after baking 42 minutes
in a 425º oven.  I rotated the bread half way through baking.
My oven is small so I placed the bread diagonally on the
baking stone.
I welcome questions and comments.
Bix