Leader's Polish Cottage Rye--the helium really helped with the oven spring!
This was a delicious bread! It was everything I hoped for (thank you David!). This massive loaf had a delightful sourness with a nice rye flavor, a well-developed structure without any hint of heaviness, and a wonderful aroma. I would definitely make it again.
This was a three-build bread: I made the German rye sourdough Thursday night and the rye sourdough Friday night. I used KA bread flour and home-ground unsifted rye (the formula called for white rye so this was a substitution). Everything ticked along exactly as expected. I put the final dough mixture together Saturday morning and mixed it in my Kitchen Aid on speed 4 for 14 minutes (again, thanks for your help on this David!), scraping the sides down twice. After I literally poured the mixture into a dough bucket, I let it ferment at room temperature for about 2 1/4 hours. Meanwhile I scoured the house for an appropriately sized proofing basket for my 2 1/2 pounds of dough finally turning up a basket from a closet.
After rubbing a considerable amount of rye flour into a flour-sack couche, I emptied--again almost poured--the dough into its center. The dough was too slack to shape, so I just lifted the whole thing into the basket, covered it with plastic wrap, and let it proof for another 1 3/4 hours during which time it nearly doubled. I then placed a piece of parchment paper on a baking sheet, sprayed it with PAM, placed it over the basket, flipped it over and watched the dough come tumbling out.
After three quick scores about 1/2-inch deep, I slid the spreading mass onto a preheated oven stone on the middle rack, plopped 3/4 cup of ice cubes in a skillet beneath the stone for steaming, shut the door, and hoped for the best. As I watched through the oven window I was delighted to see a lot of oven spring. The dough expanded both upwards and sideways increasing in volume nearly 50%. I was very pleased and hopeful. I threw a piece of foil over the loaf after 20 minutes because I worried that it was getting brown to quickly and then checked it to see if it was done at 40 minutes. It registered 96º C. so I removed it to a cooling rack. I was very happy to feel that the loaf was wonderfully light. I knew I had a winner.
Notes: I used the rye sour from Leader's book. It had sat in the refrigerator un-refreshed for a month but seemed to perform just fine after only one feeding and 12 hours on the counter (actually, I let it sit on the counter for 24 hours before using it); no doubt, this is a testimonial to the rehabilitation properties of rye flour.
You can see the hole in the top of the loaf where I injected the helium.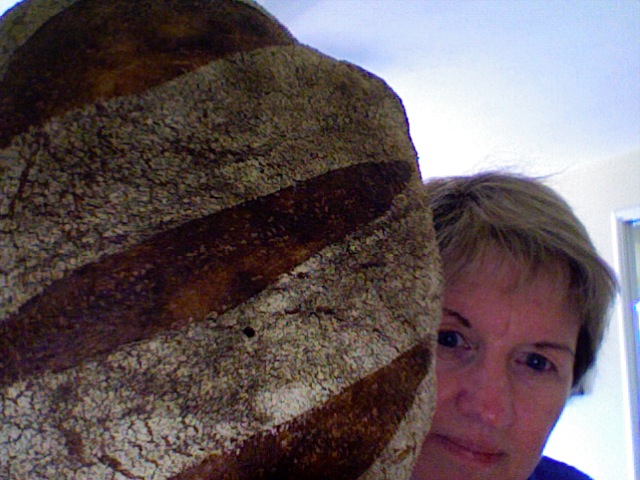 I took some more pictures but didn't have the CF card in the camera so I'll post more tomorrow.
Here are some more pictures. Vodka is the traditional accompaniment.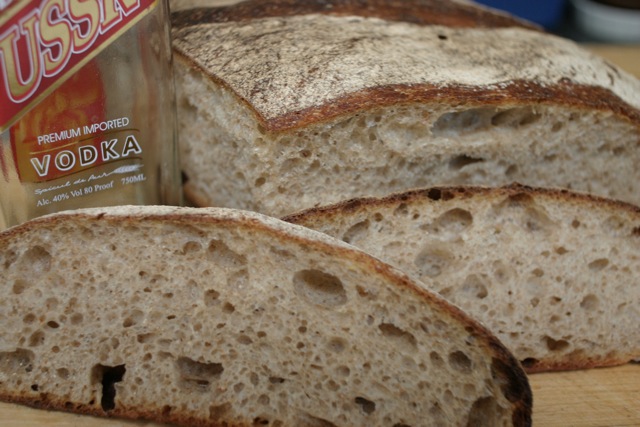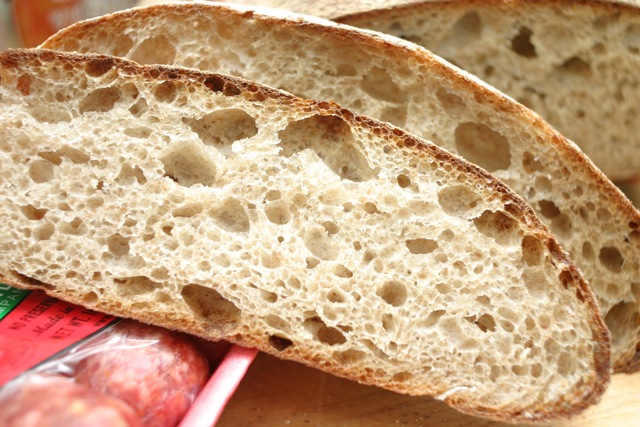 This is a picture of about one-third of the loaf in its proofing basket; I'm including it so you can see how really large this massive loaf was.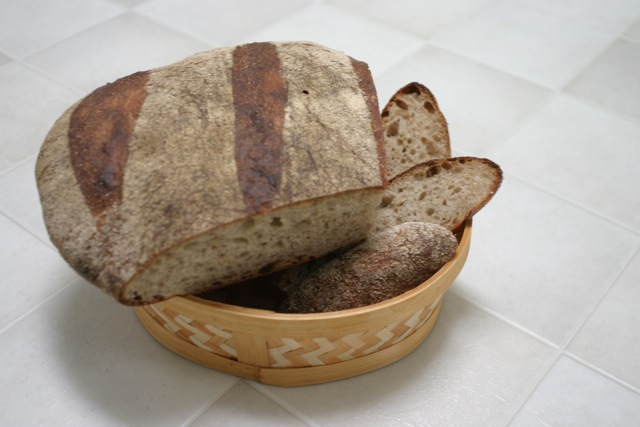 After our dinner of sausages, grilled red peppers, and sautéed onion relish, we enjoyed a fre$h cherry pie. The pie's crust was perfectly flakey and delicious owing to the incorporation of a small amount of solid Crisco with the butter (as usual, I promised myself that this was absolutely the last time I would use the white stuff!).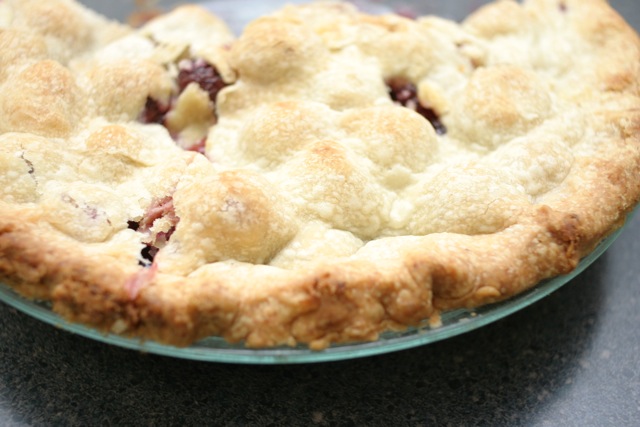 --Pamela