Crackley crust achieved! (Baguette surprise, continued)
I made another batch of the baguettes described previously in http://www.thefreshloaf.com/node/11925/baguette-surprise-and-challenge.
The only significant changes in the procedure were:1) I did not add the salt until after a 50 minute autolyse, 2) I was more meticulous in gently pre-shaping and shaping and 3) I let the loaves proof more fully. 4) I also poured about twice as much water over the pre-heated lava rocks to steam the oven.
Well, there's good news and bad news: The bad news is that I seem to have over-proofed the baguettes a bit, resulting in my scoring not opening up real well. The good news is, first, the flavor of this batch is equal to the first. I'm ready to conclude this recipe is reproducible in my hands. Second, the crumb is significantly more open. And third, I have finally achieved the crackley (rather than crunchy) crust I have been seeking on my baguettes! I am really delighted.
The crust is thin and it sang loudly for a long time while cooling. Cracks developed in the crust. It breaks off in thin, sharp-edged flakes when you bite it! Woo Hoo! I am pretty sure the cause was the extra steam created by the combination of lava rocks and extra water.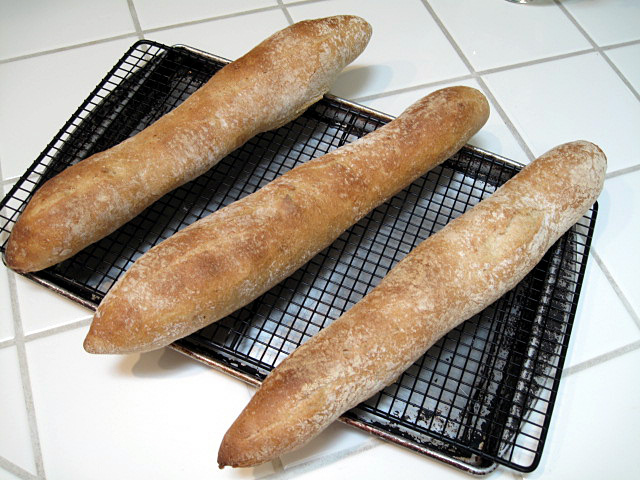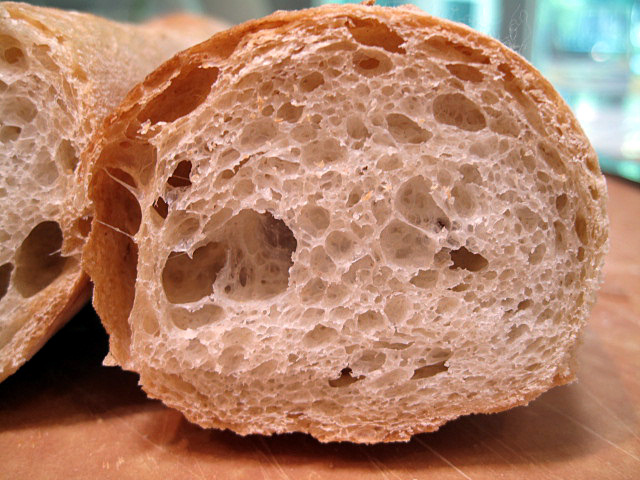 Now, I have to test the steaming enhancement with other baguette formulas.
David