DiMuzio's Double Raisin Bread with Toasted Walnuts
I wanted to try one of Dan's breads for Mother's Day and thought his Double Raisin Bread with Toasted Walnuts sounded delightful!
Dan gives several options for making it: as a straight dough, as a pain au levain, and as a pain au levain with a little added yeast. I chose to make the bread without the addition of any yeast.
Early yesterday morning I created a liquid levain from my stiff levain on the thought that it would take about 12 hours to fully ripen. At 8 hours I could see that it was just starting to recede, so I went into to action thinking I would have enough time to complete the bread before going to bed. (Just to clarify, I had planned to make the liquid levain in the AM and refresh it in the PM for use today, but when I saw it was proceeding faster than I expected, I just went for it.)
Results: I didn't get any oven spring but I think that was because I let them proof too long in the pans and I didn't have the oven hot enough (see below). The crumb is slightly wet, but pretty open. The flavor is quite delicious. This is the best raisin walnut bread I've ever had. I especially like it because it doesn't have a sugary or cinnamon flavor to it, just the pure pain au levain taste mixed with the natural sweetness of the raisins and nutty walnut flavor. I would definitely make this bread again. It is a real winner.
I'm hoping Dan will critique my method below. Dan's book, like Suas', is a big jump for me. But I figure if I don't try to learn to use this type of book, that I will never make real progress, and I really want to understand what I am doing so I will be able to develop my own recipes some day. I have given a detailed description below of how I understood Dan's method. Dan: you won't hurt my feelings so please don't hold back on any comments! Many of us will benefit from what ever you have to say.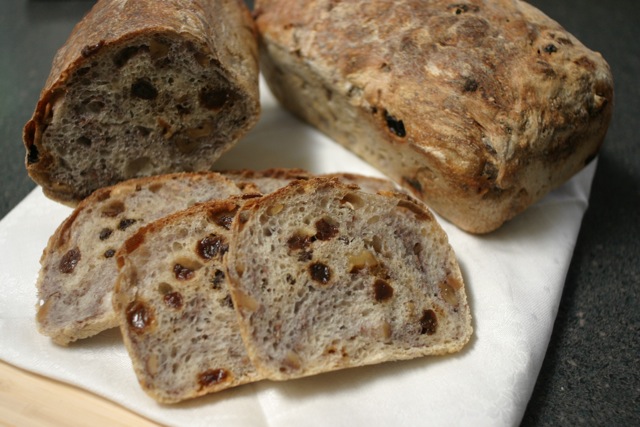 From: Bread Baking: An Artisan's Perspective
Liquid levain:
133 g bread flour
133 g water
67 g ripe levain (I used about 60 g of my stiff levain and added a little more water to get to the total of 333 g)
Final dough:
467 g bread flour (I used KA bread flour)
67 g whole wheat flour (I used some I had ground about 30 hours before)
347 g water
13 g salt
167 g dark raisins (I pumped the raisins with warm water, but drained them before incorporating)
167 g golden raisins
167 g toasted walnut halves
266g of the liquid levain at the peak of ripeness
My interpretation of Dan's method:
1. Mix the levain and the water together with the paddle attachment on speed 1 until the levain is well incorporated, about 1 minute.
2. Add the bread and whole wheat flours, and the salt. Mix with the paddle attachment on speed 1 until everything is combined, about 1 minute.
3. Let dough hydrate with mixer off, about 5 minutes.
4. Resume mixing with dough hook on speed 2 until dough reaches improved mix stage (window pane forms but breaks when stretched), about 5 minutes. I had to add a small amount of additional flour, approximately 1/4 cup, to get the dough to sit right on my dough hook.
5. Reduce to speed 1 and add in the nuts being careful not to break them up too much.
6. Fold in the raisins with a kidney shaped bowl scraper. Dan warned me to be careful not to cut the raisins because they are high in calcium propinate, which is a yeast retardant.
7. Place the dough into an oiled bowl, cover and let bulk ferment at room temperature for 30 minutes.
8. Do one stretch and fold, return to covered bowl, and continue to bulk ferment until dough doubles. (Although the dough was a little sticky after one stretch and fold, it seemed to have good strength so I only did one. I thought bulk fermentation would take about 3 hours--my kitchen was about 74º--but it took more like 5 1/2 hours).
9. Preshape the dough into two balls and let rest under plastic for 30 minutes. (The dough was difficult to preshape because it was loose/wet/a little sticky--not sure what the remedy was here, but I floured my hands and the board in an attempt to make it easier to shape.)
10. Shape into two loaves and place in 4 1/2 x 8 1/2 inch oiled bread pans. Cover with plastic and let proof until about 1 1/2 times. (It was now 10:30 PM and I didn't achieve very good surface tension.)
11. Bake in a preheated 375º oven for 55 minutes. (I think the oven should have been hotter because the loaves didn't brown as much as I thought they should. Also, I didn't get any oven spring, but that was probably my fault because I think I let them almost double in the pan--of course in my defense I had gone to bed. I got up at 2 AM to turn the oven on and again at 3:15 AM to put them in. By that time they were doming the pans and were probably more like double.)
--Pamela