I had a great time today with 20% rye with onion.  I remain focused on trying to get my stroke down really solidly with a particular formula, but I stepped out a little today.  I've been concentrating on baguettes, 250 g prebake weight.  I've been trying different flour combinations.  I like the flavour that a bit of rye adds, generally I stay with about 10% of the flour being rye.  Anyway, I've been wondering about a higher percentage of rye.  Today I baked a 20% rye with an onion diced, lightly cooked in olive oil and added into my intermediate build.  Pretty fancy for me.  I was really happy with the results.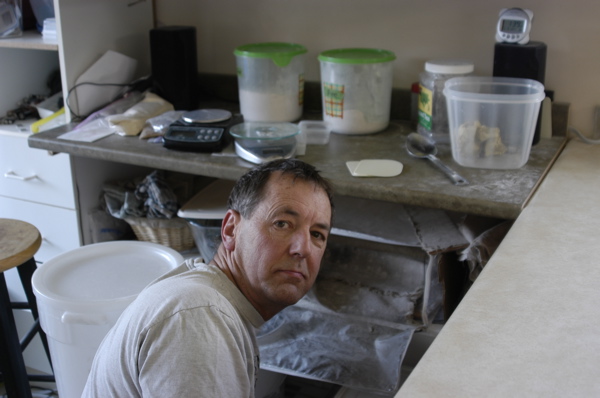 Here's me in the lab - pulling the loaves out of the proofing box.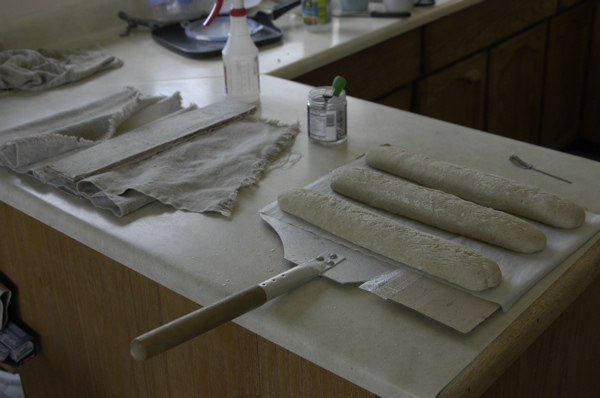 Loaves loaded on the peel, slashed and ready to hit the oven.  The peel is extended with cardboard to allow me to use the whole width of the stone.  My scale refuses to go to grams anymore, these loaves are about 12 oz. each, prebake weight.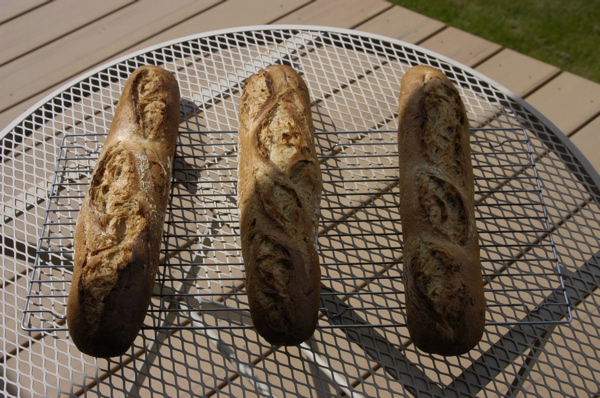 Too bad about the lighting.  I thought it would be an artistic addition, but it detracts from the beaty of the loaves.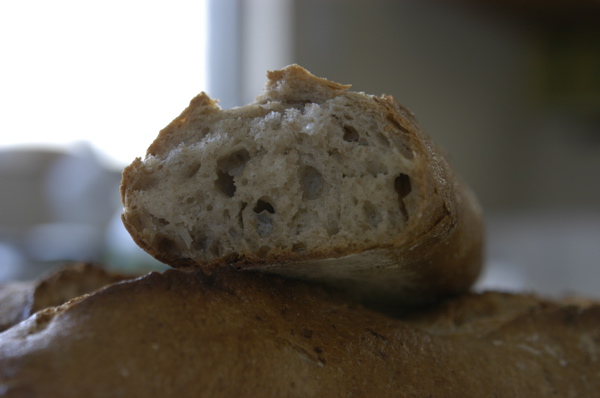 The crumb is nicely open for me.
Lately I've been experimenting with baking techniques because I was having trouble getting my crust to be crispy.  Today was a thrill because I made some decisions about baking style and it seemed to really pay off.  I've been baking usually all white or 90% white baguettes.  For baguettes I put the stone on the top rack of the oven and preheat to 550 F, I bake at 550 F and down to 485 F, I always start at 550 F but I'm still playing with what temp to turn it down to after the initial preheat.  That has worked well for straight baguettes, or with a bit of rye, but when I added some whole wheat the germ burnt and made the baguettes taste bitter. 
I knew that heavier rye concentrations wanted longer, lower temp to set the rye and bake properly, but I also wanted that initial spring that I could get from the 80% wheat content on a hot surface with steam.  So, I preheated to 500 F, rather than 550 F and slid the bread onto the stone, reduced temp to 415F and threw some water on the stones for steam.  10 minutes later I removed the pan of rocks that I use for steam and baked an additional 25 minutes at 415F.  Then I moved the loaves down to the middle rack so they could get heat all around them for baking and reduced the temp to 385F since they had already coloured up nicely.  I gave them 10 minutes at 385F and then shut off the oven and cracked the door for another 10 minutes.  For me it was a spectacular bake.  They're beautiful and tasty and I feel thrilled that I applied things that I've learned in baking and it seemed to actually work.  Woo hoo!
:-Paul