Buckwheat Crepes (Crêpes de Blé Noir)
I've been lucky enough to travel to Paris a few times. One of the new foods I experienced there was buckwheat crepes or galettes. The little bistro I ate them in was just across the bridge from Notre Dame. These crepes were served flat with an egg and ham in the middle of them. You just break the egg on top of the cooked crepe with the heat on low and cook until the white is set and the yolk is very warm. (Quail eggs would be especially delicious here.) When you bite into the crepe, the egg yolk gets absorbed by the crepe. These were fun to make although I had to add some milk to the recipe this morning to loosen it up (it really thickened overnight). I found the recipe in the LA Times. I'm going to fill some of them with creamed spinach as a side dish for tonight's dinner.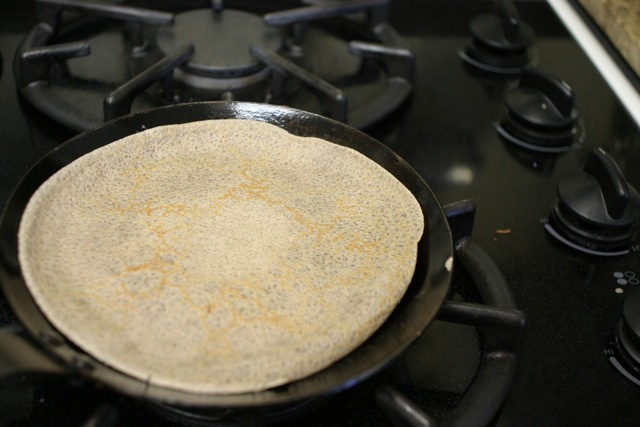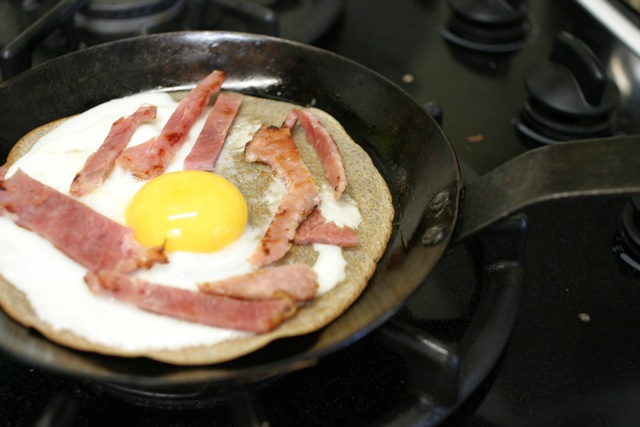 1 cup buckwheat flour

1 cup all-purpose flour

4 large eggs

1 cup milk

1/2 teaspoon sea salt

4 tablespoons butter, melted Softened butter for the pan

1. In the jar of a blender, blend the flour, eggs, milk, salt and melted butter with three-fourths cup water at high speed until smooth, about 2 minutes, scraping down the sides midway with a spatula. Strain the batter through a fine-mesh sieve.

2. Cover and let rest, refrigerated, for at least an hour, or overnight.

3. Heat a crepe pan or nonstick sauté pan over medium heat until a sprinkle of water sizzles when you throw it on the pan. With a paper towel, spread butter over the pan, being sure to wipe most of it off.

4. Using a bowl or a measuring cup with a spout, pour enough batter to just cover the pan (for a crepe pan, a little less than one-fourth cup), immediately swirling the batter around until it covers the whole surface. The batter may be thicker than basic crepes once it has been resting and may need to be thinned a little; if so, add up to one-fourth cup water and stir until blended. It will have a different consistency than sweet crepes (more like honey than pancake batter) and will cook slightly differently, forming bubbles and lacier edges. Adjust the heat, if necessary, to medium-low. As with pancakes, the first one or two galettes are usually experiments.

5. When the edges of the galette begin to turn golden and move away from the pan, about 3 minutes, lift the edge nearest to you using a spatula (an offset spatula works best). Flip the galette over. Cook the second side of the galette only long enough for it to set, less than a minute. Remove from the pan and start a stack of galettes, using wax paper to layer between each galette as you cook more. Add more butter when needed with a paper towel.

Each of 24 galettes: 71 calories; 3 grams protein; 8 grams carbohydrates; 1 gram fiber; 3 grams fat; 2 grams saturated fat; 41 mg. cholesterol; 65 mg. sodium.