Suas' San Francisco Sourdough
I've been experimenting with various method of making San Francisco Sourdough for some time now. Suas' SF Sourdough loaf came out pretty well. I baked it with steam instead of under a cloche and didn't get as much oven spring as I hoped for. This loaf underwent bulk fermentation on the counter and was proofed in the refrigerator. It isn't quite as sour as I would like. I achieve the degree of sourness I'm looking for only when I do both the bulk fermentation and proofing in the refrigerator.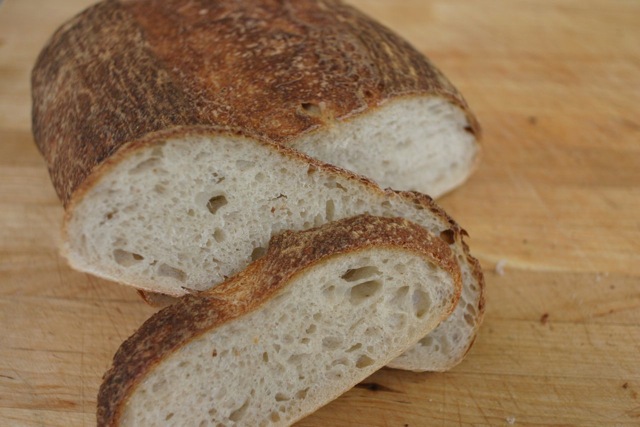 The crumb of this loaf is medium open and doesn't have a glisteny wet look about it.
Levain:
2 1/2 oz. bread flour
1/8 oz. rye flour
1 1/4 oz. water
starter (stiff) 2 1/8 oz. (50% hydration)
Mix all ingredients until well incorporated. Allow to ferment 12 hours at room temperature (65º - 70º).
Final Dough:
14 7/8 oz. flour (I used bread flour)
10 7/8 oz. water
3/8 oz. salt
6 oz. levain (all of the levain)
My Method: mix water and levain in mixer with paddle to loosen levain (about 1 minute). Add remaining ingredients and mix for an additional minute. Let mixture rest for 5 minutes so flour can hydrate. Resume mixing with dough hook for about 4 - 5 minutes to achieve a medium consistency (gluten structure is developed, but not fully--window pane forms but breaks upon stretching). Put dough into an oiled container with a lid. Let ferment for 1 1/2 hours at room temperature. Do a stretch and fold. Let ferment for another 1 1/2 hours at room temperature. Form into a ball and let rest 20 minutes. Shape into batard, put into a banneton, cover with a plastic bag sprayed with pan-spray and refrigerate for 12 to 16 hours. Turn out onto pan-sprayed parchment and bake on a stone in a 450º preheated oven for about 25 minutes with steam.
Makes a single two pound loaf (weight before baking).
Below is a picture of a loaf I baked several days ago. This loaf underwent overnight bulk fermentation in the refrigerator after the stretch and fold, overnight proofing in the refrigerator, and was baked with a cloche; it got much better oven spring and had better sour flavor. I'm sold that this is the way to go. I don't think it is so much the particular formula as the method. Additionally, in my experience, loaves that undergo this much refrigeration, tend to be pretty wet (slack, extensible, whatever you want to call it), but seem to bake up well in spite of this characteristic. I'm not sure how you go about successfully scoring such a wet loaf, but perhaps that isn't as important as the taste. Yesterday I read in Local Breads that wetter doughs have bigger holes. Based on my experience, I'm a believer.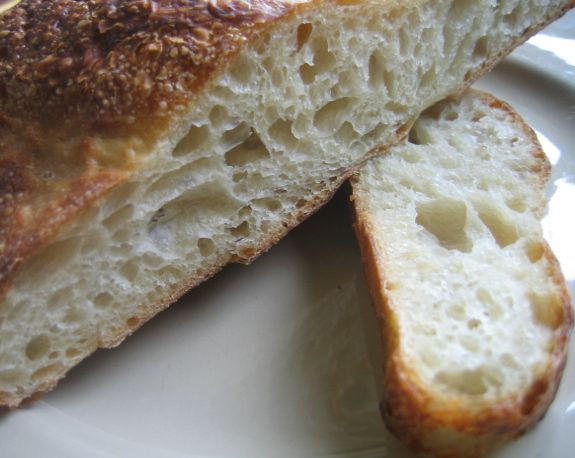 The crumb of this loaf is very open and has a glisteny wet look about it.
--Pamela