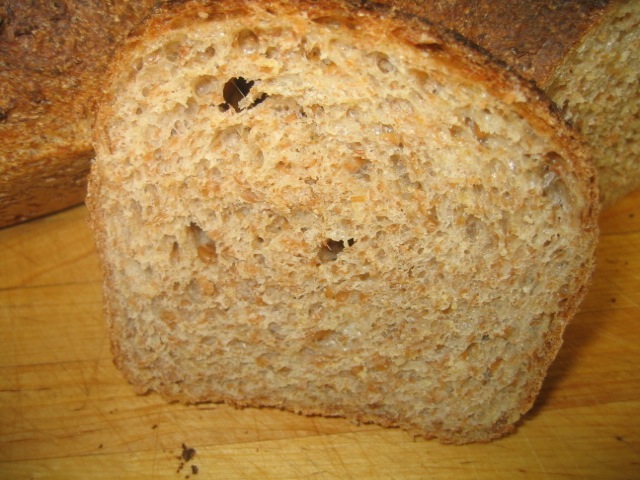 I've been feeling a little guilty about all of the refined flour breads we've been eating lately, so on Friday, I decided to make a batch of our old standby, 100% Sprouted Wheat Bread. I've made this bread dozens of times but not once in the last four months. I began soaking the grains on Friday and sprouted them this morning. After they were sprouted, about 6 hours, I ground them with the meat grinder attachment to my KA. I had had the brilliant idea that if I knew the weight of the KA bowl, I could add the ingredients to the bowl and save myself a little clean up. So I proceeded merrily along. When I got to the adding the water, the last ingredient, the scale read "err" but I didn't worry. After all I've made this recipe so many times. Well that was my second mistake (the first was thinking my scale could handle the weight). To make a long story shorter--or day of cleaning up a whole bunch of devices--I put way to much water in the bowl. I don't usually add more than a few tablespoons of whole-wheat flour to this bread and that is solely for the purpose of getting my "C" hook to pick up the dough and knead it properly. I also don't usually keep much whole-wheat flour around since I grind my own as needed. Well 3 cups of whole wheat flour and 2 cups of bread flour later, having now made a mess of my KA, my kneading counter, and my large capacity food processor, I finally got enough flour in the mix and got it kneaded. I ended up using my food processor to knead it in two batches.
I knew it would come out OK because it looked like bread dough after being processed. It is a pretty warm day here today, so its first rise went pretty fast and its second, even faster. One batch of dough normally makes three 8 1/2 x 4 1/2 inch loaves, but because I had to put so much flour in the dough, I opted for four loaves. Everything looked pretty good so I popped them in the oven. Why I thought they should be on a rack positioned in the middle of the oven is now a mystery to me but that was my third error for the day. When I checked them at 20 minutes I didn't notice that they were browning too fast, but it was pretty evident when I pulled them out of the oven at 40 minutes.
These are not the tastiest or prettiest loaves of sprouted wheat to come out of my kitchen, but in spite of everything they taste fine--perhaps a little more like whole wheat than sprouted this time--with a crumb that's not bad considering what they've been through. I eventually got all the paraphernalia that I used cleaned up too. Well so much for trying to save having to wash a bowl!
The recipe is here.