Polish Cottage Rye from "Local Bread"
I haven't baked the Polish Cottage Rye from Daniel Leaders "Local Breads" for a year! In the past, I have used First Clear Flour or another high extraction flour as a substitute for the bread flour called for in Leader's formula. This time, I followed the formula exactly.
The dough was very wet and sticky, even with very good gluten development. I actually enjoyed working with this dough, which must indicate I've reached a new level of comfort with slack doughs. In spite of the slackness, it had enough integrity to take my slashes without any dragging. I think proofing the loaf in a linen-lined banneton resulted in just enough drying of the surface.
The resulting bread was similar in profile to the Polish Cottage Ryes I had made before, but the crumb was much more open and chewy. I attribute this to the flour I used, in large part, but also to the better gluten development.
This is a "sourdough rye." There is no added yeast. It is made with a rye sour. I made my sour from my usual starter by giving it two feedings with whole rye flour. All the rye in the dough is from the rye sour.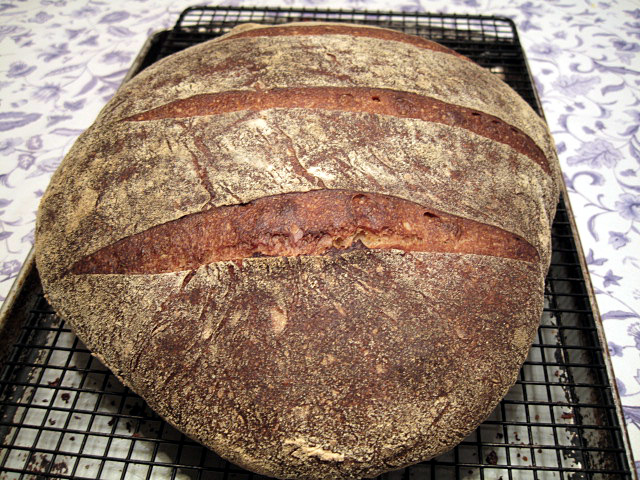 Polish Cottage Rye -2-1/2 pound boule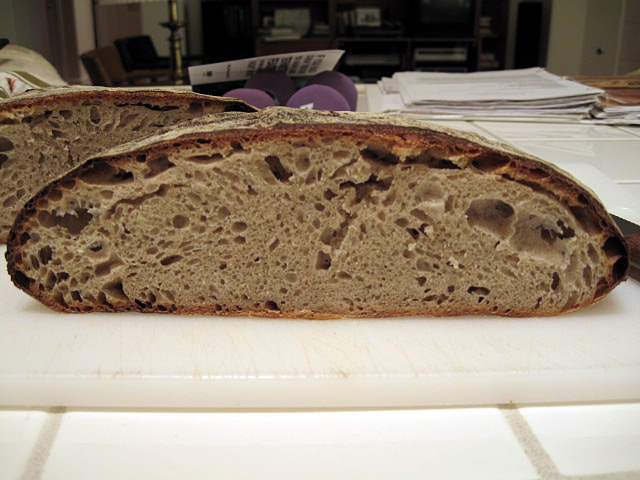 As you can see, this bread has a rather low profile. The slack dough spreads once it is dumped from the banneton onto the peel. It has only moderate oven spring. I should have put a ruler on the cutting board to provide a sense of scale, but this bread is just about 11" across.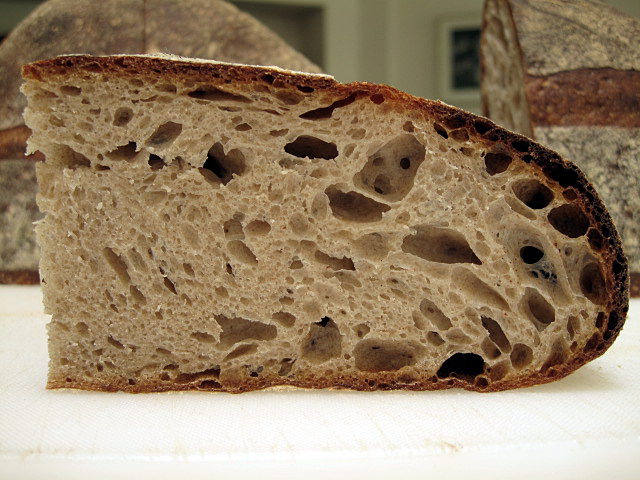 Polish Cottage Rye - Crumb close-up
As with most sourdough rye breads, this one benefits from deferring slicing until at least 12 hours after it has baked. I am so proud of myself! This is the first time I actually had the self-control to leave the bread uncut for 12 hours!
The flavor of this bread is marvelous. It is moderately sour with a complex flavor. The rye flavor is very much "there," but it does not dominate. 
I recommend this bread to any rye-lover who wants to explore beyond "Deli Rye" but isn't quite ready for the 70-100% ryes. Because it has a high percentage of bread flour, the dough acts like a "regular" sourdough, not like the sticky dough of a high-percentage rye. I also recommend it to any sourdough lover. There are so many things to be said about adding some rye flour to a "white" sourdough, the topic deserves it's own entry.  For now, I'll just leave it at, "Try it! You'll like it!"
David