Cranberry-Orange Cinnamon Rolls
After many recent flops with my baking, it was SO rewarding to have a huge hit this morning! The house smells wonderful and we almost couldn't wait for them to cool to get the icing on. I may never eat a canned cinnamon roll again. I attempted to make these very slightly more healthy with some of the substitutions below as well as using considerably less raw sugar in spice mix and icing. With the melange of flavors it wasn't missed at all.
SulaBlue's Cranberry-Orange Cinnamon Buns
(Modified from Peter Reinhart's Cinnamon Buns and Sticky Buns, Bread Baker's Apprentice, pg 143)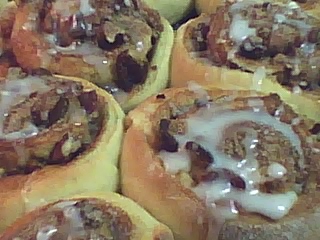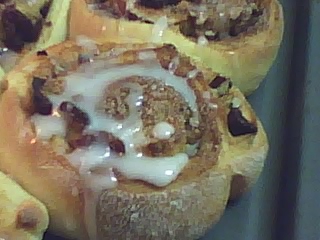 Dough
3.25 oz granulated sugar
.25 oz salt
2.75oz butter or shortening (I used Smart Balance 50/50 blend)
1.65oz 1 large egg (I used Egg Beaters)
2-3 drops orange oil
16 oz unbleached bread or all-purpose flour (I used Bob's Red Mill)
.22 oz instant yeast
9-10 oz whole milk or buttermilk, at room temp (I used 2%)
OR 1oz powdered milk + 8oz water
Topping
2.5 oz granulated sugar
1T ground cinnamon
Contents of 2 caradmom pods, ground
Dash of ground cloves
2 oz dried cranberries
2 oz pecan pieces
Icing
2 oz confectioner's sugar
2T or so 2% Milk
A few drops of orange oil
Instructions:
1. Cream together sugar, salt, and butter. Reinhart says if you are using powdered milk to put the milk powder in now, but add the water with the flour and yeast.
2. Mix in the egg and orange oil until lump-free, then add flour, yeast and milk. Add water now if you used milk powder.
3. Flour a pastry cloth and rub the flour in well. Turn dough out and sprinkle a minimum dusting of flour on top. Flour hands lightly and knead by hand for 10-15 mins until it passes the 'windowpane test.' Dough will become very slightly tacky and have a good spring-back to it.
4. Proof at room temp until doubled, about 2 hours.
5. Turn dough out onto pastry cloth and roll dough into a 12"x14" inch rectangle that is approximately 1/2" thick (Reinhart recommends 2/3rds, but that just seemed overly doughy to me. Add as little flour as possible during rolling. I use a rolling pin cover to avoid adding extra flour to keep it from sticking.
6. Shake on sugar-spice mixture, then sprinkle on cranberries and nuts.
7. Take the long end and begin to roll-and-tuck. Roll the dough forward, then without releasing pull back slightly to form a tighter roll. Complete the roll-and-tuck until you reach the end.
8. Trim ends of dough if they are tapered/irregular. You can either discard this or smoosh it together for that 'baker's dozen' one that you'll just -have- to eat right out of the oven. Cut the remaining dough into 12 equal pieces about 1" thick. Place the rounds on a sheet pan about 1/2" apart. Sprinkle any remaining spice mix on top of buns, careful not to dust it onto your pan where it may burn.
9. Proof at room temp for 75-90 minutes until the pieces have almost doubled and have grown into another. Reinhart says you can retard the shaped buns in the refrigerator for up to 2 days, and pull the pan out of the fridge 3-4 hours before baking to allow the dough to proof.
10. Preheat oven to 350F with oven rack at the middle.
11. Bake for 20-30 minutes at NO HIGHER than 350F. Caramelization happens at 350F. A higher temperature may result in the sugar burning. If you have pans that are prone to giving your baked goods dark bottoms you may want to double-pan
12. When rolls are done, remove from the oven and allow to sit in the pan to cool for at least 5-10 minutes to cool. Eat the funny-shaped end piece to tide you over and to hide the evidence ;) While they are cooling mix the ingredients for the icing in a small bowl using a fork. Add just enough milk to make the icing pourable without being runny. Use the fork to drizzle icing over the rolls.
This is something I'm finally proud enough to submit to Wild Yeast's Yeast Spotting. This week's Yeast Spotting is being hosted by Zorra.