Sir William Osler, disaster recovery and pain rustique
In 1904, Sir William Osler, one of the greatest physicians of his time, was asked to address the graduating class of The Johns Hopkins School of Medicine on the topic, "What is the most important personal attribute for a physician to cultivate in himself?" Sir William's address was entitled "Aequanimitas," which roughly translates into modern American English as "Chill, dude!" I have always tried to follow Sir William's wise advice.
This afternoon, I made a batch of baguettes, according to Anis Bouabsa's formula. I thought they were the most perfectly shaped and scored baguettes I've every made. As I was loading the three baguettes into my pre-heated and humidified oven, one fell off the back of the baking stone. As I tried to grab it, the other two baguettes fell off the peel onto the oven door. What a mess!
Uttering a few words which my wife has asked I not speak in the presence of our grandchildren, I scooped up the twisted heaps of formerly gorgeous baguette dough. Should I scrap the bake as a lost cause or attempt a salvage operation? What could I lose by trying?
Aequanimitas, aequanimitas, aequanimitas ... 
I was able to separate the three pitiful pieces from each other. I reshaped them quickly – one folded as one might fold a ciabatta, one coiled and one formed into a figure 8 knotted "roll." I immediately loaded them onto the stone and baked for 10 minutes with steam at 460F and 8 more minutes dry.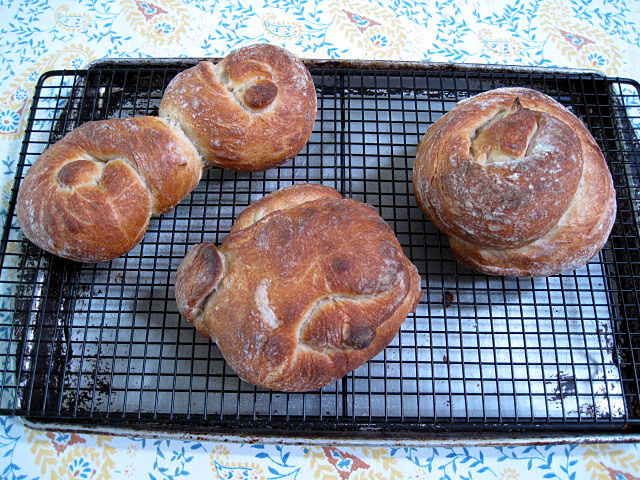 Anis Bouabsa Not Baguettes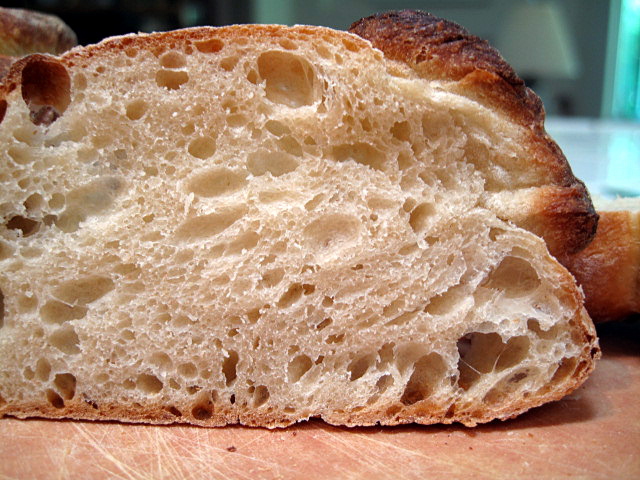 Anis Bouabsa Not Baguettes - Crumb
Delicious! 
I hope you all have a great week and that all your "disasters" are really "opportunities," when you look back at them.
David