chocolate almond danish ring
Finally got myself an inexpensive digital camera and would like to show off one of my "creations" which is far from original.  I'm sure many of you have made this danish ring.  I got this recipe from www.cookscountry.com/recipe.asp?recipeids=3846&bcd=46152.  Cooks Country is a great web site, by the way, and would like to know how many of you are members and whether or not you use your membership.  They seem to have a gold mine of knowledge with truckloads of practical advice.  I'm thinking of signing up.
Anyway, I'm showing pictures of the (1) preparation for the dough where I slather it with the filling, (2) the finished product and (3) the product partially gobbled up.  I halved the recipe, and didn't quite succeed with the cutting and the turning upside of each slice, but the recipe gives a step-by-step.  I'll try it again one day, and hopefully, get the technique right!
Picture 1:  Prepping the dough.
2.  Danish ring fresh out of the oven: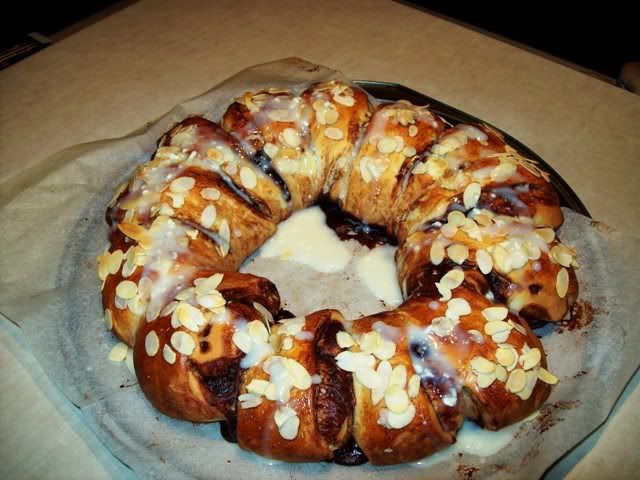 3.  And now, as it was partially eaten (closer look of slices - as you can see I did not quite do the slices with flying colors!)