Well I'm just getting in practice...the fire needed to be hotter today..Im still very much in the learning stages! At least I know how to build a fire!  That took practice..now I can make a fire with only a few minutes of the smoke you get when first lighting up the logs and let me tell you...you can get a lot if you don't do it right!  The first time my daughter and I lit it up...the fire department drove by in our neighborhood!!  I guess they saw what it was and didn't bother us.  A neighbor probably called!!  We had such a laugh! Im practiceing doing multiple bakes! First pizza.  I tried a new crust recipe from PR American Pie Book.  New York Style Crust..it's thicker and supports heavier toppings...I like the Neo-Neapolitan the best!  I made JH Vermont sourdough this time putting one into the WF Oven...I decided to put the other two loaves in my regular oven because I suspected the WF Oven was not quite hot enough!  My thermo. is broke so I had nothing to register the oven temperature except my hand!  I want one of those lazer thermos!  Last but not least a small roast went in and my husband can take it out when he gets home from work!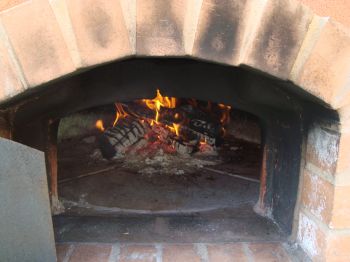 Nice Fire!  Nearly No Smoke!!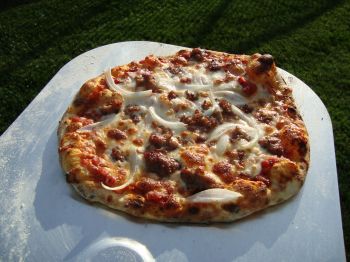 I made 5 Pizzas!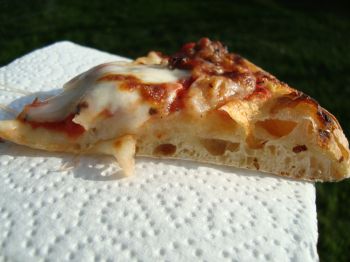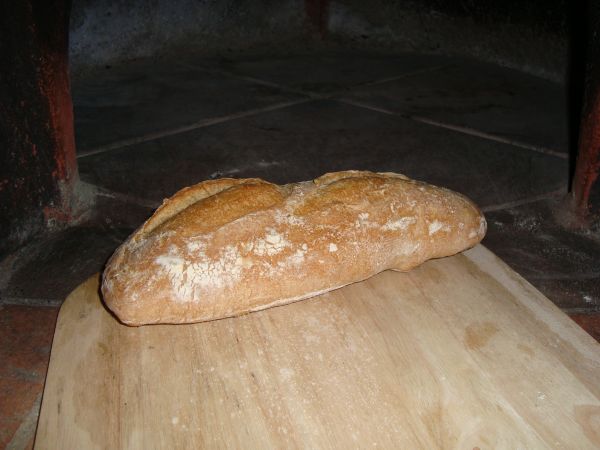 J.H. Vermont Sourdough was next as the ovens temp. started to cool!  Started the Levain at 11PM last nite and finished loaves at 9PM tonite!  I retarded in frig. to time with WFOven temperature drop... I was close!  Oven could have been a little hotter...bread took about 30 min. to bake I gave it a couple of spritz of steam!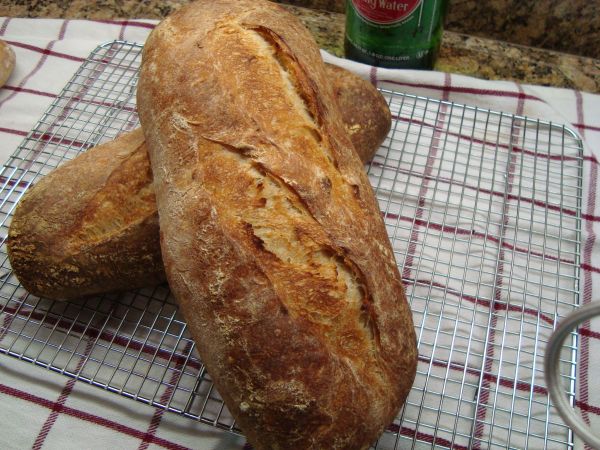 J.H.Vermont Sourdough loaves that were baked inside...I placed all 3 loaves in oblong plastic tubs for the frig. with spice jars rolled in parchment to support them ; /  ... It was all I could think of as I don't have much room in my refrigerator!
Wood Fired loaf on the Left.  Oven loaves on the Right.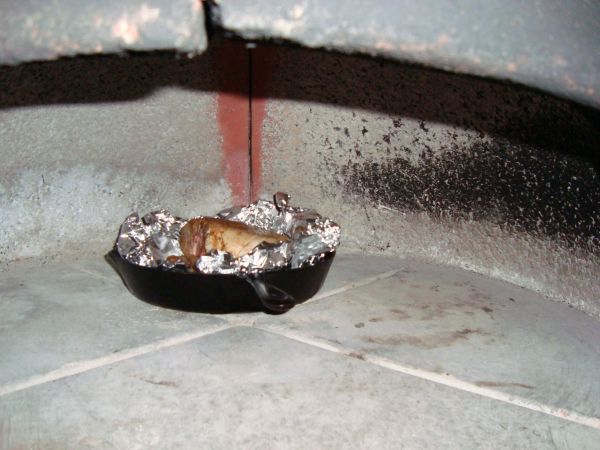 Last but not least...a small Bar-B-Q Roast still in the oven for a long slow cook.  The oven will hold heat all night and into the morning!
Sylvia