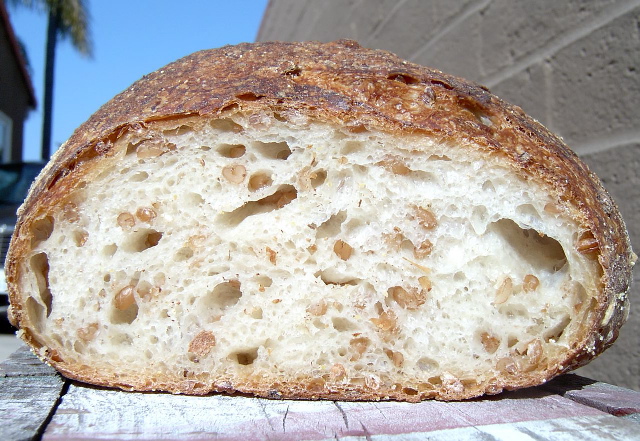 Here's an example of another loaf using the same basic recipe as the ones below.  In this case, I used all white flour and added barely sprouted wheat berries which I ran through a mini food processor.  Turns out it won't be a favorite of mine, but that's okay.  I tried it.  (My fav, so far, is white flour with 25g rye or whole wheat and 2-3 Tablespoons of dry steel-cut oats thrown into the mix.)
It doesn't take much to make a decent loaf of bread.  I own a KA mixer but never use it for my bread, I just threw away my baking stone, and I let the bread do its own steaming by covering it with a bowl or roaster lid for the first 18-20 minutes of baking. 
My usual implements are a scale, a cheap round plastic tub with lid, an old bamboo chopstick, a bench knife, a plastic colander with a linen cloth laid inside (sprinkled with flour and a bit of rice flour), parchment (used for more than one loaf), a heavy 14" pizza pan, a large ovenproof bowl, and my oven.  Many of these items came from thrift stores.  I feel fortunate to have a Miele oven, as it really holds the heat.
The first and most important item is your starter.  If it's not fresh and active, then you've begun with a huge handicap.  The rest is practice, practice, practice.  Try not to get frustrated when a certain recipe doesn't work for you. Your temperature, humidity, starter, flour and water are all different from everyone else's, so just relax and go with the flow.  Make the same recipe over and over until you get it just like you want it.  Then try different flours.  I use mostly high-gluten flour because that's what I like.  You might like All Purpose, Bread flour, or Whole Wheat or Rye better.  But each of these will require changes in water and/or handling, so be prepared.
If you've hung around this long, thanks, and I hope my words help you.
Susan