Hamelmans Baguettes with Poolish
As requested here's the recipe I use to make baguettes. This recipe yields about 10-390g baguettes. For use in a home oven i would scale down the weight otherwise you'll end up with a small loaf rather than the slender french icon.
Baguettes:
Poolish:
Flour (Hard) 850g
Water           850g
Yeast           Pinch
Flour: I use manitoba organic white. I think it runs in the 13% range for protien. So use accordingly, KAF seems like good flour in the US
Final Dough:
Flour (Hard)  1675g
Water             850g
Salt                50g
Yeast (Fresh)  26g If using instant yeast use 1/3 of the listed fresh amount.
1. Poolish- 12-16 hours prior to the bake mix all ingredients for the poolish until smooth. Water temp should be cool to the touch roughly 21°C or 70°F. Cover and let rise at room temp. Make sure the Poolish does not collapse. If the poolish collapses discard it as it will not longer provide the proper flavour, extensibility  or gluten development to your dough.
2. Mixing- By hand or my machine. It's up to you I use a spiral. In the spiral i put all the ingredients in and mix for 6-7 minutes on the only speed the spiral works at. Itwould be equivilant to a 1st speed on most mixers. Your looking for a smooth shiney dough with moderate gluten development. Dough temp should come out of the mixer at 25°C or 78°F. You'll have to adjust the water temp based on the ambient temp.
3. Fermentation- Bulk Ferment 2 hours. With a Fold at 1 hr.
4. Dividing and Shape- Pour dough from proofing container on to floured table. Do not Degas at this point. Scale out your portions and be gentle we're trying to retain some of the hole structure we've built from out fermentation. Give a light oval preshape to the portions and let rest for 10-15 minutes. The dough needs to be sufficiently relaxed because when we final shape the dough we want to extend the dough to its final length in 1 or 2 passes. At this point we are trying to handle the dough as little as possible. Over working the dough will give a very tight crumb structure. Final shape the dough  gently degas and shape http://www.youtube.com/watch?v=h3pFkbKzOSE this is the closest video i can find to how i final shape the baguettes.
5. Proofing - Proof at room temp for 30min - 1hr between folds of bakers linen, couche, canvas whatever you've got.  seam side up.
6. Bake - Score w/ razor blade in desired pattern or cut into epi loaves. Bake @ 460°F w/ steam on hearth. Give  a good bake so the moisture in the dough doesn't migrate out the the crust, a soft crust on cooled lean bread means it needed a longer bake. I don't time my bakes because each batch of dough is different so thats a judgment call in your court.
7. EAT!!!!!!
8. If there are left overs the next day make crustini, breadcumbs, crutons or bread pudding!
RESULTS: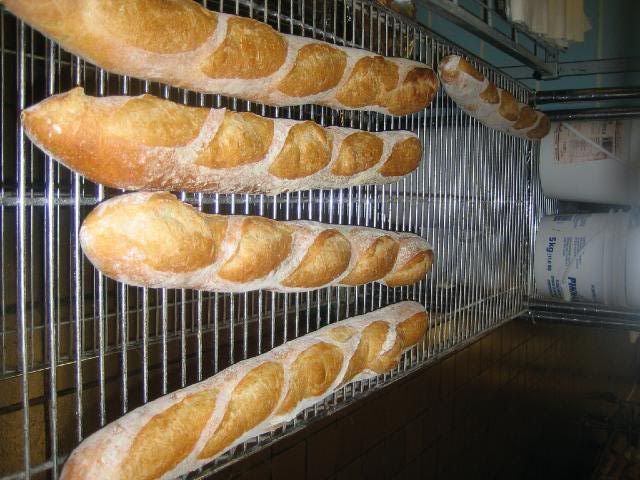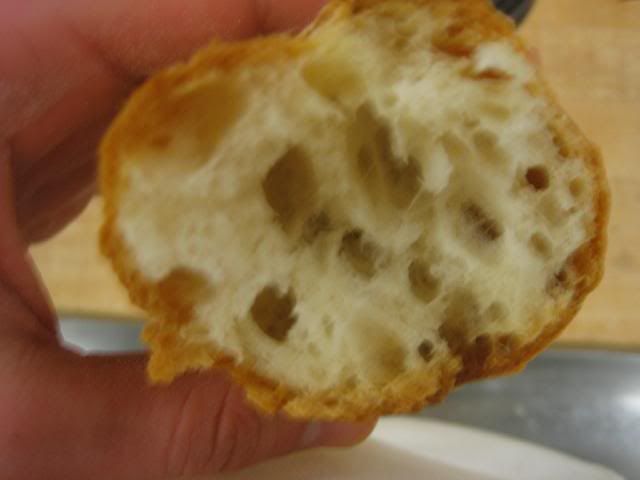 If i'm missing anything or am completely wrong let me know and i'll give this an update. Hope this helps.