Hi,
New here, thought I'd try a little blog to see what happens, learning wonderfully, hearty thanks to generous people, and I hope I can be as helpful.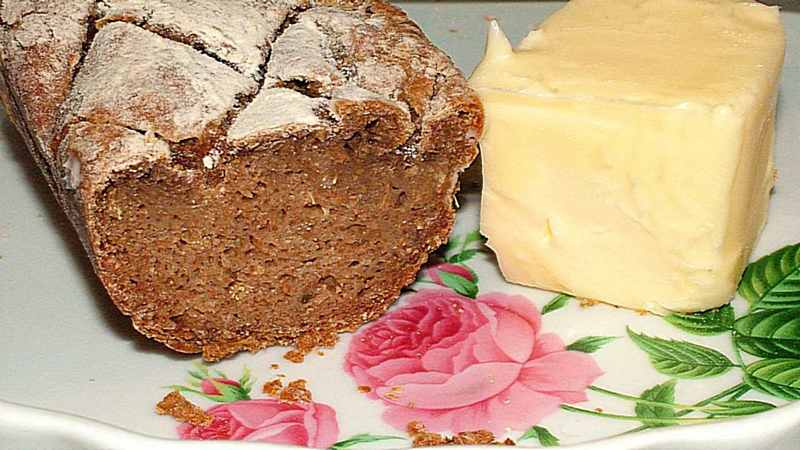 This is a small rye in the "cocktail" size.  A cube of butter is shown next to it.   There must be a better name?  It slices very thin.  The crumb is a bit dense and moist due, I suppose, to so much rye flour in the dough.  I think I started baking with rye in 1975 but I'm quite primitive with rye.  Eventually this rye became my easy little rye.  It has little resemblance to the more complicated ryes I'm reading about nowadays, especially the sour ryes.
It makes tidy tiny sandwiches, eh?  Hahahaha.  Anyway, I have enjoyed a slice of red radish and a tiny bit of lettuce leaf for one example but no need to limit the imagination.
I usually do not dust with flour nor do I score the top crust.  But I did to see what would happen.  This one was baked in a metal baguette form although little mini-loaf bread pans work very well especially if I cover them with aluminium foil while baking.

The dusted rye is the object now.
Seeds of your choice if you want them.  The one shown has fennel and anise.  Choose your seeds to suit you as to type and quanity.  I suggest you soak seeds in water for some time and use the water for the dough.  I don't like hard seeds in bread.
The baking was at 400F and about 40 minutes with a water pan for steam although that isn't so much for crust as to help keep the loaf moist.  Using mini-loaf pans will change the time depending on how many mini-pans you are baking.  Internal temperature reached 200F.  Covering with aluminium foil firmly helps to keep moisture in the loaf.
A little salt, a little instant yeast, seeds and the water plus flour, a little oil if you want it.  A basic measurement is 2 cups rye flour, 1 cup white bread flour, 9 or 10 ounces of the water for a start.  Add a little water if needed.  Mix and rest, let ferment for quite a while --- in the fridge covered in the bowl overnight if you like but several hours at room temperature is my usual method.  Long fermentation changes the texture and taste of the crumb.
The dough can be a bit wet but a little white bread flour will do when kneading which is basically a stretch and fold but there is no need to knead the daylights out of it. 
I set the dough in the form, a bread mini pan or a baguette pan, for the final rise and finally into the oven.  It doesn't rise greatly so it is more like a rest.
While this is a guide and not a recipe of precise amounts it can be changed easily to suit anyone's prefered precision or adding other ingredients such as molasses, orange, nuts, etc.  I don't add much but will see about orange.  Others may add the works if they like.
The point, if I'm making one, is that it is a simple, small rye.  For me, it is easy and dependable.  Your conditions will vary.  This type of rye isn't complex. 
Peter Reinhart in Whole Grain Breads on pages 219 to 223 writes about Vollkornbrot also known as a schwartzbrot ---"black bread" ---and my little simple rye may be an example somewhat distantly similiar but without the complex magnifance of a proper Vollkornbrot.   I can't recall how I found a recipe for a rye nor how this managed to evolve. 
I shall try to make a more precise recipe and technique comment in the near future.
Robert