Susan's "Faux Deli Rye"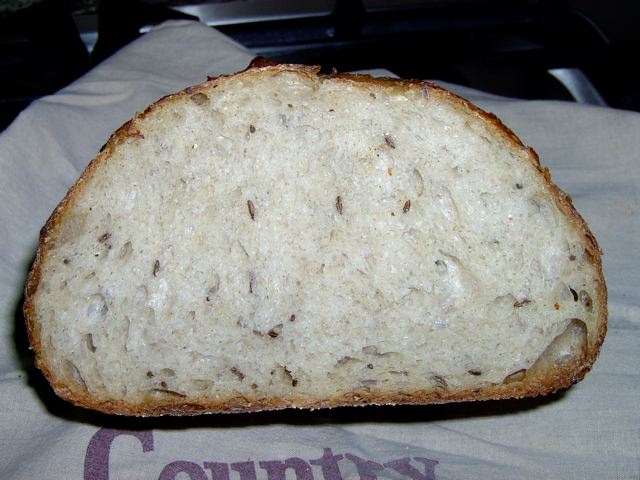 75g firm starter
210g water
25g rye flour
275g high-gluten flour (if using bread flour or AP, adjust the water)
1 tsp caraway seed powder (optional, but good)
1 tbsp caraway seeds
6g salt
Mix starter and water, add the rest and mix, wait 20 minutes, *fold in the bowl, wait 10 minutes (3 or 4 times from *), cover and refrigerate overnight.  Remove from fridge, flatten on counter, *envelope fold, cover with bowl, wait until dough relaxes, maybe 15 minutes (3 or 4 times from *), let rise until when snipped with scissors you see a holey network (thanks, Dan Lepard, for that hint).  BTW, the last two times the dough is folded, round it up well.  Turn the dough ball to create surface tension, let rest for 5 minutes to seal the bottom, then overturn into a banneton.  Let rise for ~3 hours at room temp.  Triple Slash, spray with water, load into 500F oven, cover, bake for 20 minutes, remove cover, lower heat to 460F and bake for 10 minutes.  Turn off oven and leave for 5 minutes. Remove to a rack and rub butter over the loaf for a leathery crust rather than a crisp one. 
As everyone's dough is different, use your judgment concerning timing.  My room temperature is around 70F today.
Susan from San Diego