February 28, 2009 - 3:55pm
For my daughter: sourdough french baguettes
I didn't get quite as open a crumb as Ryeaskrye did, who posted the recipie. But the results aren't too bad for someone who took up baking a month ago: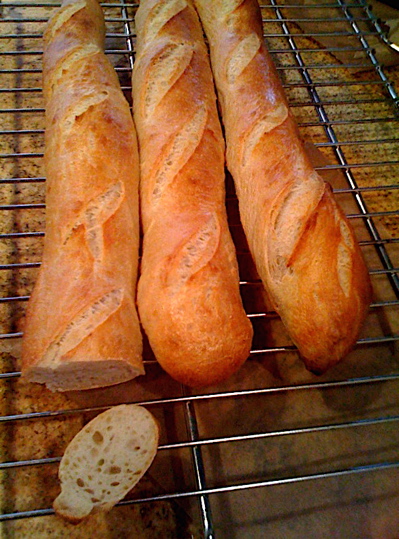 I proofed these on parchment thinking that would make it easier to transfer them to the oven, but the dough is so wet i had a hell of a time separating the parchment from the dough when it came time to put them in the baguette pans.
I agree with Ryeaskrye, the 1 and 1/2 hour proofing time is too short. I have a second batch that proofed for 2 hours that are cooling on the rack just now, they had a more vigorous oven spring.
But the proof of the pudding is in the eating... my daughter loves this bread, so I would say mission accomplished.