February 27, 2009 - 12:54pm
Hello all,
This is my first time posting here--great site! I have been baking for a couple of years and recently acquired my mum's sourdough starter (developed according to Nancy Silverton's instructions in "Bread From La Brea Bakery"). I've had wonderful success adapting favorites like cinnamon rolls and pizza to take advantage of the wild starter, and almost all of my bread turns out nicely.
However, every now and then I bake a loaf or two that simply will not brown properly. See images below for my latest disappointment (the objectionable loaf is on the right in the top image):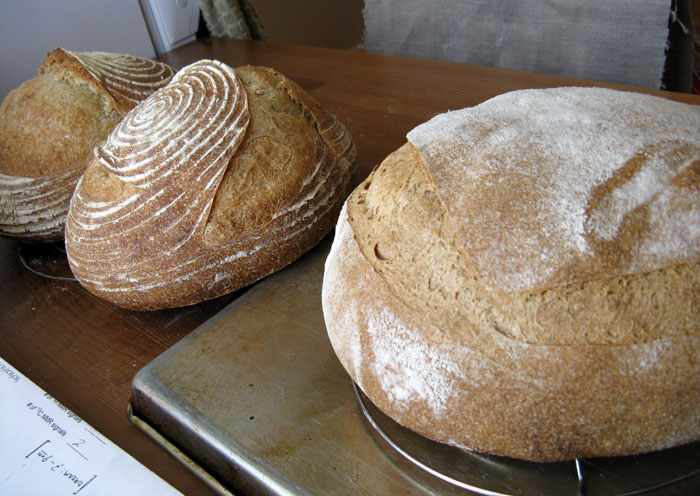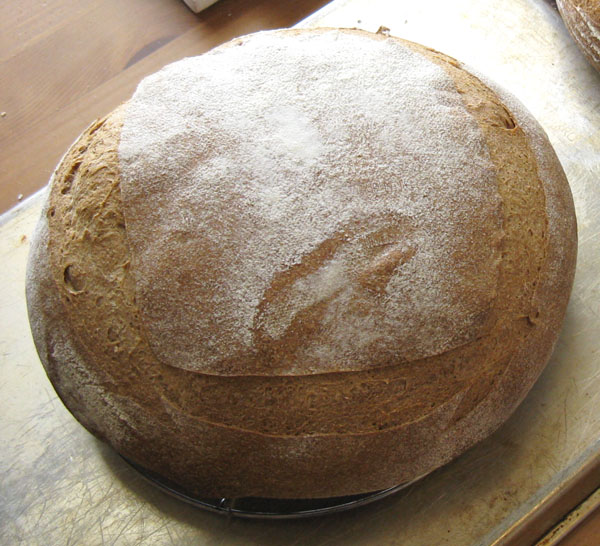 The two smaller loaves (on the left in the top image) are ~95% refined bread flour whereas the larger loaf (on the right in the first image and featured in the bottom image) is ~75% whole wheat flour, loosely based after the Flemish Desem bread from "Laurel's Kitchen Bread Book". Neither has any commercial yeast, both rose beautifully and had pretty good oven spring (I introduced steam to the oven during the first 5 minutes of baking each loaf). And yet, the WW boule simply refused to darken properly in the oven no matter how long I left it in. The refined flour loaves baked at 500/450 for about 45min and carmelized to a deep, reddish brown complete with distinct fermentation bubbles; the WW loaf baked immediately afterwards at 450/350 for well over an hour and managed only to take on an unattractive jaundiced pallor devoid of bubbles. Both came to 210F--higher than I would have liked to take the WW loaf--and I fear WW loaf is going to be mostly crust after such a long time in the oven.
As I mentioned, this has happened to me twice before, once with sourdough pumpkin loaves and once with a "seeded sour". I've tried to identify a common variable, and thought I had pegged the culprit after I discovered both the pumpkin and seeded loaves were improperly sealed during an overnight retardation. I assumed the surface of the dough dried out excessively and somehow prevented the sugars from caramelizing properly as the crust formed. But today's pale loaf fermented overnight at room temperature, and I made certain it was properly sealed!
Has anybody seen this before? The bread generally tastes quite good, but the loaves are so ugly to look at!
Thanks!