February 20, 2009 - 11:04am
garlic with little effort
Procedure for preparing a few days worth of mild garlic  
What you need
30 minutes of free time
the desire for garlic
As much garlic as you want, probably 3 heads, Minimum 50 cloves recommended. If you are going to the effort, make it worth the effort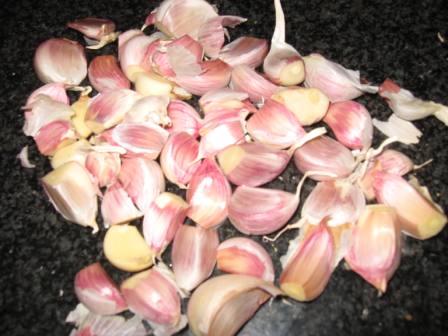 Olive oil
salt
a sharp knife
a frying pan
the top to a frying pan
a stove top,  BBQ, small thermonuclear device, or other controllable heat source
A spoon, or a fork, or chopsticks to stir the garlic in the frying pan
A preferred beverage
Optional: Bread & Cheese, maybe some jamon de jabugo 
If you prepare garlic , the accesories are probably available
Procedure Heat frying pan to "low to medium" heat, put in olive oil to  cover the bottom of the pan
Cut off the root end of each garlic clove.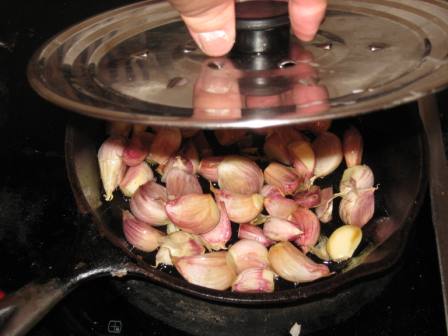 Don't bother peeling
put the unpeeled garlic in the frying pan and cover it. Walk away to enjoy a cool refreshing beverage,
return occasionally to stir . The skins fall off with stirring. This is the equivalent of blanching tomatoes or peaches, but smells better. When all of the garlic is soft, they are done.  
Once cooled, add salt on the naked garlic. Or don't.   The result is good for everything from spreading on the good bread, to scrambled eggs, to spaghetti sauce, to any appropriate destination .