January 31, 2009 - 4:48pm
Hi,
I wanted to introduce myself as this is my first posting. I have just started to learn breadmaking and have found this site to be tremendously helpful and informative. I began by purchasing a Mini-Zojirushi in November and, never having made bread before, was amazed with what I could produce by just following directions. I never intended to go any further but the more recipes I made, the more I realized the limitations of a machine. It was daunting at first to go hands-on but with all the helpful people here and at other sites I have made some progress. Besides I'm a "gadget freak" and now there are so many new things to buy!
I wanted to share some pictures of what I am learning about the incredible interplay of factors that go into baking a quality bread. Hopefully they can help other newbies also appreciate them.
I made my first baguette today and am quite pleased with the result. I was able to buy a Baporama on eBay and baked the baguette in that. I also made a small roll from the same dough which I baked along side the Baporama pan out in the open in the oven on a baking stone. Although I have read about the importance of steam to make a good crust, I was amazed at the difference that steam in an enclosed space vs. a bare oven can make.
This first picture shows the finished baguette and next to it the little roll I baked out in the open (I was experimenting with it before trying to bake some Kaiser Rolls in the future). The baguette was baked for 30 minutes with the lid on (using ~1 oz of water in the pan) and 10 minutes with the lid off at 450°.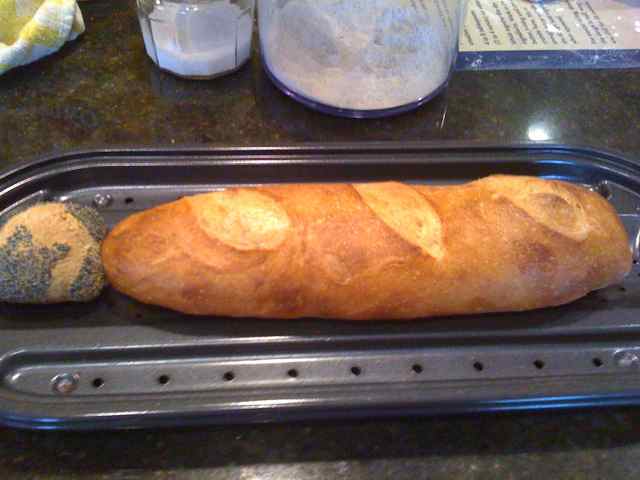 The next picture is just a close-up of the two breads showing huge difference in the crusts.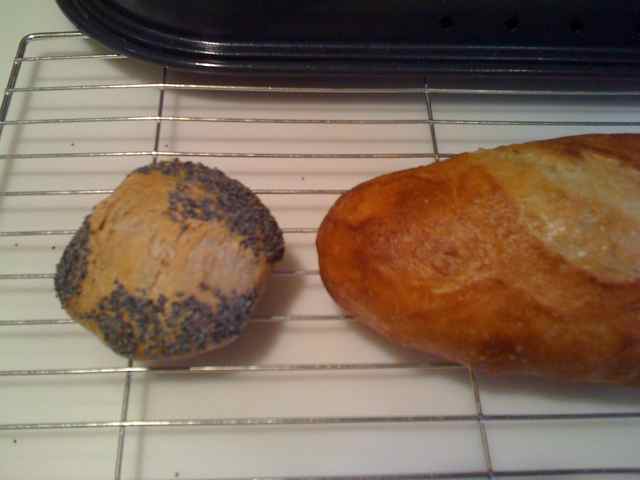 This a cross-section of the two with the roll on the left and the baguette on the right.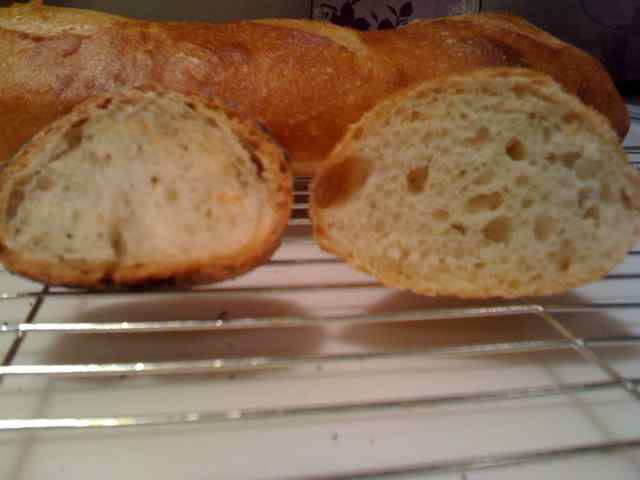 The roll crust looks about twice as thick and was barely cuttable while the baguette was nice and thin, and crunchy and a joy to eat. The crumb on the baguette was also much better developed.
So, I am enjoying learning all this stuff almost as much as I enjoy eating the bread. I do find, however, that the more I learn, the more I realize how much I don't know. I am looking forward to taking advantage of all the accumulated experience that is shared in this forum.